No. 1 pick Blake ready to be Philadelphia's number one
PHILADELPHIA, PA -- Andre Blake stood before the assembled media looking as though he didn't quite believe he had been taken first overall by the Philadelphia Union in the 2014 MLS SuperDraft. But it was a sensation that he quickly came to grips with.

"It's a great feeling, man," he said shortly after being chosen. "It comes with a little bit of pressure, you know, because you're the overall No. 1 pick ... But I'm a goalkeeper, and I've been under pressure all my life, so I'm just going to go out there and work hard on the pitch, and show them hopefully in the end that it was a good choice."

The selection involved a bit of a bit of pre-draft maneuvering. D.C. United originally held the top selection and could be seen having intense conversations with the Union hierarchy prior to the start of the festivities. But reports also surfaced that DCU was talking to other teams, as well; for that reason, the Union felt the need to make a move and parted with an undisclosed amount of allocation money in order to move up one spot.

"D.C. wasn't going to take him, and we knew they were going to sell [the pick]," Philadelphia manager John Hackworth said. "Once we found out [Blake] was going to be gone, we made a move for him."

- Video: D.C. United selects Birnbaum
- Video: Dean goes to Vancouver

The Union then proceeded to trade down twice, but still ended up taking midfielder Pedro Ribeiro form Coastal Carolina with the 15th pick while picking up some salary cap relief."

"It's been a very positive day for us," Hackworth added. "We got two of our top targets and the best available player in the whole draft and we have increased our allocation money."

The move seems curious on the surface given that the Union's incumbent goalkeeper, Zac MacMath, had a strong finish to the season and appeared to have eliminated the mistakes that have plagued him since he was selected in the 2011 draft. Blake himself expressed surprise that he had been chosen first.

"I thought I would go in the top four, but I didn't see No. 1 coming," Blake said. "I was talking with them for a little bit, but I was thinking maybe No. 2, but you never know. I didn't get a strong word that it was going to be it."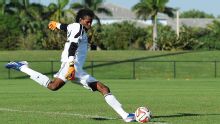 Steve Mitchell/USA TODAY SportsBlake in action at the recent MLS Combine.
But Blake was considered to be easily the most talented player in the draft, and in a year devoid of a wow factor in terms of the attacking players available, the UConn goalkeeper was deemed too good to pass up.

During an exclusive interview earlier in the week with ESPNFC.com, Blake projected a soft-spoken but confident air. He grew up in the central Jamaican town of May Pen. Every day he would trek to nearby Hazard Primary School with his father, George, and his six brothers to play.

"My family, we have a love for sport," he said last Monday. "We all play. None of them play as competitively as I do, but they all know the game, they all play the game. My dad, my brothers, they would always take me to the soccer field ever since I was young, since I was five. It all started there."

Blake spent a considerable part of his youth career playing forward and was even the leading scorer on his youth teams. He continued to play the position into his high school years, but while attending a training camp for the Jamaican U-20 team, Blake went back to his high school to play a match and injured his groin while playing forward. The injury went over about as well as one would expect with Jamaica U-20 manager Donovan Duckie.

"I came back to the camp and the coach was like, 'What's wrong?'" Blake recalled. "Then he found out I was playing on the field and he got mad at me. I think from then on I had to make a decision. 'You know what? It's about time.' I went for it."

Blake was later recruited by the University of Connecticut, where he excelled for three years under the tutelage of UConn head coach Ray Reid. "Blake has no weaknesses," Reid said in his trademark staccato delivery. "And he's a great leader, a great communicator."

Blake also showed a voracious appetite for the game, and was renowned for his preparation. And while he comes across as mild-mannered, that doesn't stop him from getting his point across during games.

"When it's work time, it's work time," Blake said. "When it's time for business, it's a no-nonsense time. For me, I love it when my players do exactly what they have to do. Then I don't have to yell at them. But when I have to yell at them, I yell."

Now Blake finds himself not having to move too far away, but he'll be getting to know a new city nonetheless.

"I don't know much about Philadelphia. I heard something yesterday about how it's the place for cheesesteaks or something," he said with a chuckle. "But I'm pretty sure I'll get adjusted and learn everything I need to know."

And the Union hopes it will prove to be a long and prosperous relationship.