MLS SuperDraft, Combine fighting against irrelevance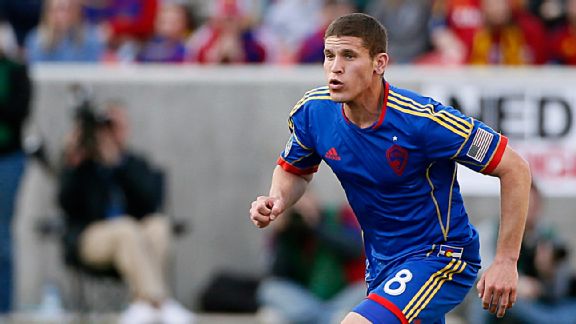 George Frey/Getty ImagesThe days of Rookies of the Year, like 2013 winner Dillon Powers, first featuring at the MLS Combine and SuperDraft is slowly fading away.
FT. LAUDERDALE, Fla. -- The term "planned obsolescence" usually applies to cell phones and computers, not gatherings of prospective professional soccer players. Yet with the 2014 MLS Player Combine now in the books, and the SuperDraft just a day away, it appears the process of replacing both events with shinier, more efficient incarnations is well underway.

- Davis: A recent history of SuperDraft top picks
- Carlisle: Edu's move to Union blocked?

This is not to say that it's time to write obituaries for both the combine and the SuperDraft just yet. The process of bringing nearly 70 players together for what essentially is a five-day tryout still has value. It seems like each year, six to eight players end up making significant contributions, with others developing later on. Last season, the Colorado Rapids owed their turnaround in part to the contributions of rookies Dillon Powers and Deshorn Brown.

"It's free players, and it's free players that are relatively well-scouted in the sense that you have a lot of collective wisdom that goes into the recommendations that go into the combine," said Real Salt Lake general manager Garth Lagerwey. "Is it perfect? Never. Is it pretty good? Yeah. At the end of the day, when you're filling out a 30-man roster, you need affordable players that you can develop."

But one only had to look at the faces of the MLS coaches and executives in attendance to see that there was little wow factor as it related to the players on show at Broward County Regional Park.

"People get less and less excited about this because there are fewer and fewer impact players," said Lagerwey.

There was a time, of course, when that wasn't the case. In the early 2000s, teams were allowed a maximum of only three foreign players. For that reason, a well-executed draft could drastically turn around a club's fortunes.

Since then, MLS has embarked on a number of initiatives that have lessened the draft's impact. The number of foreign player slots has increased over the years to eight, and teams are much more aggressive in acquiring green cards for their foreign players, allowing them to count as domestics. Clubs can now look abroad more often to solve their positional needs, especially in the face of the aggressive expansion policy the league has embarked on since 2005, in which MLS has grown from 10 to 19 teams, with two more already waiting to start play in 2015.

The growth of youth academies combined with the Homegrown Player initiative, whereby teams can sign players whom they developed directly and avoid the draft, has cut into the pool of available players in the SuperDraft. According to data on the league's website, 26 homegrown players have been signed to contracts since last year's SuperDraft. That's almost a round and a half of performers who might have otherwise been diverted into this year's event.

The formation of reserve teams that reside in USL PRO -- the third tier of U.S. soccer -- has also served to put more of the player development burden on MLS clubs as opposed to colleges.

Yet the event lives on due to factors both cultural and practical.

"The landscape has changed pretty dramatically, but there's guys out here at the combine that are going to have good careers in MLS," said Philadelphia Union manager John Hackworth. "It's a little bit of a showcase, and in our culture, specifically in the sports world in America, these kind of things get a lot of attention. You see that here, and you'll certainly see that at the draft on Thursday."

It also highlights to a degree the merits of college soccer. The top programs are run in many ways like professional clubs. And the academic demands force players to mature and handle off-field responsibilities. The Homegrown Player rule hasn't been perfected by any means either.

"[The rule] saturates the pool in a huge way," Hackworth added said. "There are some guys who, in my opinion, sign homegrown deals that aren't ready to be MLS players. They would benefit from playing at a level more appropriate for them for a few more years before they make that jump. I think the league is making good strides working with USL PRO teams to have meaningful games for those kind of players. We still have a way to go to get all that right."

How the combine and the draft might evolve further remains an open question, however. Lagerwey suggested that a more low key approach to the two events might be the way to go, where the draft is held around a table the day after the combine is complete.

"The draft, it's just a lot of money," he said. "If you took the draft plus the combine, the combine is easily over $1 million. If you were willing to apply that to player payroll, centralized scouting worldwide, there might be more efficient uses of the money."

That would rob the league of a valuable PR hit, however. Just how valuable is open to debate, but this year's draft will be televised on ESPN News, and MLS, ever mindful of its standing both at home and abroad, welcomes that type of attention in a crowded sports landscape.

MLS EVP of competition and player relations Todd Durbin insisted, "There will always be a draft, but I think as you see our player development initiatives grow, you'll see more international players at the combine."

That approach has been evident this year, with MLS holding a combine for Caribbean players prior to this week's festivities. That was where Jamaican youth international Andre Lewis, who has done plenty to impress coaches in Fort Lauderdale, Fla., first caught the eye.

Is it exciting? Perhaps not. Is the importance receding? Without question. But the value of both the combine and the SuperDraft remains.