Neil, Koval's stock rising at combine; Edu's move to Union blocked?
FORT LAUDERDALE, Fla. -- One sentiment that has permeated the 2014 MLS player combine has been the overall disappointment with this year's Generation adidas class. Yet on Tuesday more than a few GA players showed an uptick in form that could cement their draft status.

The disappointment has been especially felt as it relates to attacking players. But in Tuesday's opening match, Louisville's Marlon Hairston overcame an early turnover to score the only goal of the game via a quick combination with Nikita Kotlov and delivered an impressive two-way performance.

"I had a tough start, but once my legs got going, I was able to fight through the tiredness," said Hairston. "And that's definitely how I scored a lot of my goals at the college level, just starting from a deeper role and seeing things open up in front of me."

Defender AJ Cochran, Hairston's Adizero teammate, appeared to be more comfortable leading his side's defense as opposed to the first couple of days, when his movement appeared labored at times.

In the day's second match, Maryland forward Schillo Tshuma looked more active than he had in the two previous games. Tshuma's Brazuca side fell 3-2 to the Nitro Charge squad, but he scored a second-half goal from close range after good work from Tomislav Zadro and provided some dangerous runs forward that nearly brought his side all the way back after going down 3-0.

Of course, some coaches still weren't satisfied, with one MLS manager asking, "Where was that before?" when queried about Tshuma's improvement. But at the least, the previously mentioned players provided a glimpse of why they are well-regarded.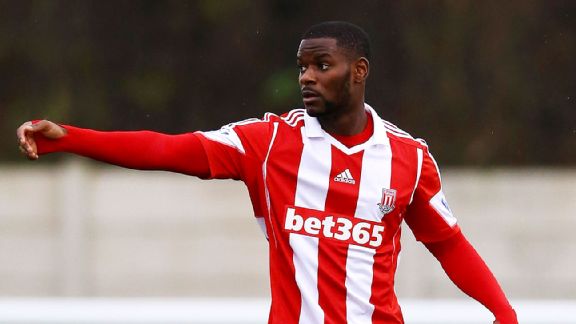 Matthew Lewis/Getty ImagesMaurice Edu has played with Stoke's under-21 side after falling out of favor.
Possible snag in the Edu deal?

The Philadelphia Union and D.C. United completed a trade Tuesday that not only saw Jeff Parke and Ethan White swap addresses but also resulted in the Union gaining the top spot in the allocation order.

The speculation as to whom Philadelphia would acquire with that asset soon became apparent, with Goal.com reporting that the club was targeting U.S. international midfielder Maurice Edu, whose proposed return to MLS was first tweeted by ESPNFC television analyst Taylor Twellman.

But multiple sources have told ESPNFC.com that the Union is receiving some pushback from MLS HQ -- who it should be noted work at the behest of the league's owners -- with regards to Edu's salary. Multiple sources have told ESPNFC.com that the figure is $1.2 million per year while another source stated that the figure was closer to $1.4 million. Either way, it looks as though the deal could unravel unless a lower salary can be agreed upon.

Whether Edu is worth that amount depends on one's perspective. On the one hand, his demands are much lower than the salary that will be earned by new Toronto FC signing Michael Bradley, who according to New York-based agent Ron Waxman will make $40 million over six years. Edu's proposed salary is even lower than that of former Toronto FC midfielder Julian de Guzman, who made $1.9 million during his vastly disappointing tenure with the Reds. Then again, is Edu really worth that much more than say, Real Salt Lake's Kyle Beckerman (who according to the MLS Players Union made $328,750 last year) or Portland's Will Johnson ($243,750 in 2013)?

Suffice it to say, if the proposed deal is nixed, commissioner Don Garber can expect to hear some invective directed his way by Union fans at Thursday's MLS SuperDraft in -- you guessed it -- Philadelphia.

Stock rising

Some less-heralded players also helped themselves at the combine, not only on Tuesday but over the entire five days. Cal midfielder Ryan Neil impressed with his ability to run at defenders and get effective service into the box, something that was in short supply during the combine. Neil did much of the heavy lifting to set up Victor Chavez's opener for Nitro Charge in the day's second match.

"I'm trying to start as high and wide as possible, and every time I get the ball, I'm looking to run at defenders," said Neil. "That's my mentality. I know the human body can't go forward 80 yards every single play, but you've got to pick your chances, examine their defense and know when the right time is to go."

Another player who impressed over the five days was Stanford midfielder JJ Koval, who showed well as a holding midfielder and even survived some stints at outside back, where he said he had never played before.

"I felt comfortable," he said. "I took the offseason very seriously. I felt fit, I felt good on the ball, and I think I showed a lot of the things I can do."

Mullins survives scare

Observers were jolted out of their seats in the first half of the day's opening match when a heavy challenge saw two-time MAC Hermann Trophy winner Patrick Mullins go down in a heap with an apparent ankle injury. The ailment sidelined the Maryland forward for the rest of the half, but he was able to return in the second half and looked fairly mobile the rest of the way.

"It was kind of a weird play. The ball got stuck and the ref lost track of where it was, and we had a little three-man collision," he said. "[The defender] mistimed his challenge and stepped on my ankle. I couldn't feel my foot for a second, but it was just one of those I was able to shake off."