A recent history of MLS SuperDraft top picks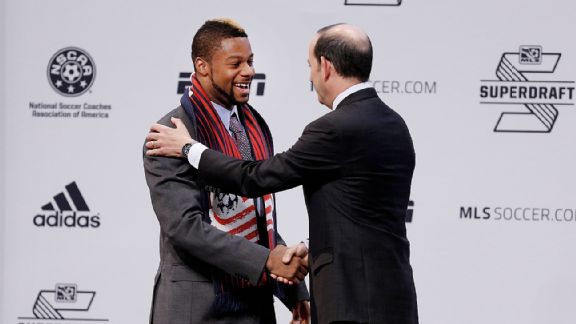 Joe Robbins/Getty ImagesAndrew Farrell had a superb debut season. What does 2014 hold for the New England Revolution's defensive star?
Though the name has not always been the same, the 2014 MLS SuperDraft on Thursday in Philadelphia will be the 19th edition of the event that places America's best college soccer talent with their first professional teams. Through the previous 18 editions, a host of notable names made their way into the league's ranks from up and down the draft order. As in those other American sports with their amateur drafts of players whose talents are not yet fully developed, selecting a player first does not guarantee future success.

Maybe because America is just a small part of the world's larger soccer scene or because college soccer remains a mystery to so many, the first overall pick of the SuperDraft is rarely the overhyped, overanalyzed superstar-in-waiting of the NFL and NBA. Instead, MLS first picks tend to vary between projects (players of obvious talent in a raw, unrefined form) and league-ready players who can contribute the moment they arrive in camp. Almost never are they seen as difference-makers expected to revive a moribund franchise.

The past few years of the draft are interesting if only because a pair of competing influences are at play. On the one hand, MLS scouting has undoubtedly evolved across the history of the league, both in scope and in more refined evaluation tools. On the other hand, the changing face of player acquisition has robbed the draft pool of some of its brightest talents through the mechanism of the "homegrown player" signing. That leaves us with a SuperDraft that rarely has a consensus No. 1 pick and is hit-and-miss at best in producing quality players.

Still, that's a marked improvement over the first half of the league's No. 1 draft pick history, a past littered with underwhelming players and outright disappointments.

The jury is still out on the most recent No. 1s, but if recent history is any evidence, the players picked at the top of the MLS SuperDraft in the latest era of the league are more likely to be solid, unspectacular contributors rather than stars.

Let's look back at the past nine SuperDraft No. 1 picks, noting that while nine years is hardly a long period of time, the rapidly changing nature of MLS means that those nine years span two very distinctive eras for the North American league.

2005: Nikolas Besagno, Real Salt Lake
Besagno is among the biggest busts at No. 1 in the history of the SuperDraft. Taken by then-RSL coach John Ellinger, who knew the then-16-year-old from the U.S. youth ranks, Besagno played just eight times for the Utah club over a four-year period. Released in 2008, his professional career never recovered. He is now a player/coach in the USL's Premier Development League.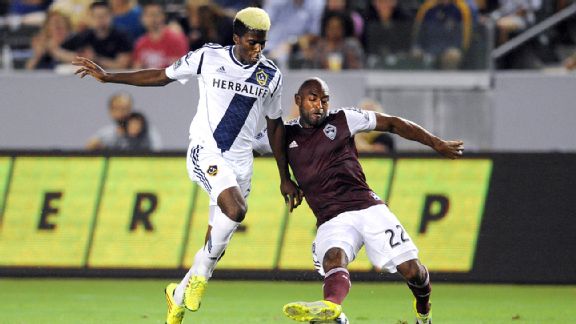 Kelvin Kuo/USA TODAY SportsMarvell Wynne, right, has carved out a decent MLS career despite never living up to his first overall pick.
2006: Marvell Wynne, MetroStars (now New York Red Bulls)
Wynne's jaw-dropping athleticism served him well coming out of UCLA in 2006, but a prevailing belief that he needed to refine his understanding of the game saw him shuttled from team to team over the next five years. Wynne played three-plus seasons in Toronto before being shipped off to Colorado in 2010. He is still there, serving as one of the stalwarts of the Rapids' back line while never quite living up to his No. 1 draft status.

2007: Maurice Edu, Toronto FC
Edu stands out as one of the best No. 1 picks in MLS history, though his tenure playing in the league was short-lived. A can't-miss product of college powerhouse Maryland, Edu was selected by expansion side Toronto FC in their first-ever draft. After two seasons -- which included an MLS Rookie of the Year award and a USMNT call-up -- Edu was sold to Rangers for 2.6 million pounds in 2008. That money (rather, their MLS-mandated portion of it) was reinvested in the club's burgeoning academy. A World Cup veteran, Edu is on the verge of a move back to MLS.

2008: Chance Myers, Kansas City Wizards (now Sporting Kansas City)
It took North Carolina product Myers a few years to settle in with Kansas City, but when he did, he became a key part of the club's rise to MLS prominence (capped in 2013 with an MLS Cup title). Myers is a fixture at fullback for Sporting, one of a quartet of defenders who helped SKC become one of the league's best defensive teams. Myers kicks in his fair share in attack, as well, contributing three assists and two goals in 2013. Myers isn't a star, but he's in the top handful of No. 1 picks in terms of production. His contributions to Sporting earned him a call-up to the USMNT January camp.

2009: Steve Zakuani, Seattle Sounders
Unfortunately for Zakuani and the Sounders, his is a story of "what might have been." Highly regarded coming out of the University of Akron, where he landed after attempting to start a pro career in England, Zakuani burned up the league with his blazing speed on Seattle's wing. But a horrific injury in 2011 derailed his career, throwing into question whether he would ever reach the heights that his first two years in MLS seemed to promise. After 16 combined appearances over the past two years, Zakuani will get a chance to reboot his prospects -- and perhaps meet his potential -- in Portland under the watchful eye of his college coach, Caleb Porter.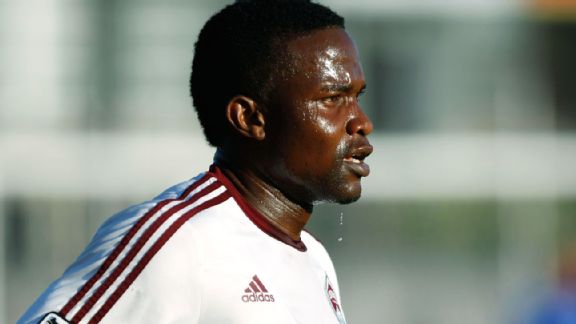 Kelley L Cox/USA TODAY SportsDanny Mwanga disappointed in Philadelphia but still has plenty of life left in Major League Soccer.
2010: Danny Mwanga, Philadelphia Union
Mwanga is just 22 years old, meaning it might be too early to label him a "bust." But if the Oregon State player (by way of the Democratic Republic of the Congo) does start to score goals on any notable level, it won't be for the team that drafted him. Mwanga entered MLS as the first-ever draft pick of the Union at a draft held in Philadelphia -- his reception by the gathered fans ranks among the greatest in SuperDraft history. Yet after two years and just 12 total goals, the Union shipped him to Portland. A lone year in Oregon resulted in another trade, this time to Colorado. Mwanga made 13 appearances for the Rapids and scored zero goals in 2013.

2011: Omar Salgado, Vancouver Whitecaps
Salgado fell squarely under the heading of "potential" when the Whitecaps drafted him as a 17-year-old in 2011. The first player drafted No. 1 overall who didn't go through the college system since Besagno, Salgado ended up with MLS when Chivas de Guadalajara dropped him over his intentions to be a U.S. international. Since being drafted, Salgado has worked to develop his game and to recover from a foot injury he suffered while on duty with the U.S. U-20s (he has 21 appearances over three seasons, none in 2013). Salgado's maturation was always a long-term proposition for the Whitecaps, but the team should expect to get some return in 2014.

2012: Andrew Wenger, Montreal Impact
Coming out of Duke, Wenger was a versatile, do-everything player without a set position. The Impact drafted him No. 1 overall on the strength of his soccer talent and soccer IQ, perhaps with the notion that his place on the field would resolve itself in the pros. Unfortunately for Wenger, a rotating cast of coaches (Montreal is now on their third different head coach in three seasons) and questionable selection policies have limited Wenger to marginal MLS effect. It's now up to Frank Klopas to figure out how to best maximize Wenger's obvious abilities.

2013: Andrew Farrell, New England Revolution
The defender from Louisville had a strong first campaign with the resurgent Revs and was in contention for the Rookie of the Year award. The future looks bright.