Toronto's reboot: Can this version of TFC deliver?
The frustration of an unprecedented nine-game losing streak to open the 2012 season prompted the now-famous quote but, in a way, Danny Koevermans managed to perfectly sum up Toronto FC's entire, dysfunctional existence in just 11 words.

"We're setting a record," said the Dutch striker, who would go on to play just 14 more games for the club, "as the worst team in the world."

Just five years earlier, TFC had been the toast of Major League Soccer. The expansion franchise entered the circuit in 2007 playing to raucous, packed houses in a brand new downtown stadium.

A fan base comprised mostly of young, affluent professionals introduced MLS -- which had to that point been marketed overwhelmingly to youth soccer organizations and families -- to the sort of organic supporters culture that has since been adopted in places like Seattle, Portland, Philadelphia and Kansas City.

Make no mistake about it: Toronto was where MLS's maturation began.

But by the end of last season -- TFC's seventh without a playoff appearance in a league in which more than half the teams qualify for the postseason -- you couldn't pay former most former diehards to watch a team that once had close to 20,000 names on a waiting list for season tickets.

- Bennett: Michael Bradley interview
- Bradley and Defoe introduced

"These fans, for seven years, we just have not done right by them," Tim Leiweke, president and CEO of Maple Leafs Sports and Entertainment, TFC's ownership group, said Monday after European league veterans Michael Bradley and Jermain Defoe were introduced on at a gala press conference that signified the club's rebirth.

"They changed the fortune of this league. They changed the value of [MLS] clubs," Leiweke added. Forbes recently valued the franchise at $120m, which is 12 times the $10 million expansion fee MLSE paid to join the league.

"I'm not asking that they forgive us," Leiweke said, "but I think we have a fresh start with them. They earned it. They deserve it, and you don't get those in life very often."

They probably wouldn't have gotten it at all if Leiweke, the former head of the entertainment titan Anschutz Entertainment Group and the man who signed David Beckham for the LA Galaxy in 2007, hadn't been available to revamp the organization.

Leiweke, who parted with AEG last year, has built his career by always aiming for the stars and he wouldn't have signed on had MLSE not demonstrated its commitment turning the forlorn franchise around. After his arrival, it was only a matter of time before TFC's ambition matched that of the free-spending Galaxy, Seattle Sounders and New York Red Bulls.

No, becoming a super club isn't cheap and there are those within the league who believe that the reported $100 million outlay (between salaries and transfer fees) for Bradley and Defoe was too much.

"Some of our partners think we've lost our minds," Leiweke said, referring to other MLS owners. "I think if people saw what we saw as to the potential of this marketplace, they'd understand why we're doing it."

Maybe he has a point.

Despite years of mismanagement -- seven coaches in seven years, overpaying past-it European imports, underpaying or trading away proven performers, hiking ticket prices despite repeated on-field failure -- there is still a huge opportunity for success in Toronto. With a population approaching three million, the city is the fourth largest in North America, behind only Mexico City, New York and Los Angeles.

Its other pro sports teams are middling at best; Toronto has not celebrated a major championship since baseball's Blue Jays won the World Series in 1993.

So if TFC can put a legitimate title contender -- led by its two marquee acquisitions -- on the field this summer, then fans, the club feels, will once again flock to BMO Field despite years of apathy.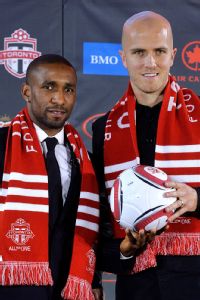 Jag Gundu/Getty ImagesDefoe and Bradley are the new faces of a previously underachieving franchise.
Defoe is a pure goal scorer, perhaps the finest striker ever to sign with MLS. He's 31, significantly younger than big-money forwards like Juan Pablo Angel or Marco Di Viao were when they arrived on these shores, and he'll need to score goals immediately to stay in contention for a spot on England's World Cup squad.

The 26-year-old Bradley, formerly of Italy's Roma, is an inspirational on-field leader with the U.S. national team, whose best days are ahead of him. Both are highly competitive and so, while they're both being richly compensated, they also made it clear they're here to win.

"We want to do something that's never been done before," Defoe said on Monday. "To bring success. To win trophies... I want to make a difference and go down in history."

Said Bradley: "That is something that motivates me an incredible amount, to try to bring to Toronto a team that is different than anything else in Major League Soccer."

Of course, the players who make up the supporting cast will be as important to TFC's title aspirations and that is part of the reason Leiweke hired salary cap guru Tim Bezbatchenko out of the league office to replace fired general manager Kevin Payne.

Bezbatchenko has already acquired a few supplemental pieces, such as ex-San Jose Earthquakes fullback Justin Morrow and MLS legend Dwayne De Rosario, a Toronto native who was run out of town in 2011 after a public spat with previous management.

Coach Ryan Nelsen, who Defoe called "a great man and a natural leader" -- they were teammates at Premier League club, Tottenham -- returns for a second season, a rarity in Toronto.

Still, the project is not without its doubters.

"I spent the weekend reading a wonderful article from across the pond that ripped us a new one and said guys like Jermain are coming here to retire," Leiweke said of a column that appeared in Britain's Guardian newspaper. "We'll show 'em."

Defoe read the piece too and said: "Whoever wrote that article, good luck to him. It's their opinion, and I'm sure they've never played football before."

If Defoe, Bradley and the rest of TFC can play like they haven't before in Toronto, the sky is the limit in a city desperate to support a winner.

"We know in this marketplace that we have a chance to take soccer to the next level," Leiweke said.

"That's a unique thing. I'm not casting doubt on other markets but in Toronto, we can be significant, we can be relevant and we can be big. And I think you don't want to miss that opportunity."

Leiweke added that he is already in discussions with local politicians to expand capacity at 22,000-seat BMO Field to over 30,000.

"Our owners gave us the ability to say, 'What could we do?"' Well, we're going to be the first $50 million gross revenue club in the history of soccer in North America, going all the way back to the Cosmos. Our owners believe in that. We believe that."

With things looking up -- way up -- in Toronto these days, even the most cynical TFC fan could be forgiven for starting to believe again, too.