Edu, MLS rumors highlight dramatic combine day
FT. LAUDERDALE, Fla. -- Though it was an off day for players, that didn't translate into a lack of intrigue at the 2014 MLS player combine.

For weeks, there has been speculation about whether UConn forward Cyle Larin -- who coaches and GMs project as a top-five pick if he decides to leave after just one collegiate season -- would accept a Generation adidas offer from MLS. UConn coach Ray Reid has long insisted that Larin will remain in school, and that seemed to be the end of it.

But then MLS came back with an improved offer, and sources told ESPNFC.com that such is the interest in the UConn forward that representatives from D.C. United, Toronto F.C. and the Vancouver Whitecaps all decided to take watch Larin train with the Canadian national team, which just happens to be holding a training camp in nearby Sunrise, Fla.

At the time of writing, it appears that the league's advances have not borne fruit. Contacted by telephone, Reid maintained his stance that Larin will remain in school, and later in the day an MLS source said the player's salary demands are outside the parameters for GA players. If Larin's representatives refuse to budge, then no agreement will be forthcoming.

Could matters change in the days that remain until the MLS SuperDraft on Thursday? Sure, but at this point that seems unlikely.

Lots of movement predicted

After digesting the first two playing days of the combine, the general consensus seems to be that there are high-quality players to be had in the first few picks, after which the drop-off is significant. A solid pickup -- especially given the glut of decent center backs on display -- can still be obtained, but the likelihood that an impact player will be acquired is low.

It appears the No. 1 overall pick will be Cal defender Steve Birnbaum, especially since D.C. United owns that selection and needs a center back. That said, rumblings persist that Maryland's Patrick Mullins still has a shot to be the first player selected. The two-time MAC Hermann Award winner is very much a known quantity to the DCU staff thanks to having trained with the club on numerous occasions.

Cal's Christian Dean still seems likely to go high in the first round, but appears to have dropped a notch or two following his struggles while playing left back. That could allow UConn goalkeeper Andre Blake to inch up the draft board, perhaps as high as No. 2 overall. Mullins, meanwhile, figures to drop no further than No. 4, a pick that is owned by New England.

At that point the quality begins to drop a tad, with little separating those players still projected to go in the first round. That explains why there were plenty of rumblings on Monday that one should expect lots of wheeling and dealing in the next three days.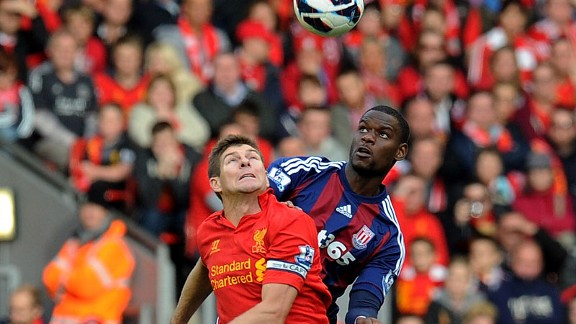 AllsportMaurice Edu has struggled at Stoke. Is he coming back to MLS?
Is Edu MLS-bound?

With Michael Bradley introduced as a Toronto F.C. player on Monday, ESPN FC colleague Taylor Twellman tweeted that another U.S. international -- Stoke City midfielder Maurice Edu -- could be working his way back to MLS.


Hearing Maurice Edu and @MLS in negotiations for his return. For the right team this could be a good move for both him and @MLS.

— Taylor Twellman (@TaylorTwellman) January 14, 2014


Edu has been rooted to the bench at Stoke. In fact, Edu hasn't made a first-team appearance of any kind since April 27, when he finished off a loan stint with Turkish side Bursaspor.

As for compensation, it appears that the Bradley effect is already taking root. A source told ESPNFC.com that Edu's representatives are asking for him to be made a designated player with an annual salary in excess of $1.2 million.

Getting a contract for that amount seems unlikely, though Edu will no doubt be desperate to exit Stoke in a bid to obtain the playing time needed to keep his faint hopes of making another World Cup roster alive.

Colorado set to take patient approach to coaching search

Thanks to a tweet from ESPNFC television analyst Alexi Lalas, the combine has been buzzing with speculation that former Rapids midfielder Pablo Mastroeni -- who retired from the game only a few months ago -- is in line to become the next head coach of the Colorado Rapids. This follows the official departure last week of Oscar Pareja to F.C. Dallas after a long, drawn-out process that ended with a buyout being paid and additional compensation agreed between the two teams.

But on Monday, club president Tim Hinchey put a damper on the speculation surrounding Mastroeni, indicating that the Rapids will take a patient approach to finding their next head coach.

"We're going to take our time," he said via telephone. "We're going to be very considerate and deliberate with the search. I think we made a great choice two years ago [with Pareja]. Unfortunately, it wasn't going to be as long as we hoped it would be. Therefore, for us to now take this project forward, we want to find the next coach that's going to be here for a decade, that maybe this is their dream job."

Hinchey even went so far as to say that Colorado might appoint an interim manager until the right candidate can be found. Such an approach would certainly induce some head-scratching, especially since it's been known since mid-December that hiring a new coach might be necessary. Sources confirmed to ESPNFC.com that some back-channel inquires have already been made regarding ex-Rapid John Spencer.

Yet Hinchey insisted that he'd meet with technical director Paul Bravo in Philadelphia ahead of the MLS SuperDraft on Thursday, at which point a list of candidates will be drawn up. Hinchey did mention that he thinks Mastroeni will be a candidate for the head-coaching position, but will by no means be the only person interviewed.

"We're thrilled to have Pablo back," he said. "But I think he's been on staff for three days. On a personal level, it would be awesome if Pablo were to take [the head-coaching job]. But I think we have some work to do before we make that call."

In the meantime, the Rapids will rely on Bravo, Mastroeni, technical consultant John Metgod and assistant coach Steve Cook to manage the club's effort at the combine.