Michael Bradley hoping to lead Toronto FC to an elite level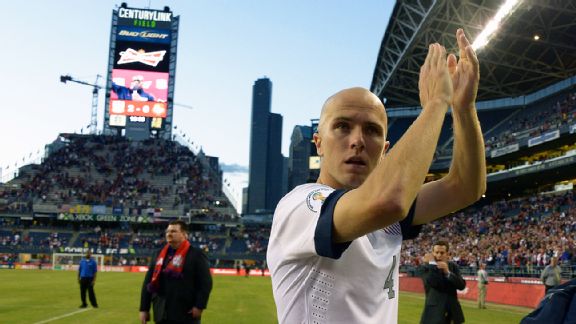 Joe KlamarAFP/Getty ImagesMichael Bradley's return to MLS with Toronto FC has been one of the biggest stories of the January transfer window.
When Roma announced they had received $10 million from MLS in exchange for Michael Bradley, the overwhelming response within the U.S. Soccer community was one of jaw-dropping astonishment.

MLS' capture of Bradley, the driving force of Jurgen Klinsmann's U.S. men's national team, was an audacious coup. At age 26, the New Jersey-born midfielder is still very much in his prime and widely recognized as the most single-minded, determined and ambitious outfield player in American soccer. Signing for Toronto FC, a club which compiled a 6-17-11 record last season, needed more explanation.

That explanation had to wait as Bradley was not unveiled by Toronto until Monday morning. Speculation filled the vacuum in the meantime. Some suggested the move was catalyzed by a hunger for playing time ahead of the 2014 World Cup; others by a desire to return to North America; still more by the size of the financial package on offer.

The one voice that has been absent in this discussion was Bradley's. At his introductory news conference, alongside fellow new Designated Player signing Jermain Defoe, the American said he jumped at the chance "To be part of this project in this city, to help bring a winning team you can all be proud of, I've never been more excited or more motivated in my entire career."

I caught up with him Monday afternoon to hear more in a conversation that spanned his Roma exit, the attraction of a leadership role in MLS and his relationship with U.S. MNT coach Jurgen Klinsmann.

Bennett: When and why did you decide it was time to leave Roma? Was the fight for playing time in a World Cup year a factor?

Bradley: I decided once the opportunity came about. In speaking to [president and CEO] Tim Leiweke and [general manager] Tim Bezbatchenko and Ryan [Nelsen], I got a really good sense about what they were trying to build in Toronto as well as their motivations and their ambition in this city. For me, it came at a time when I was looking hard at myself and my situation at Roma and the more I thought about it the more I simply did not want to let it pass me by.

Bennett: When did you first hear about the possibility?

Bradley: This all came together very quickly -- I would say in the last two weeks. Once I spoke to Toronto -- to Tim and Tim and Ryan -- it all moved very fast.

Bennett: I am sure you had a number of European clubs calling for your services. Can you tell us the story of when the possibility of a return to MLS was first mentioned to you?

Bradley: As a player you want to be somewhere where the club has the same drive as you do. As a player you want to be given everything possible to succeed on the field, both individually and as a team. In speaking with everyone involved with Toronto FC, I got that sense and understood this was going to be the right project for me not only in the immediate but in the long term. I wanted to be a big part of this -- to take a really big role as a player and a leader and put my mark on things here.

Bennett: Toronto compiled a 6-17-11 record last season, yet you have a reputation as a smart, savvy decision-maker. Can you talk as specifically as you are able about what attracted you to a club that is rebuilding?

Bradley: That is simple. The motivation of trying to help be a big part of that rebuilding process. Toronto is an incredible sports city. The people here are passionate and desperate to have a team they can identify with and be proud of. That idea, and helping that be, motivates me.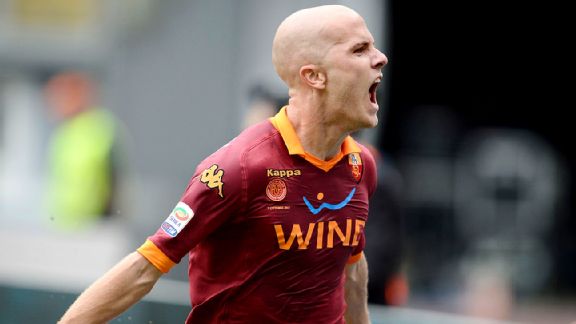 AP Photo/Alfredo FalconeMichael Bradley's time at Roma had its ups and downs but once he fell down the depth chart, he knew he had to make a move.
Bennett: Jurgen Klinsmann has made no secret of his preference for players to push themselves in Europe, preaching a message of "There is always another level. If you one day reach the highest level then you've got to confirm it, every year." Did you talk to him about your decision?

Bradley: He and I had a good conversation at the end of last week when things were starting to look like they were getting finalized. I wanted to make sure he heard things from me as well and understood the way I was thinking. We have had good, honest, open relations from day one. At the end of day, Jurgen wants guys that are willing to take risks, are not afraid of challenges and are willing to put themselves in positions as leaders so they can grow as players.

Bennett: You left home when you were 14, and headed off to Europe at age 18, all in pursuit of a dream to play football at the highest possible level. Most Americans who break into a European elite league come back toward the end of their career. What made you decide to come back in your prime?

Bradley: I want to be able to have a big effect on what is going on here. I want to be able to have a lot of years -- my best years -- helping build something here in Toronto. I have always talked about wanting to play in Champions League and in the biggest games, but what that was all about is challenging myself to become a better player. A better leader. Someone who can take more on. I got to a certain point where as much as I played at Roma, I did not feel I was taking on a big enough role. I was there but I was playing a complementary role to what was going on.

As a player and a person, the next step is to be become someone who is asked to take a really, really big role on the field and off it. I am grateful and excited to do this in Toronto.

Bennett: You are one of the most driven footballers I have met. When we spoke in March, you revealed "I want to win something big, I want to play on one of the biggest clubs in the world. Not just play, but to be a big guy on the team. The one who is counted on in the biggest of games in the biggest of moments." How much does the intangible of helping build football in North America through MLS play into your decision?

Bradley: It comes into play for sure ... the main part of this is not just helping MLS and football, but to help Toronto FC grow. If we can do that build here the rest will come along with that. It's important though... just because you talk about winning and wanting to win does not mean it will happen. But we will all be committed, pushing through both the ups and the downs.

Bennett: Did the memory of your experience at Aston Villa in 2011 impact you at all -- of coming to a new club and not having the chance to break through into the first team?

Bradley: No. Not at all.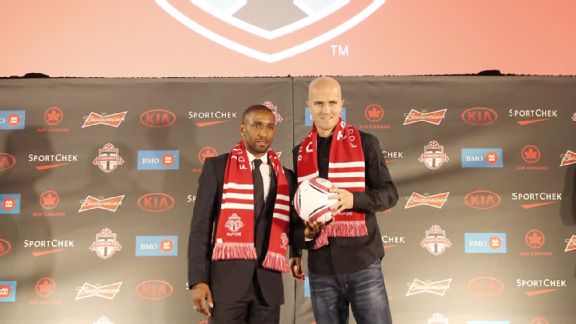 Tom Szczerbowski/USA TODAY SportsMichael Bradley and Jermain Defoe were introduced as Toronto FC players on Monday.
Bennett: You had a son at the end of September. A number of elite athletes have said becoming a father changes the way they think about priorities and life. Did having Luca (who is now 16 and a half months old) do that for you?

Bradley: I would not say it changed my priorities but it adds another level. Another No. 1 priority is added. For me I am very lucky. I have an incredible wife who has told me from day one she will go anywhere as long as we do it together as a family. This is no different. The idea of being back closer to home in North America at the end of the day... that is a nice thing. But it did not factor into the decision.

Bennett: MLS is a league on the rise, but its quality of play is not at the level of the European elite. What would you say to those who worry about the quality of league play impacting the quality of your own individual play?

Bradley: For me it is simple. I think we would all agree the quality in MLS is not like that of the Premier League, Bundesliga, Serie A or La Liga. That is a fact. But another fact is that the league continues to grow and improve at an incredible rate.

All those who want to continue to talk about the league not comparing need to know: MLS is a hard league. It is a tough league. It is competitive, physically demanding... Those who like to compare leagues need to know: you cannot just walk in to MLS and expect to succeed.

Bennett: What is your next step? Will you join up with Jurgen and the men's national camp?

Bradley: I don't know. Jurgen had mentioned the chance of bringing me in at the end of the month. I just got to Toronto last night and have a lot to get organized. Now at end of it, if Jurgen brings me in, I would be excited.

Bennett: Is the World Cup your main focus?

Bradley: Will I be super ready? Absolutely. But my main focus is [Toronto FC's game] March 15 against Seattle. My focus is one week at a time right now. I am ready to give everything I have here for Toronto, then ready to go to the World Cup and give everything to the national team in Brazil. The second that ends, I will be back here in Toronto, ready to finish the season in a big way.