Combine ups and downs, Parkhurst's return and Camilo's departure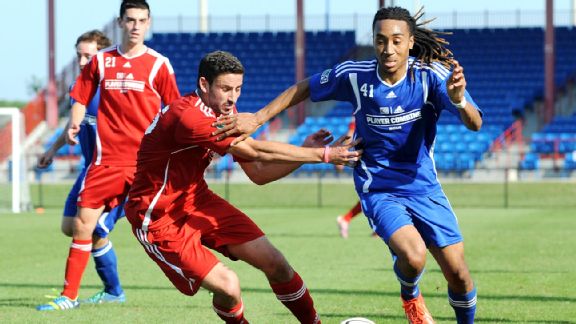 Steve Mitchell/USA TODAY SportsSteve Birnbaum, left, came back from a split lip suffered Friday and was able to battle with Marlon Hairston on Sunday at the combine.
FORT LAUDERDALE, Fla. -- The second day of the 2014 MLS player combine hit upon a predictable pattern: As in years past, the jitters of the opening matches made way for more composed play. Yet, to a man, MLS coaches were left wanting more.

"There's just not that much difference between the players," one MLS manager said. "There's no 'wow' factor."

Another described the talent on show as "vanilla."

There are reasons for this, of course. The "Homegrown Player" initiative has eroded much of the quality that would normally be on display, making for fewer high-end players.

Yet while there wasn't much movement in terms of draft positioning, some players succeeded in consolidating their respective rankings. This was especially true for the collection of center backs.

In the first game, California's Steve Birnbaum came back from a split lip that forced him to exit Friday's match to log 90 effective minutes for NitroCharge, with his first-half header forcing opponents adiZero into scramble mode before UCLA's Victor Chavez slammed home the rebound.

"[Today] was much better," Birnbaum said afterward. "I think everyone was a little more relaxed and just playing their game. I think people were a little stressed out the first game.

"It was 100 miles per hour right from the get-go . . . I thought we defended well as a back line so I was happy with the performance today."

Grant Van De Casteele delivered a composed performance, as well, to help solidify his reputation as a first-round pick, while unheralded defender Patrick Slogic caught the eye with some effective defending, even when played out of position at right back.

In the day's second match between Predator and Brazuca, New Mexico's Kyle Venter and Michigan State's Kevin Cope each turned in a solid day's work, leading the Brazuca team to a 1-0 win and its second straight shutout.

"When you're playing with these high-caliber players who have the same commitment level as you, it makes it really easy," Venter said.

"I thought we had really good communication and that's made it easy for the whole team to defend and go forward."

Otherwise, there were good and bad plays for many of the performers on the field. Highly rated defender Christian Dean once again struggled while playing left back, but rallied in the second half once he was moved to center back, where he spent this past year while at Cal. University of Hartford center back Damion Lowe showed good athleticism, but failed to connect on many of his passes.

The up-and-down days sustained by Dean and Lowe seemed to typify this year's Generation adidas class. One coach even went so far as to say he didn't think there was a single player in the group who could start right away, although UConn goalkeeper Andre Blake could be the exception.

There were other players who made a good impression, however. Jamaican youth international Andre Lewis had another notable outing in the center of midfield for the NitroCharge squad, although there are doubts about whether his small size (5-foot-6) will allow him to play there in MLS.

Unlike the rest of his fellow combine players, Maryland's Patrick Mullins had to shake off some rust on Sunday. He missed the opening day of the combine because he was in St. Louis receiving his second consecutive MAC Hermann award on Friday.

"[The ceremony] ran a little late, but it was such a special night it was well worth it," he said. "I got a little sleep and then I was up at 7 a.m. [on Saturday] to catch a flight back here."

While some MLS coaches expressed a desire to see Mullins be more dangerous in the box, he looked plenty sharp with his link play for adiZero, and assisted on Kristopher Tyrpak's goal when he checked back into space, collected a pass, then turned to find Tyrpak in stride.

"I just want to showcase the game and play what's natural to me, play what the game gives me," Mullins said afterward.

"I can be a target forward sometimes, I can battle in the air, and drift out wide and send in crosses. The most important thing for me is setting up and knowing where the goal is at all times, and making sure the ball ends up in the back of the net."

Here's what else has been overheard at this year's combine . . .

Parkhurst to return to MLS

ESPNFC's Taylor Twellman tweeted that Michael Parkhurst -- who has been mired on the bench of Bundesliga outfit Augsburg -- is set to return to MLS, but didn't identify which team he would play for.

Goal.com later reported that Parkhurst will land with the Columbus Crew and that his former club, New England, would receive the Crew's first-round pick -- No. 4 overall -- plus allocation money. Columbus confirmed the deal Monday morning.

Parkhurst will be hoping that the move will be enough to rekindle his hopes of making the U.S. World Cup squad, while Columbus is expecting Parkhurst to fill in at center back for the departed Chad Marshall.

Vancouver set to sell Camilo

Sources confirmed to ESPNFC.com that the saga surrounding want-away Vancouver striker Camilo Sanvezzo is nearing its end, and that the Whitecaps are set to sell the reigning Golden Boot holder to Liga MX outfit Queretaro for a transfer fee estimated to be in seven figures.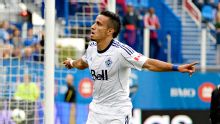 Eric Bolte/USA TODAY SportsCamilo Sanvezzo has scored 39 goals in 92 MLS games.
The deal completes a bizarre month whereby the Brazilian signed a deal with Queretaro while insisting he was a free agent and even went so far as to pose in the club's jersey. Vancouver countered that it had exercised an option in Camilo's contract that would keep him at the club through the 2014 season.

But rather than return to Canada, Camilo remained in Mexico, despite the fact that Queretaro admitted he was not signed, which left the Whitecaps in an unwinnable situation.

They could hang onto a player who didn't want to be there while he burned a sizable hole in their salary cap (plus, there had been rumblings that he planned to go to FIFA to challenge the use of unilateral options).

The other option was to sell him and, rather than face a drawn-out process, it now appears the Whitecaps have opted to get what they can for him now.

Galaxy finds a Friend

The other news to hit the combine late Sunday was that the Los Angeles Galaxy has signed Canadian international Rob Friend, according to sources.

The Eintracht Frankfurt striker had been on loan to 2. Bundesliga side 1860 Munich this season, scoring once in 11 league and cup appearances. Friend, 32, has played for Hertha Berlin and Borussia Monchengladbach, among others.

That now makes two forward signings in the past week for L.A., who previously obtained Fluminense striker Samuel on loan.