Three reasons why Bradley's move to Toronto FC makes sense
A full day after the stunning news first broke that Michael Bradley is apparently headed back to Major League Soccer, the biggest, most obvious question remains.

Why?

Why on earth would Bradley, the decorated midfield general for AS Roma and the U.S. national team, leave Europe at age 26 and return to North America -- with hapless Toronto FC, no less?

If/when the deal becomes official -- and it doesn't appear to be an if at this point -- and Bradley is introduced in Canada's largest city holding up a red TFC shirt, it will surely be the first question he's asked.

Until then, on the surface at least, the transfer is a head-scratcher for a player who has always spoken openly about his ambition to play at the highest level of the club game -- not least because that was exactly the track Bradley was on this season with the Giallorossi, which currently sit second in Italy's vaunted Serie A, a spot that would qualify them for the UEFA Champions League next season.

Upon closer inspection, though, there are a number of compelling reasons the move makes sense for Bradley now, even as he enters the prime of his career.

Here are a few of them: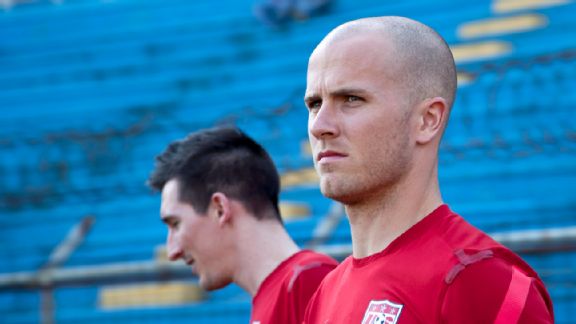 AP Photo/Moises CastilloMichael Bradley's wanted to ensure that he was a full-time starter as preparation for the upcoming World Cup.
1. Bradley needs playing time now

After starting 26 games for Roma last season -- his first with the club -- Bradley has found time on the pitch more difficult to come by this season. The early-season ankle injury he suffered while on international duty in September didn't help, and even if Bradley appeared in all but two of the games he's been available for during the current campaign, there were no guarantees his playing time would increase in the new year. Once Roma brought in Belgian defensive midfielder Radja Nainggolan, the writing was on the wall for Bradley. Shortly after, according to multiple sources, the U.S. midfielder asked out.

"The arrival of Nainggolan at Roma has also contributed to Bradley's choice," Bradley's Italian representative, Alberto Faccini, explained. "At Roma, he never felt like an important player for the team."

With the World Cup now just five months away, being a bit starter anywhere apparently wasn't a risk the Americans' most important player wanted to take.

2. The other options weren't that attractive

You can believe that if embattled Manchester United boss David Moyes had come calling with the promise of a significant role for the Reds, Bradley would have jumped at the chance.

Instead, the two English Premier League clubs he was most recently linked to -- Fulham and Sunderland -- are candidates for relegation this season. Even if one of those struggling teams was willing to pay Roma's high asking price, for Bradley it would have meant trying to break into a desperate team midseason, something he was unable to do during an unsuccessful loan to Aston Villa in early 2011. He's a better player now, of course. But there still was the very real possibility that, if his new club went down, he'd be on the hunt for a new employer again this summer. According to Faccini, Serie A clubs Verona and Bologna were also interested.

For a player who has worked in four different countries since leaving MLS as a teenager in 2006, the long-term deal offered by Toronto means stability for Bradley, who has a young family to consider. Like Clint Dempsey, who left Tottenham for the Seattle Sounders last year, Bradley is a family man, and family considerations certainly came into play here.

3. Financially, it's a no-brainer

According to reports, Bradley's net salary with Roma, after taxes, was about $1.1 million annually. Multiple MLS sources told ESPNFC.com colleague Jeff Carlisle that the deal with TFC would be worth "in the neighborhood" of $6.5 million per season.

Even taking into account Canada's higher income tax rates (compared to the U.S.), a deal like that would be a significant increase in salary. He would also get a percentage of a transfer fee that's reportedly in the $10 million-plus range. That's a significant investment from the club, especially on the heels of England striker Jermain Defoe's impending arrival from Spurs. In total, the deals for Bradley and Defoe will cost owner Maple Leaf Sports and Entertainment close to $100 million, according to the Toronto Star. With former L.A. Galaxy chief Tim Leiweke at the helm, it's clear that the club is truly committed to fielding a winning team after seven playoff-less seasons, even if it's among the most expensive in MLS. Add it all up, and Bradley's shocking move back to MLS starts to make a little more sense.