Remembering Eusebio's brief time in the NASL
The original North American Soccer League feels, in retrospect, like a dream. The halcyon days. Sepia, grainy videos of Pele in New York Cosmos garb, dribbling past other globally known soccer stars and journeymen to create memories that still resonate. American goalkeeper Shep Messing bore witness to many of the NASL's ups and downs during his seven-year stint, including the 1975 season at the Boston Minutemen with a certain Portuguese legend, Eusebio.

All told, Eusebio's time in North America was short -- a year in Boston, a championship-winning campaign with the Toronto Metros-Croatia in 1976 and a swan song for the Las Vegas Quicksilver in 1977 before drifting into the NASL's rival leagues, the American Soccer League (his team, the New Jersey Americans) and finally five games for the Buffalo Stallions of the Major Indoor Soccer League in 1979. These years in the U.S. would end up being his final years playing the sport.

Though Pele, Carlos Alberto, George Best, Johann Cruyff, Franz Beckenbauer and Bobby Moore are more revered for their U.S. exploits and impact during the NASL's brief and dizzying existence, Eusebio's time was no less memorable. Messing talked to ESPN FC by phone with some recollections of his time with the man known as "O rei" (The King).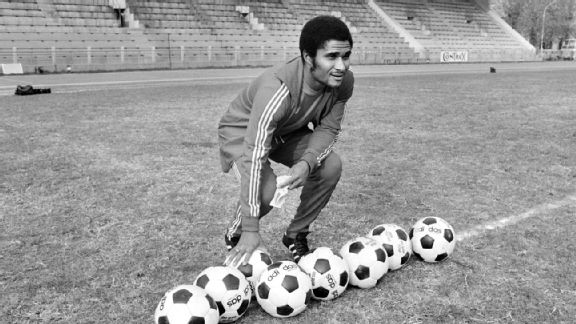 STAFF/AFP/Getty ImagesEusebio finished his playing career in North America, spending three memorable seasons in the NASL and winning the title with Toronto in 1976.
First impressions
When I first met Eusebio, it was almost surreal because I was a young American goalkeeper without a big historic knowledge of world soccer, and I'll never forget it.

We were playing up in Boston -- I played for the Boston Minutemen and [coach Hubert] Vogelsinger, the Austrian coach -- and we were a team in turmoil at the time, players coming in and out all the time. One day this guy walks into the locker room, unannounced -- we had never heard a thing about it -- and he strides into the locker room and he's a big, strong, tough-looking black guy and we had no idea who he was at first!

We just thought he was another guy trying out [for the team], as we had guys trying out on a constant basis ...

But within minutes -- we had a player from Bayern Munich, [striker] Wolfgang Suhnholz, who recognized him and within two minutes, we were whispering, "That's f---in' Eusebio!" I mean the way he walked into the locker room, he was like a king. Just the way he walked!

So I was in awe. I mean, it was the first time in my soccer room in my career that I shared a locker room with an idol, with a god.

In terms of on the field, we went out that first couple of days of practice just watchin' him. His legs were beat up, I mean he was limpin' around, and then he hits the ball ... the way he strikes the ball, I mean harder than anyone I've ever seen in my life. We actually clocked him because Coach Vogelsinger, that first week in practice, borrowed a radar gun from the Boston Red Sox. I think he was trying to make an impact on the rest of us, trying to say that we gotta take it to another level [in terms of our play].

I think [Eusebio] was clocked at like 80, 85 miles an hour. I mean, the guy hit a ball harder than anybody I've ever seen in my life. And I've played against Pele and Cruyff ... Gerd Muller ... but Eusebio could strike a ball harder than anybody I've ever seen.

Life in Boston
First of all, right away, he was the guy that enjoyed life and soccer more than anybody I've ever met. I think I'm one of the only guys in the world that have played on a team with Eusebio, Pele, Beckenbauer and Carlos [Alberto] -- think about that -- but you know, his smile lit up a room. I don't wanna talk too much about his soccer, because you know the greatest minds in the world quoted what Eusebio was as a player.

But within a day he'd nicknamed me "Pantera Blanca" -- that's what he called me, "the White Panther" -- because he was obviously "la Pantera Negra." So we're playing at Boston University, Nickerson Field. And Nickerson Field, if you don't know about it, they have coed dormitories adjacent to the field, a 20-story building that overlooks the field.

So the first game we ever play at Nickerson Field with Eusebio, they play the national anthem and at the end of the national anthem, we look up to the 10th floor and these coeds are mooning us!

Eusebio, to this day, would say that this was one of the greatest moments of his life.

He just loved life, so he would tell the visiting team -- we played the Cosmos that year at Nickerson Field -- and he's telling Pele, "Look up during the national anthem at the dormitory."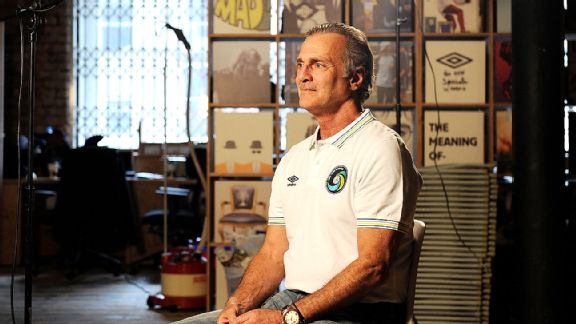 Chris Brunskill/Getty Images Shep Messing warmly recalls Eusebio as the best he'd ever played with.
Navigating NASL's money issues
And he was smarter than anybody I knew. I tell you what I mean by that. He played one year in Boston, I did too. The following year, we [the Minutemen] were going bankrupt, so during one of the card games, Eusebio calls me, "Hey, Pantera Blanca! You're gonna be our agent. You're gonna get on the phone."

And I mean we're playing cards, we're drinking whiskey, we're smoking cigars, and Eusebio's orchestrating all of this! He says: "You speak English, call the teams, tell them you're an agent, don't tell them your name, tell them you're an agent and Wolfgang [Suhnholz] is available, [Antonio] Simoes is available, Eusebio's available and Shep Messing's available."

So we did this for three weeks in a row and I made the deal to sell Eusebio and Simoes -- no, Eusebio and Suhnholz -- to Toronto, and then Simoes went to San Jose and I went to the Cosmos, but it was Eusebio who orchestrated the whole thing.

Eusebio's impact on American soccer
Yeah, I think it's a little bit unfortunate -- and it's odd to use the words "unfortunate" and "Eusebio" in the same breath -- but I don't think his legacy in the United States and the NASL does justice to the man and to the player he was. Look, he came here and played a season and a half in Boston with me and then won a championship -- and I was happy for him -- in Toronto that next year, but it was a short and unspectacular career for him in America. I don't think America got even a glimpse of the greatness that was Eusebio.

I think we're honored -- I'm honored -- to have had him at all, but I think when you look back historically in terms of what Pele did for the league, and Franz [Beckenbauer], and some of the other guys, I don't think Eusebio gets his due justice. Though I can tell you this: He's one of the few guys in the world I know who's got a statue in Lisbon outside the stadium and he's got one outside of Gillette Stadium outside the stadium.

I don't think that what he did in America will ever live up to what he did worldwide, but I think we should all be appreciative that he was even here at all.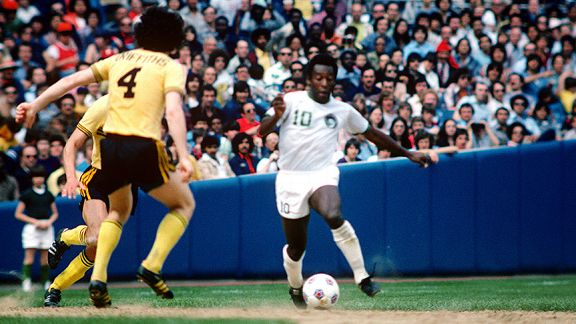 Getty ImagesThough Pele was the NASL's crown jewel, even he couldn't stop Eusebio in their fabled 1975 encounter at Nickerson Field.
Eusebio vs. Pele
I hope this isn't fantasy-memory, but it seems to me that one of the biggest games I played with him was the first time Pele was coming to Nickerson Field, you know the Cosmos vs. the Minutemen, Pele vs. Eusebio.

I think if memory serves me right, Nickerson Field probably holds 10, 12, 13 thousand people, but the team was going bankrupt [at the time], so [owner John Sterge] sold about 20, 25 thousand tickets. The field was packed; they were not just in the stands, but it was standing room only on the field. The fans stood right up to the goals and right up to the touchline.

As you know, Eusebio hit a free kick -- you know, one of those 80-miles-an-hour efforts -- and the place erupted, he scored on the free kick. There was a goal Pele scored that was disallowed, and the game ended up in a riot where the crowd came down, Pele was hurt ... we had to replay the game ... but that was the moment, you know, where a guy [like Eusebio] lives up to the expectations in front of a sold-out place against Pele and he hits a thunderbolt with his right foot!

You could see the fire in his eyes -- he still had that smile, but you know, he took the field with his heart pounding and couldn't wait to play.

And that was Eusebio.