Johnson's latest journey is to D.C.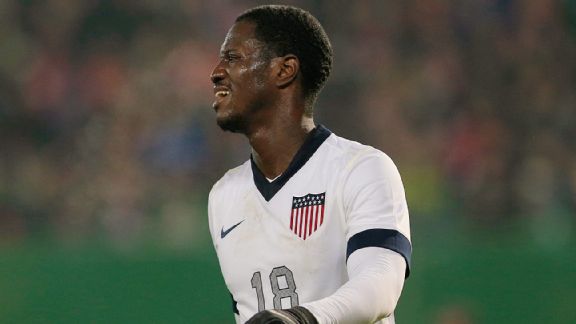 Alexander Klein/AFP/Getty ImagesJohnson has signed for the fourth MLS club of his career.
Eddie Johnson got his wish, and got paid. Now it's time for him not only to deliver on the field but also to shed his reputation as a problem in the locker room.

The Seattle Sounders -- a team that owner Joe Roth admitted was fraught with chemistry issues in 2013 -- announced on Tuesday that it had traded the U.S. international to D.C. United for allocation money.

It is expected that Johnson will have his current contract, one that was set to pay him a reported $175,000 in 2014, torn up and replaced by a designated player deal instead.

- Fulham hopeful over Dempsey loan deal

On a conference call with reporters, Seattle GM Adrian Hanauer stated that the move was mainly "salary cap-related" and that the money obtained in the deal would allow Seattle to make as many as two more major signings.

"We thought that this was the best solution for us to manage the roster the way we need to manage it and hopefully put us in a position to compete for a championship in 2014," Hanauer said.

For D.C. United, it's a move that contains considerable risk. Johnson joins his fourth MLS team, having previously spent time with Dallas, Kansas City and Seattle, and at almost every stop he developed a reputation for selfishness. Without question, this is a trait you'll find in a lot of forwards, but in Johnson's case, it ended up eroding the goodwill of his teammates and coaches.

One example came after he scored against Columbus on Aug. 31, when Johnson mouthed the words, "Pay me." Later in the season, he was held out of practice in October by Sounders head coach Sigi Schmid.

Hanauer described the off-field issues related to Johnson as "minor incidents," but other sources were less forgiving.

"It's almost like, 'In what way is he not a problem?'" said one former teammate who asked not to be identified. "From being late, disruptive, abusive, uncoachable -- the list goes on. You can only take it for so long. You either lose the whole team or you lose him."

However, Johnson has had moments in which he's thrived -- he has scored 64 career goals in MLS -- and one former coach indicated that, under the right circumstances, he could do so again.

"You have to be very clear what your expectations are and hold Johnson to that standard," said the coach, who asked not to be identified so as to avoid any allegations of tampering.

"He's extremely talented and just needs to be guided in the right way. You have to be constantly on him. He needs structure and feedback."

Johnson appears to work best when has something to prove, like he did during his first year in Seattle, when he scored 14 goals. But in more than one instance, when success has come, so has a poisoning of the atmosphere, especially when Johnson feels he's underpaid.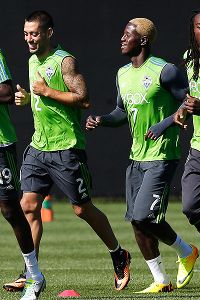 AP Photo/Ted S. WarrenDempsey and Johnson was thought to be a forward line to fire Seattle to a championship but the Sounders' season ended in disappointment.
This was the case last year, when designated players Obafemi Martins and Clint Dempsey arrived in Seattle, and it's an open question as to how much he can really change at this point.

"[Johnson] is 29 years old now," said his former teammate. "This isn't a kid who you're hoping can figure it out. You are who you are."

But for United, it's a risk worth taking. In 2013 the Black-and-Red was at the bottom of MLS in terms of wins (three), points (16) and goals scored (22), and Johnson figures to help in all of those areas.

His athleticism and goalscoring ability is unquestioned, and he provides an attacking threat with his pace and power that opposition defenses have to respect. His presence alone should ease the burden on a defense that, with 59 goals conceded, was the second-worst in the league behind Chivas USA.

The challenge for United is to get the best out of Johnson, and the club does have some pluses in that area, one of which is Johnson's familiarity with some elements of the United staff.

Manager Ben Olsen was a teammate on the 2006 United States World Cup team. The club's scouting coordinator, Kurt Morsink, is a close friend of Johnson's dating back to their days in Kansas City. The hope is that the sight of familiar faces will allow Johnson's good side -- in person he can be quite engaging -- to come out.

In addition to proving that he's worth a DP contract, another area of motivation or Johnson will be the World Cup. He delivered some impressive performances for the U.S. during qualifying, and resurrected his international career as a result.

While a spot on Jurgen Klinsmann's 23-man roster isn't completely locked up, Johnson clearly has the inside track to be on the plane to Brazil and that will likely bring out the best of him at club level during the first few months of the MLS season.

However, given the money DCU is throwing his way, the club is banking on getting a productive player well beyond that time frame. With Johnson set to turn 30 in March, this may be his final chance to prove his off-the-field contributions can equal the considerable ability he has on it.