Jimmy Conrad recalls experience with MLS Re-Entry Draft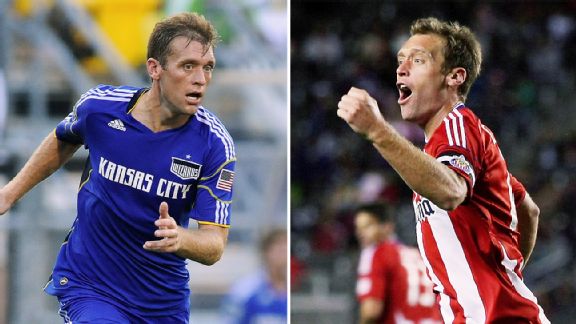 Getty ImagesJimmy Conrad pushed for the MLS Re-Entry draft only to see himself get drafted later on.
Major League Soccer just completed stage one of the league's unique 2013 re-entry draft process, and a few big names have moved already.

Just a couple of examples: Two-time MLS Cup winner Sean Franklin will head to D.C. United while longtime Columbus Crew vet Chad Marshall heads to Seattle.

Now in its fourth year, the re-entry draft is a mechanism meant to allow for a modicum of player movement within the league while still ensuring the league's tight grip on salaries. Players are eligible for the draft if they meet a set of very specific criteria, tied both to MLS years of service and their contract status.

Simply put, the re-entry draft is for players that teams either don't want anymore or are unwilling to keep at their current salaries. The flip side of that equation is that players facing big pay cuts or release from their current clubs have an opportunity to move to a team that needs their services.

From the outside, the re-entry draft is just another of the many exercises peculiar to MLS that dominate the offseason news cycle. Players are selected -- or they're not -- and the MLS community rushes to analyze the ins and outs of those choices.

But what is it like to be one of the players in the re-entry draft?

Former Kansas City Wizard and U.S. international Jimmy Conrad was in the first class of re-entry draft players in 2010. After eight years in Kansas City, Conrad, who was 33 at the time, was made available by the Wizards when his contract with the club ran out. Chivas USA selected him in the second round of that inaugural draft.

"Since I was one of the proponents for it behind the scenes of the players union, I was excited to go through the process and be the crash-test dummy," Conrad recalled. "If I was going to be the one who stood up for it behind the scenes, to help facilitate some kind of player movement within the rules of MLS, I thought who better to suck it up and take it?"

True to the spirit of the mechanism he helped push through the contentious 2010 collective bargaining negotiations, Conrad found himself able to open discussions with several clubs in a bid to find a new home. Beside Chivas USA, D.C. United also expressed an interest.

"It actually gave me some flexibility because I got to go around and find out which teams were interested,"Conrad said. "I had conversations with some [salary] estimations that I would have considered, based on my salary and what I thought my market value was.

"At the time, I thought I could have a real dialog, and I did. I talked to Ben Olsen at D.C., I talked to the Galaxy, I talked to Chivas. At that point I was toward the end of my career, so I wanted to land in a place that made the most sense for my family.

"If I had told Chivas I didn't want to go there, I could have landed in D.C."

The re-entry draft gave Conrad leverage he would not have had without it. By talking to various clubs and making it clear where he would or would not want to go, he could essentially choose his next team.

"I'm glad [the re-entry draft] existed, because if it hadn't, I don't know if I would have as much opportunity to create my own dialog about where I wanted to go," Conrad explained. "I think it's pretty clear, 'OK, Team X, you can pick me, but I'm not going to go.'"

The process was not entirely painless, however.

After spending eight years in Kansas City and serving both as captain and as face of the team (just a few weeks before the draft, Conrad was asked to model the team's new kits during the rebrand to Sporting Kansas City), Conrad learned that he was on the list of eligible players, not through any contact with the club.

"I was sad about leaving Kansas City," he remembered. "It was very abrupt there, with no communication there from the front office about my future. So I just had to suck it up." Conrad's role in the creation of the draft meant he understood he was a likely candidate, though that didn't soften the blow of his departure.

While Conrad lamented his own experience with Kansas City in the first year of the new draft, he sees the process as a positive for both players and MLS clubs.

"It creates a little bit of freedom," he said. "As a player you feel like you have some flexibility, that you can move a little bit. That's all you want as player, a sense of a little control over your career if it doesn't work out with the club you're playing for.

"I think it ends up benefiting both [players and clubs] as it continues to evolve. Hopefully the next CBA brings some more creativity to the process."