Omar Gonzalez has no regrets in choosing MLS over a chance at Europe
BRISTOL, Conn -- Omar Gonzalez broke into unfamiliar territory in Major League Soccer back in August when he was rewarded with a Designated Player contract by the Los Angeles Galaxy.

The towering 6-foot-4 center back became the first defender in the league's 18-year history to receive a lucrative DP deal, contracts that are usually given to attacking players or marketable international stars. Furthermore, there were plenty of people who were critical of Gonzalez's decision to stay, with concerns that the 25-year-old was more preoccupied with his L.A. lifestyle then testing himself in the bigger leagues of Europe.

Visiting ESPN's headquarters to unveil adidas' new 2014 World Cup ball Thursday, Gonzalez admitted that though there was some pressure in signing the most lucrative deal for a MLS defender, he is happy with his choice.

"I got that sense a little bit, being the first defender to sign a DP contract. The fact that I was rewarded, I know I need to perform. To prove that it was worth it," Gonzalez said.

ESPN FC's State of MLS coverage:
Heneage: MLS spending
McIntyre: Is all of this expansion a good thing?
Labidou: Time to fix the playoffs
Carlisle: Will history repeat itself in Florida?
Davis: Evaluating the DP rule

Prior to his new pact with MLS, Gonzalez's agent Richard Motzkin revealed to me in May that teams from Germany, England and Mexico had all expressed an interest in the defender. So why did he stay? In the past, United States head coach Jurgen Klinsmann has made no secret of his desire to see his national team players challenge themselves, usually abroad, but when Gonzalez asked for his advice, the coach was encouraging about staying in Los Angeles.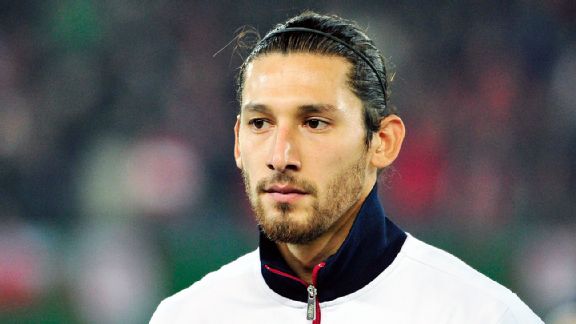 AP Photo/Hans PunzThe year of 2013 was good to Omar Gonzalez, who became a regular for the U.S. national team and a DP in MLS.
"I talked to Jurgen about going abroad and he was very supportive of me staying in MLS," Gonzalez said. "I was really happy about that because I feel that MLS is a really fun and interesting league right now. It's growing tremendously, there's a lot of growth; there's new teams coming in the league and great fans. I think overall, the play is getting better as well."

He added, "I'm really happy that I got the new contract and I'm staying for a few more years. I can't wait to see what the league looks like in the near future."

Still, the Mexican-American insists that he hasn't closed the door on eventually playing in Europe, and that the opportunity may come as soon as this January. Klinsmann has required that national team players either participate in a mandatory January camp or head on loan during the MLS offseason. Gonzalez says he'd be open to a loan deal though he hasn't heard of any teams being interested in him yet.

"I've given thought to both [options]," Gonzalez explained. "The last January camp gave Jurgen a good chance to see me as a player and to see how I was as a person off the field... whether that's the case this year or a loan opportunity comes up with something that works for both parties, that would be cool as well."

The Galaxy have already made it publicly known that star attacker Landon Donovan won't be available for loan but haven't yet clarified Gonzalez's status. Speculation is that with Donovan being in his 30s, they want to make sure that he doesn't show any fatigue during the season but could be more open to allowing Gonzalez to leave. However, if that doesn't happen, Gonzalez pointed to his three-year deal with L.A. and suggested that the opportunity may arise later on in his carer.

"With my new contract, at the end of it, I'll be 28," Gonzalez stated. "Maybe I'll sign again here in MLS... I think being 28 as a center back, is a pretty good time to head over to Europe. I think I'll cross that bridge when it comes."

"At some point, I do want to try out [playing in] Europe but right now, I'm really focused on doing well for the Galaxy and hopefully winning more championships."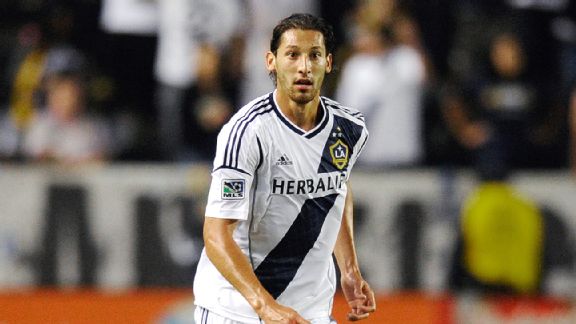 Kelvin Kuo/USA TODAY SportsOmar Gonzalez is banking on Los Angeles's young starlets to help bring the Galaxy back into contention.
Gonzalez's comments bring up another new interesting point: How does L.A. improve with three locked-in DP contracts? The club's early exit from the 2013 postseason suggests that the club may need to sign another impact player to contend with the likes of Sporting Kansas City next year.

Gonzalez disagrees. The Dallas native believes the Galaxy's chemistry will be key in any potential success in 2014 and also hopes that young starlets like Gyasi Zardes and Jack McBean will take the next step.

"I think the guys we have are all quality guys, I think how you improve is building on comradery. Building on what you did in the past," Gonzalez said. "Another thing is bringing our young players forward. We have really good young talent, if we can bring them along and get them more lethal in the final third, that could go a long way."

With offensive weapons like Donovan, Keane and hopefully Zardes, it wouldn't be wise to bet against the team returning to contention next season -- especially if Gonzalez continues to prove why he deserves his lofty contract.