MLS Cup victory ends long wait for shootout hero Nielsen
KANSAS CITY, Kan. –- One by one, the Sporting Kansas City players and staff walked up behind goalkeeper Jimmy Nielsen and drenched him with champagne, beer or whatever liquid they happened to have handy.

On a day in which the official match temperature for the MLS Cup final against Real Salt Lake was 20 degrees, that was about the last thing he needed.

"The first champagne I had was pretty warm. This is ice-cold," he said Saturday with a smile and a shake of the head.

But then the enormity of SKC's 7-6 penalty shootout victory over RSL -- after normal time finished 1-1 -- began to sink in. Nielsen looked down at the championship medal hanging around his neck, and his eyes began to moisten.

• Davis: Three points

"This trophy here, it means a lot to me," he said, his voice shaking with emotion. "It's a proud moment. I came here four years ago with a goal of being a champion. And now I'm standing with this [medal]."

Nielsen's performance in the shootout, in which he saved two RSL spot-kicks, including a potentially match-winning attempt from Sebastian Velasquez, didn't come as a surprise to Peter Vermes. The Kansas City manager brought Nielsen to the club back in 2010, and has received everything he could have hoped for and more.

"Nielsen has been through a lot in the game, but he's a class act," said Vermes. "The great thing about him is everybody makes mistakes along the way. But he gets on with it, and he keeps going. He's an incredible person."

The victory was special for Nielsen on a variety of levels. It's been a long wait between league titles for the Dane. He won a Danish SuperLiga championship with AaB Aalborg back in 1999. In between, Nielsen beat a gambling addiction that nearly cost him his career. For those reasons, the importance of seizing this particular opportunity ran deep in Nielsen's psyche. And he tried to impart this message to his teammates during the run-up to Saturday's match.

"You want to give everything you have and bring everything you have," he said. "You don't want to sit back after a final like this, and have the feeling you could have given a little bit more. And they gave everything they had."

Kansas City needed every last ounce of energy to prevail. It was a match with plenty of give and take, and by the end there had been enough changes in momentum to induce a case of whiplash. SKC should have been a goal or two up by halftime, but missed some golden chances. RSL then broke on top through a 52nd-minute strike by Alvaro Saborio, and could have doubled their advantage on two other occasions, only to hit the woodwork.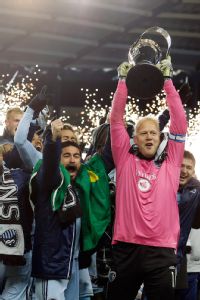 Ed Zurga/Getty Images
As all this was going on, Nielsen -- who was playing with broken ribs -- looked like a keeper who was playing on ice skates. That's because for all intents and purposes he was. Players from both sides admitted that part of the field was frozen, especially in the south end of the stadium, and Nielsen certainly had moments when he struggled to cope. He even resorted to changing his shoes whenever he had to change sides of the field.

"The moment I stepped out onto the field for the warm-up, it took a little bit of the excitement away because I know it would be very tough conditions out there," he said. "It was pretty weird to be in that one end where you can't plant your feet. I could barely kick the ball. It was like ice skating."

Fortunately for Kansas City, Aurelien Collin –- who was named the game's MVP –- rose up in the 76th minute to nod home Graham Zusi's corner and the home side was level.

It was Kansas City who came closest to scoring after that, with substitute Claudio Bieler launching a close-range shot over the bar, and Zusi forcing a sharp save from Nick Rimando four minutes into extra time, but neither team could find a breakthrough.

What ensued was the most bizarre shootout in MLS history. There likely wasn't a neutral fan around who would have bet on Nielsen prevailing over Rimando, given the latter's proficiency in shootouts, including the 2009 MLS Cup final victory over the Los Angeles Galaxy. But SKC jumped out to a 2-0 lead, with Saborio skying his attempt over the bar and Nielsen saving Ned Grabavoy's attempt. SKC stayed in front until the fifth round, and Zusi could have won the match with this attempt, but fired over as well.

Each team held serve until the eighth round, when Lawrence Olum missed his attempt, setting up Sebastian Velasquez with the chance to win it for RSL.

"In this moment, you don't think like that, that you're out of the game," said Nielsen. "You think you have to save it, that you have to stop the ball. That's the only thing that's going through your head in that moment, nothing else."

In earlier rounds, Nielsen could be seen using a cheat sheet of RSL tendencies, but he didn't consult it for Velasquez's attempt. His trust in his own ability proved to be the right approach. Nielsen made arguably the biggest save of his career, diving to his left to smother Velasquez's weakly hit shot.

The shootout proceeded into the 10th round, which easily was the longest in MLS history. Collin buried his shot into the side netting, leading Vermes to observe, "That was the best penalty [Collin's] hit since he's been with us, even in training."

When Lovel Palmer slammed his shot off the crossbar, the MLS Cup was in the hands of Kansas City for the second time in franchise history.

"I tried not to play this game too many times in my head before, but I played it a lot of times in my head," said Nielsen. "None of the games I had in my head were like this tonight. Coming out in 10 PKs and everything, it's just an awesome moment."

There have been questions about whether this was Nielsen's final season, which might explain why the win meant so much to him. But the 36-year-old insisted that now wasn't the time to make such a decision.

"Tomorrow we're doing our physicals, and then I'm going on vacation," he said. "Then I'll figure that out with Mr. Vermes."

In the meantime, he'll continue to treasure the championship medal around his neck.

NOTES:

• The loss for RSL was the latest in a series of bitter pills. Real became the first MLS side to lose an MLS Cup final and a U.S. Open Cup final in the same season. Placed on top of the team's loss to Monterrey in the final of the 2011 of the CONCACAF Champions League, and you have a side that came within touching distance of greatness, especially when you consider it won the MLS Cup title in 2009. Instead they will have to live with what might have been.

But manager Jason Kreis, who may have coached his last game for RSL given the offer on the table from expansion side NYC FC, chose to look at those disappointments from a different perspective.

"It's remarkable that this group has put themselves in so many positions to win things and unfortunately, things, one thing or another, just haven't gone our way," he said at his postgame press conference. "It's easy to look at that in a negative way, but I don't think we should because I thought we played outstanding tonight. It wasn't like we came here to defend or bunker in. I'm really proud of this group and I think it's a fantastic team."

• Vermes entered his name into the MLS record book with the win. He is now the second individual to win an MLS Cup as a player and coach, following Peter Nowak. But Vermes is the first to perform the feat for the same club.

"This was so important to me because the nucleus of players that has been here the last three or four years has wanted this," he said. "It's something they've worked extremely hard for, and they've stayed focused to it. It's also great for the owners and fans. I'm so glad that everyone can be rewarded for what they have been trying to do."

• While Kreis fell well short of using the frozen field as an excuse –- the Kansas City players made note of the conditions as well -– he did have some criticism of the much-touted under-soil heating system at Sporting Park.

"I did think it was a little bit unplayable. It was frozen on the opposite side of the field from our bench and the goalkeeper's area to the right of our bench, the closest one to the Kansas City bench was completely frozen. Nick said he was slipping every time he tried to push off so those circumstances aren't ideal for soccer at all. I'm glad we didn't see any injuries tonight. But I think it's something that all clubs, in the future, should know that we need to have better heating systems."