Cast away from Europe, Robbie Findley enjoying his second stint in MLS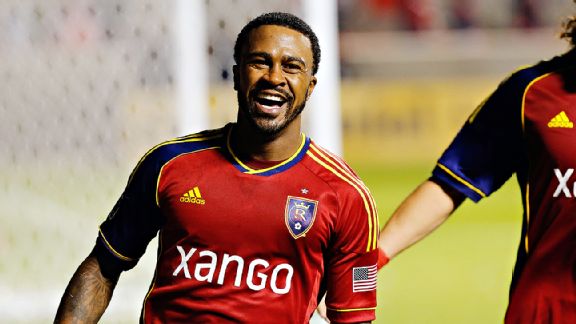 Chris Nicoll/USA TODAY Sports
It's a dream that many professional American soccer players aspire towards; the opportunity to test their talents in Europe amid a continent of passionate fans and gifted individuals. For those who achieve that goal, a whole new set of challenges emerge.

Making it to Europe and success are far from mutually exclusive. Sometimes, the difficulties do not even stem from a lack of talent. Cultural differences, injury and even the idiosyncratic politics of a football club all protrude as potential stumbling blocks.

Robbie Findley knows that more than most. The Real Salt Lake striker joined Nottingham Forest in 2011 and suffered the latter obstacle in abundance during a two year stay in English football.

"I think it was difficult having five different coaches during the two years I was there," Findley tells ESPN FC. "I think the best opportunity I did get was when Steve McClaren was there. I'd be playing and scoring goals, but he wasn't there too long so I feel like it was just tough."

As if serving as an example to the chaotic scenes unfolding at Forest during Findley's time at the club, his first manager Billy Davies, the man who signed him, returned to manage the club a month after Findley's departure in January 2013 and just two years after first being sacked as coach.

"When a new coach would arrive he'd have a few of his guys that he'd have on his previous teams come in and it's just hard to get your chance and get your opportunity when you're looking for results to move forward," Findley said.

A lack of opportunities at Forest saw him join Gillingham on loan in late 2012, which while giving him games presented another unique set of challenges.

"I was kind of worried about going on loan," Findley admits. "I was familiar with the guys I was with at Forest but just going to another team and being with a whole bunch of other guys was tough for me. Plus, staying in a hotel the whole time, but they [Gillingham] made it easy on me, the guys were really nice and welcomed me really well."

Despite fitting in alright at Gillingham, Findley failed to score goals there in his seven appearances. It appeared that his luck in England had run out.

Eventually granted a termination of his contract by Forest in January of this year, it had proven to be a testing time for the forward, as self doubt crept in.

"You go into training and you work hard and you're not in the team so it's just like kind of are you doing the right things, am I doing enough," he asked. "You start questioning. I mean I prayed about it, I talked to my family, and my friends and people that support me and they helped me get through it. I just tried to stay strong mentally."

From there, Findley began making noises towards his former employers Real Salt Lake. Arizona may be home to the forward, but Salt Lake comes a close second: "I knew how the system worked, how Jason Kreis wanted to run things and I was just familiar with the area," he said.

With The Portland Timbers still holding his rights, RSL put the deal into motion and eventually came to an agreement. And it was with a sickening irony for the Timbers that Findley would score the only goal of their second leg, playoff encounter -- helping to ensure RSL's place in the final.

Talking fondly of his coach Jason Kreis as well as their understanding, Findley believes Kreis has: "Turned this club around."

Just how he's done that, at least in Findley's opinion, is by installing a cast-iron team ethos: "The philosophy is 'the team is the star'. Everybody that comes in here, in preseason we have meetings and he sits down with everybody and makes sure they buy into that," Findley explained. "Every single player has to buy into it in order for things to work out. He makes sure everybody knows their role."

Now back thriving at RSL during his second spell with the club, Findley is also someone who still harbors ambitions with the U.S. Men's National Team. Currently on 11 caps for his country, the striker feels he's best served to achieve those goals by 'taking care of business' at club level. That starts with Saturday's trip to Sporting Park.

"It's going to be a hard fought game, but we'll have our fans out there and we know how to win away from home," Findley said. "We're not afraid of going away from home and we'll put in our best performance."

Scoring in his last MLS Cup final, the omens seem good for Findley. But long before he gets invested in thoughts of how to approach his season ending game, he's overcome by the enjoyment of just being involved.

"The most important thing is being on the field and playing," he explained. "That's what I realized over there [in Europe]. It's not fun just sitting in the stands and not getting on the field and feeling like you're part of winning with the team. That's one of the main reasons why I came back. Just enjoying myself and having that fun again."