Middle ground the key area of battle in MLS Cup
KANSAS CITY, Kan. – When the 18th MLS Cup final kicks off at 3 p.m. local time (live on ESPN and WatchESPN, 4 ET), all eyes will be on the respective midfields of Sporting Kansas City and Real Salt Lake.

Both teams rely on their men in the middle to dictate the game not only when in possession but defensively as well. Kansas City's pressing style has flummoxed many an opponent, but it will face the ultimate challenge in a Real Salt Lake side that is adept at playing its way out of pressure.

"They're going to press, we're going to press," RSL midfielder Ned Grabavoy said before Friday's practice. "It's going to be a highly intense game with a lot of big-time plays. Obviously, you're going to need to get the ball off your feet quick and look to play simple possession until things open up."

That's easier to talk about than to put in practice, however. SKC's front three of Graham Zusi, Dom Dwyer and C.J. Sapong does plenty to defend from the front, allowing the likes of Oriol Rosell and Paulo Nagamura, along with attacking midfielder Benny Feilhaber, to pick up the loose balls and kick-start the attack.

"Sometimes, the first two or three passes are the hardest passes to make in possession, until you beat that first initial line of pressure," Grabavoy added. "Then there's space for a Javier Morales or a Luis Gil or myself to get into the attack and find the forwards and link up."

RSL, with its tight diamond midfield, is also adept at winning the ball back, thanks to getting consistent numbers around the ball. It might not have as many snarling Dobermans in midfield as Kansas City does, but Kyle Beckerman makes up for that all by himself.

The U.S. international's savvy positioning also allows him to break up plays without having to put in a heavy challenge. And he gets plenty of positional help from the likes of Grabavoy and Gil.

"It's not fun playing against Beckerman," said Feilhaber, who knows the RSL midfielder from a smattering of national team camps. "He's a tough player to play against. He's a little bit of a p---k on the field, which is really good for whoever he's playing for, but it's tough playing against him. I have a lot of respect for him."

Feilhaber added that quick movement of the ball will be the key to breaking down RSL.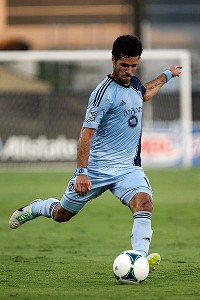 AllsportFeilhaber could be a key man for SKC.
"We have to try and open them up a little bit. Play side-to-side, keep possession and make them run a little bit. Once they do that, we're going to be able to find some spaces in between.

"If I can get a ball in the middle of the field and go at them, I'm going to try and do that. There might not be too many opportunities to go at them."

Granted, there are lots of moving parts that contribute to effective midfield play. Both teams like to get their outside backs onto the attack, and both feature quick strikers capable of getting in behind defenses.

But ultimately, it will be a battle of wills in the center of the park, and the midfield that can gain the upper hand likely will be the one that prevails.

Findley's happy return

After spending two years overseas, Robbie Findley returned to RSL before the start of the current campaign. His stats didn't necessarily dazzle the eye, as he tallied six goals and two assists in 25 games (17 starts).

However, Findley has been a bit more prolific in the playoffs, scoring twice in the Western Conference finals against Portland. But his contribution goes beyond statistics: His speed and ability to stretch defenses have given the RSL attack a dimension it didn't have a year ago.

"If Robbie makes a run through, someone has to respect that and run with him," Grabavoy said. "Now there are spaces to play underneath that, as well. So, Robbie has provided us with a big different look that we didn't have last year.

"When we got him back this season, all the veteran guys that have known Robbie were really happy that he came back."

Findley's time in England, primarily with Nottingham Forest, was plagued by injuries. But he's still appreciative of the experience.

"There were five coaches in the two years I was there, so I learned a lot from the different coaches, how they played, the different tactics and things like that. And just getting older, getting smarter, reading the game better, that's what I brought back."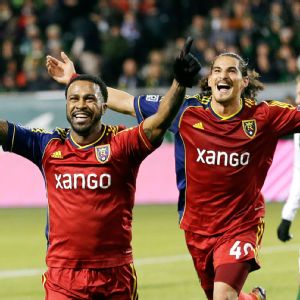 AP Photo/Ted S. WarrenFindley has had plenty to smile about during RSL's post-season run.
Findley battled an assortment of injuries this season, but now, with a second MLS Cup title in sight, he is ready to help RSL get over the championship finish line.

"Things are clicking at the right time," he said. "I feel good, and it can't be any better right now, really."

Nagamura adapts

These days, Sporting Kansas City midfielder Nagamura is plenty comfortable in manager Peter Vermes' 4-3-3. But, on Friday, Nagamura recalled a time two years ago when that wasn't the case.

"[The system] was definitely a challenge. It was definitely different," Nagamura said before SKC's training session.

"I played different formations on other teams. I played 4-4-2 on the Galaxy and Chivas. Playing in Mexico, I played in a midfield diamond. It was definitely different playing the 4-3-3 formation, but … it was going to be a work in progress, and I think myself and my other teammates adapted well to this formation."

So much so that Nagamura is often referred to as the player who keeps SKC's midfield ticking over, with his combination of possession passes and physical play. And teammate Feilhaber, whose skills lie more on the attacking side of the ball, is among those appreciative of his colleague's efforts.

"It's great that [Nagamura] is in there for me," he said.

Morales' second chance

Four years after RSL's only MLS Cup to date, there is much that is remembered from that championship game triumph. There was Findley's equalizer, and Nick Rimando's heroics in goal.

Almost forgotten, however, is the fact that Morales had to hobble off midway through the first half with a knee injury, thanks to a clumsy challenge from L.A. Galaxy midfielder David Beckham.

Morales certainly celebrated his team's triumph but didn't make the contribution that he wanted. Now he is relishing having another chance to shine on the MLS Cup final stage.

"I feel like it's a blessing because, to play another final in four years, it's not that easy, it's really tough," he said Friday.

"It's tough to play those kinds of games. Maybe some players in four years, they don't even play a final. So, this kind of game is very important for us. Probably I enjoy this moment more than anyone here."