Chris Wondolowski earns a spot in the MLS record books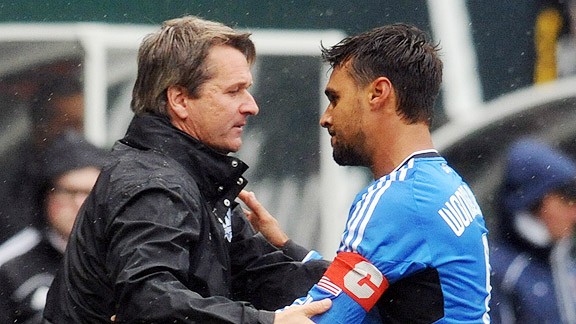 Steve Dykes/Getty ImagesChris Wondolowski embraces his coach Frank Yallop after tying the single season record of 27 goals set by Roy Lassiter in 1996.
Chris Wondolowski has been tearing MLS defenses apart for three seasons now. But after scoring his 27th goal of the 2012 campaign in San Jose's 1-1 tie against the Portland Timbers, he has a spot in the MLS record books.

Wondolowski tied the single-season record of 27 goals set by the Tampa Bay Mutiny's Roy Lassiter in 1996, thanks to a 24th-minute penalty. The spot kick was won under controversial circumstances when Portland goalkeeper Donovan Ricketts was judged to have hauled down San Jose forward Steven Lenhart, even though replays appeared to show he got a piece of the ball. It amounted to a bit of an anticlimax, but that was no concern of Wondolowski's, who fired in the penalty low to Ricketts' right.

"It's a true honor to be linked with a player like Roy Lassiter," said Wondolowski by telephone after the game. "He's a legend. I'm just full of glee right now. I appreciate all the teammates that have done so much and so much hard work. A lot of credit goes to them."

Wondolowski then had a chance to have the record all to himself, but his header midway through the second half hit the side netting. The San Jose striker rued the miss afterward, but still had no regrets over the manner in which he tied the record.

"I could care less," said Wondolowski, about equaling the record from the spot. "Obviously, I wish I could have scored from the run of play, that would have been fantastic. But I'm a happy guy right now."

The campaign caps off an astonishing three-year spell for Wondolowski that has seen him score 61 goals, five more than Raul Diaz Arce scored from 1996 to '98 with D.C. United and the New England Revolution.

"It's hard not to laugh," said former New England forward and current ESPN television analyst Taylor Twellman by telephone prior to Saturday's match. "That's an absurd number. But Wondolowski is right up there for me. This is one of the greatest seasons for a forward in MLS, if not the greatest season."

Or is it? Putting Wondolowski's record season in context isn't as easy as it might first appear. There's a case to be made for Jason Kreis' MVP season in 1999 with the then Dallas Burn. Kreis tallied 18 goals and 15 assists in 32 matches, but Wondolowski's seven assists have seen him play a hand in 34 goals, which just edges out the current Real Salt Lake manager.

A more compelling argument could be made for some other MLS stars of the early days. Wondolowski had the benefit of appearing in 32 matches this year, two more than Lassiter did in 1996. Stern John's 26-goal haul for the Columbus Crew in 1998 came in just 27 games, while Mamadou Diallo matched John's feat with the benefit of one more game for Tampa Bay two years later. All of these players will have averaged more goals per game than Wondolowski has this season.

Yet it's important to remember that in those early years, goals flowed much more freely in MLS. In 1996, the league averaged 3.36 goals per game. When John enjoyed his dream season in 1998, MLS set an all-time record of 3.56 goals per game. During Diallo's magical campaign in 2000, MLS averaged 3.18 goals per game.

Since then there has been a steady decline in goals scored, with 2010 – the same year Wondolowski had his breakout season, scoring 18 goals – seeing a record-low 2.46 goals per game. There has been an uptick in scoring since then, and heading into the final weekend of games 2012 was set to see an average of 2.66 goals per game.

All of this points to one indisputable fact. MLS defenses have tightened up considerably over the years, even in the face of an expansion boom that has seen the league go from 10 teams in 2004 to 19 teams now. None of this is a surprise to former Colorado Rapids defender and current Rapids television analyst Marcelo Balboa.

"The defenders, from Jamison Olave to Nat Borchers to George John, are big strong kids," he said. "The athleticism is much higher now than it was back in the old days."

Which in some respects makes Wondolowski's progression from journeyman to elite forward even more surprising. There is no one physical attribute that sets Wondolowski apart. Both John and Diallo were exceptionally strong and powerful to the point where those attributes were enough for them to get 10 goals a season on their own.

Wondolowski has a bit more in common with Lassiter, whose clever movement and timing allowed him to get separation from defenders.

"Lassiter perfected the near-post run," said former U.S. international and current Fox television analyst Eric Wynalda. "More often than not that would throw a defender off. Then when a defense thought they had that figured out, he would change direction and be there for the back-post tap-in."

That said, Lassiter was still noticeably quicker than Wondolowski, which highlights how much the San Jose forward has relied on instinct and deception to get his goals.

"It's about how smart you are, bottom line," said Balboa. "Wondolowski puts himself in great positions, he's optimistic, he chases everything down. Those are the players that are successful. The positioning this kid has, and the intelligence to put himself in the right place, he's hard to mark. You don't teach that. Those kinds of things come instinctively, naturally."

Another argument in Wondolowski's favor for the greatest season in MLS history is that he hasn't had the benefit of a real playmaker in the mold of Carlos Valderrama either. The Colombian, along with a certain Steve Ralston, fueled the stellar campaigns of both Lassiter and Diallo. The pedigree of John's supporting cast was lower, but still talented, with Andy Williams and current manager Robert Warzycha providing the bulk of the service.

In San Jose, central midfielders Sam Cronin and Rafael Baca have been outstanding this season, but both are players more likely to make the pass before the pass that leads to a goal. Marvin Chavez is among the league leaders in assists with 13, but does his damage from wide positions.

"Wondolowski is doing a lot more work to get his goal production," conceded Lassiter during halftime of last weekend's game between San Jose and the Los Angeles Galaxy. "But San Jose also has some dynamic players, attacking players that can take a lot of pressure off of Wondo. They can score goals. It's not only Wondo."

Indeed. In what has proved to be a master stroke by manager Frank Yallop, the combination of Steven Lenhart and Alan Gordon – otherwise known as McFilthy and McNasty to borrow a phrase from the late basketball announcer Johnny Most – has provided a scorched earth policy up top with physical play, sometimes in tandem with each other and at other times with one of them partnering Wondolowski. This has allowed the likely league MVP increased space and more opportunities to do damage.

"A lot of good forwards, after two good seasons, hit a wall," said Twellman. "And Yallop saw that he needed two bangers next to [Wondolowski]. Most coaches would say, let's pair him with a smaller quicker forward. Instead you've got two forwards next to him that absolutely kick the [crap] out of the center backs. It's huge because now Wondo has one-on-ones the entire game instead of one-on-twos."

All of this reinforces Twellman's original assertion that Wondolowski has indeed had the greatest season by a forward in MLS history. As for all time, players such as L.A.'s Landon Donovan and D.C. United's Jaime Moreno take that honor. Both have enjoyed long careers, won multiple MLS Cups (and yes Quake fans, two of Donovan's came with San Jose), and scored critical goals in the process.

Wondolowski was part of two MLS Cup-winning sides in Houston, but didn't play a minute in the postseason. With San Jose, he did have a taste of playoff glory, dumping the New York Red Bulls out of the playoffs in 2010. Now he has the chance to burnish his reputation with a place in the record books in tow.