Sapong overcomes adversity to play key role for SKC
The body cannot live without the mind. It was a lesson that Neo learned in "The Matrix" and the same has proved true during C.J. Sapong's up-and-down-and-up season with Sporting Kansas City.

Sapong entered the campaign expecting to build off a 2012 season that saw him score nine goals at club level and make his debut with the U.S. men's national team. Instead the year went sideways, and then down. All the way down, in fact, to a pair of loan spells with USL-PRO side, Orlando City.

There's always a risk with how a player might take such a demotion. But for manager Peter Vermes, it was highly calculated.

"For [Sapong], he had a little dip here and there, but the thing… that's fantastic about him is his incredible attitude," Vermes told reporters prior to Thursday's practice.

"You can talk with him, there's reasoning there. Sometimes, with some players, they don't want to see it; they don't want to hear it. Some of that is ego, some of that is pride, what have you, but you can have a discussion with him."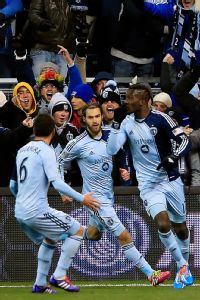 Jamie Squire/Getty ImagesSapong has had mixed fortunes since being drafted tenth overall in 2011.
As to the root cause of Sapong's struggles, Vermes vaguely hinted that Sapong stopped doing the things that made the forward successful when he first entered the league in 2011. Goalkeeper Jimmy Nielsen was a tad more specific on Thursday.

"Sapong knows what he's good at, and he has to use those tools every single day in practice and at every game.

"In my opinion, he's one of the most physical, strongest players in the league. I'm telling him before we always go on the field, 'You know who the strongest player is in the league, and that's you, and you've got to use that.'"

Yet the switch to turn that aspect of Sapong's game on clearly resides upstairs and that was the part of his game that his demotion did the most to rectify.

"It was more so the mindset of how I was approaching it," said Sapong."[Vermes] just wanted me to find that hunger and that fire that I had when he first drafted me. That's all I tried to do. I didn't really have to change too much. Once the mindset was changed, things started going my way."

That they did. Sapong scored three goals and added an assist upon his return to SKC, and added the equalizer in the second leg of the Western Conference finals against the Houston Dynamo.

"To go from having an impact on the team, to not even being chosen for a game day 18, to [helping] your team get to the finals, it's very fulfilling,' he said.

With body and mind connected once again, Sapong is ready to play the hero's role again come Saturday.

RSL injury update

The latest reports on RSL's injured trio of forward Alvaro Saborio, defender Chris Wingert, and forward Devon Sandoval proved to be a mixed bag, but the news was mostly good.

Saborio has been dealing with a pulled leg muscle while Wingert has been recovering from a broken rib and a pneumothorax, but Kreis said both players have been training fully for the last 12 days. He added that both players would be in the 18-man squad at minimum and were candidates for the starting lineup.

As for Sandoval, who started both games in the Western Conference finals against the Portland Timbers, Kreis indicated that the forward suffered a setback in Wednesday's training session. MLSSoccer.com stated he has a broken foot.

"[Sandoval] will be very touch-and-go," said Kreis at Thursday's press conference. "It will be a decision that we will make some time after the training session [Friday] and into Saturday as to whether he will be available."

At least the field will be warm... sort of

With Saturday's temperature expected to hit a high of just 25 degrees, there has been plenty of talk about how teams will prepare. To a man, the SKC players and coaches insist it will be business as usual, as was the case two weeks ago against Houston, a game that had even colder temperatures.

"We went through the exactly the same warm up [against Houston] that we did every game of the season and it was fine," said Kansas City midfielder Graham Zusi.

The routine won't be the same for the grounds crew at Sporting Park, however. Evidently, the good folks charged with maintain the playing surface watered the field prior to the aforementioned match against Houston against Vermes' stated wishes. That won't be repeated on Saturday, especially with an under soil heating system set to keep the turf from freezing.

"The good thing was that [watering the surface] didn't affect the field until late in the game," said Vermes. "But I think for this one we won't have to because there will be enough moisture coming through [the heating system], and the ground will be slick enough."

RSL's road uniformity

As Kreis, midfielder Kyle Beckerman, and goalkeeper Nick Rimando walked in for their portion of Thursday's press conference, one couldn't help but notice that all three were wearing camouflage pants. So what in the name of the Miami Hurricanes is going on there?

As it turns out, Beckerman and Rimando institute a dress code -- of sorts -- for all away playoff matches, and have done so since 2009.

"We tried denim-on-denim against L.A., and that didn't work," said Beckerman with a chuckle. "So we switched it up for Portland -- camo-on-khaki -- and we stuck with it."

SKC's elements of style

One narrative that has emerged from this MLS Cup is where Real Salt Lake is the purveyor of the beautiful game while Sporting Kansas City is more smash-and-grab.

However, like any broad generalization, there are exceptions. Players like SKC's Graham Zusi and Benny Feilhaber are as skillful as they come, and RSL's Kyle Beckerman can dish out punishment with the best of them.

That said, Kansas City's high-pressure tactics do have a strong helping of physicality, but Vermes insisted that it has considerable appeal as well.

"What is this, the 36th [straight] sellout in our stadium?" asked Vermes. "Somebody likes [our style], and it's important to make sure our fans like it, and they do, and I think that's why they're coming."

Kreis' swansong?

As has been his habit for the last two months, Kreis declined to directly address the persistent reports that he will leave RSL at the end of this year to take up the post with expansion side NYC FC.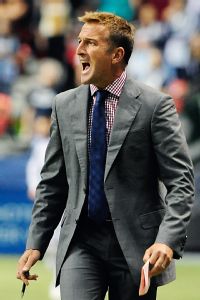 Anne-Marie Sorvin/USA TODAY SportsKreis has been in charge of RSL since 2007.
But it seems with each passing week, that he sounds like a man who has made up his mind. He's been talking about how, after the last regular season home game against Chivas, the home playoff game against L.A., and the home playoff match against Portland, he found himself soaking in the atmosphere at Rio Tinto, wondering if he had coached his last game there.

Saturday's match should prove no different. That, or this is the biggest coaching head-fake of all time.

"Yes, it might be the last match that I get to coach with this group," he said. "I will soak it up for sure, every single moment of it. That decision is yet to be made, something I've done a pretty decent job of -- putting it on the back burner -- and will continue to do so for another 48 hours."