Who will win? Predicting the MLS Cup
The tightly contested MLS season all comes down to Saturday's deciding game between Sporting Kansas City and Real Salt Lake.

There is plenty to prove for the two small market teams which pride themselves on team building and smart coaching. As the league's best remaining sides face off in Kansas City's beautiful Sporting Park, ESPN FC has asked the developers at the popular computer simulation game Football Manager 14 to provide an accurate pick of the final. Almost a month ago, the group correctly picked that RSL would face Sporting KC in the final. We also asked our group of MLS writers: Jeff Carlisle, Doug McIntyre, Alex Labidou, Jason Davis and Kristan Heneage to give in their votes as well.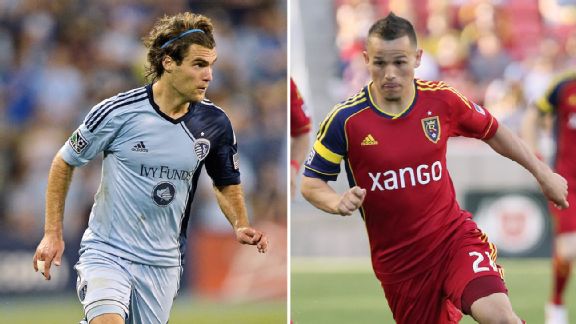 Getty Images, USA TODAY SportsAccording to the ESPN FC predictions, Graham Zusi and Luis Gill will face off in a tightly contested MLS Cup final.
Here is everyone's picks:

Football Manager 14: RSL will win 1-0 vs. Sporting KC in a tightly contested affair. According to game's simulation, RSL's Designated Player Alvaro Saborio scores the game-winning strike in the 36th minute and is the player of the match. United States international Matt Besler is SKC's top player in the final.

RSL wins the MLS Cup due to a small edge in possession with a 53-47 percent advantage and having a set striker in Saborio also helped with shots on target as the team had seven shots on target as opposed to three on Kansas City's end.

Carlisle: RSL 2-1 Sporting KC
I think RSL takes this one 2-1 in extra time. SKC will have home field advantage, but I think RSL has a tab more experience in big matches and that will carry the day.

McIntyre: Sporting KC will win 2-1 vs. RSL
RSL is a worthy finalist, but beating SKC in front of a partisan, sellout crowd at Sporting Park's may be too much to ask of the visitors. After all, the home team has won three of the four previous title matches hosted by one of the participants, including the LA Galaxy's back-to-back MLS Cup triumphs in 2011 and '12.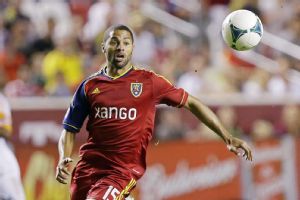 AP Photo/Rick BowmerAccording to FM's prediction, Alvaro Saborio will be the man of the match in the MLS Cup final.
Labidou:RSL 2-1 Sporting KC
Sporting KC will take an early lead but I think Jason Kreis will rally his men and push them to win. I do believe this is his last game as RSL's coach and he'll want to leave the club where he's had so much success on a good foot before he sails for greener pastures with NYC FC.

Davis:RSL 2-1 Sporting KC
It may take extra time, but I believe RSL pulls out a victory at Sporting Park. As they proved in the Western Conference Final, Jason Kreis's side is capable of an adaptability that will cause anyone fits, even Sporting. Real Salt Lake can defend, they can score, and they have Kyle Beckerman in the middle to help match the physical tone Sporting will hope to set.

Heneage: Real Salt Lake 1-0
There was a confidence in Robbie Findley's voice when we spoke this week. They've done it away from home against some good sides on their playoff run and I can see them frustrating a boisterous Sporting Park. Games like these you need to approach as a flawlessly cohesive unit, and the insistence from Jasob Kreis that, 'the team is the star' makes me think this team will star in KC.