The Designated Player rule: Success through evolution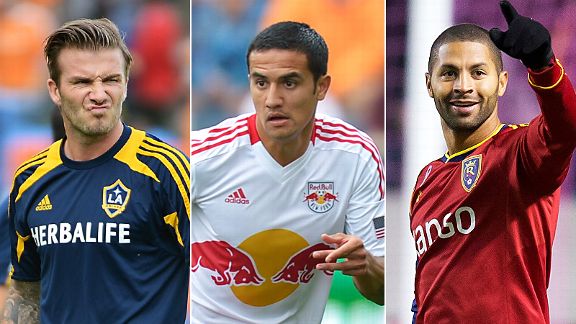 USA TODAY Sports, Getty ImagesMLS has seen a massive influx of DPs over the past few years, ranging from high-profile stars like David Beckham and Tim Cahill to RSL's Alvaro Saborio.
After seven years, 65 players, and millions of dollars, Major League Soccer's Designated Player rule remains a conundrum.

On its surface, the mechanism installed in 2007 that allowed for the arrival of David Beckham is a boon to clubs on the hunt for big time talent that they can't otherwise fit under the league's restrictive salary cap. Dig a little deeper, however, and one finds a host of differing philosophies -- almost as numerous as MLS clubs -- on Designated Players and how best to use them. That fact keeps open the question of the rule's ultimate success in a league pushing hard towards the promise of a richer economic future.

It wasn't until the fifth year of the rule's existence that a team with a DP on the books lifted the MLS Cup trophy.

Bruce Arena's Los Angeles Galaxy teams won back-to-back titles utilizing the DP tag to its fully evolved extent, counting David Beckham, Robbie Keane, and Landon Donovan as over-budget players. The streak of teams with DPs will continue in 2013 -- the rosters of Sporting Kansas City and Real Salt Lake include at least one Designated Player (Sporting has one, Argentine striker Claudio Bieler, while RSL has two in Javier Morales and Alvaro Saborio).

In fact, the likelihood that a team with a DP would win the title this year was extremely high, considering that only D.C. United and the Philadelphia Union do not currently have a DP on their rolls.

The time when teams eschewed signing DPs, perhaps wary of the risk, is long gone. The evolution of the rule, no longer just a way to increase marketing power but also crucial to forming a winning team, makes sense to Real Salt Lake GM Garth Lagerwey.

"I don't believe you can succeed in the league without an attacking DP -- preferably two," said Lagerwey by phone. "I do believe that there is a pretty firm consensus that you need an attacking DP. The hardest thing to do in soccer is to score goals. All around the world that's the most expensive position.

"In order to succeed and consistently compete for the playoffs in MLS, you need a DP striker."

Lagerwey admits that the biggest challenge for MLS teams using the DP rule early on was how to integrate the talent into their teams.

"Some of the debate at the beginning about DPs was 'how do you do this and structure your team?' and I think we've all found that you have to have at least a couple of special players. It's pretty unequivocal that you need to have somebody up there."

Sporting Kansas City CEO Robb Heineman is equally as convinced that the DP slot is the province of attacker and that utilizing the rule is crucial to MLS success.

"I think we feel like it's those 'nines' and 'tens' are the thing you are most attracted to," Heineman told ESPNFC on Tuesday. "It's where the salary appreciation is most prevalent across the world. You need that kind of a tool to go get quality guys in that space."

Heineman goes further, however, painting the DP designation both as a way to bring in highly talented, over-budget players and to free up resources to use elsewhere.

"Having the freedom to spend against the Designated Player has a waterfall effect within the roster itself," he continued. "One of the things that's a real balancing acts for the coaches in this league is trying to put a competitive team on the field, not only for the MLS season, but obviously for the U.S. Open Cup -- and for those lucky enough to qualify -- for the Champions League for that as well.

"The DP rule has given us flexibility to try and build depth within in the team, which hopefully leads to greater competitiveness and better results."

Heineman identified the DP-level attacking player that Sporting looks for as a "finishing piece," an idea somewhat contrary to the original role of the Designated Player as a superstar with overwhelming talent. That approach is necessarily dictated by Sporting's buying power, but it also happens to fit the image they've created in the new era of the club.

"We haven't necessarily approached the Designated Player as it being a magic bullet," said Heineman. "We have always looked to try to see if we can get quality guys that complement our roster and complement the way we play. We know it's always a risk, but we feel like it's a very calculated risk."

Both Sporting and Real Salt Lake are limited by the size of their markets, making them fertile ground for the rule to develop beyond the big marketing gambits represented by names like Beckham, Cuauhtemoc Blanco, and Thierry Henry. Real Salt Lake chose to utilize the DP designation to hold on to two players deemed critical to the team, Morales and Saborio. Sporting has dabbled with several attacking players, the most recent being Bieler.


ESPN FC's State of MLS coverage:
Heneage: MLS spending
McIntyre: Is all of this expansion a good thing?
Labidou: Time to fix the playoffs
Carlisle: Will history repeat itself in Florida?


That doesn't mean that the two executives don't recognize the impact of flashier names elsewhere, or even see themselves as disconnected from the likes of Beckham, et al. when it comes to selling their teams to a growing fan base.

"When the Galaxy come to town, it's a show," said Lagerwey. "It helps our business because they have Robbie Keane, Landon Donovan, and Omar Gonzalez. Those guys are at the very least nationally known stars. You're ignoring all of North American sports marketing if you don't think that stars 'drive the bus', so to speak."

Heineman echoed the sentiment while stressing the difference in focus for teams outside of the league's largest cities. For him, the DP rule was always made to be adapted to varying levels of investment.

"There's one David Beckham or, there's a small quantity of David Beckhams," he said. "I think we all understood he was going to be very unique marketing asset and that's why all of us were participants in his deal over the course of his career.

"I think for small markets teams like Kansas City it's about winning. We spend against the players we can get that can achieve that goal. That was always where we envisioned the rule being implemented in Kansas City."

The next step, according to many currently in the league, is an overall increase in the level of play. Better soccer requires better players, and with MLS chasing a significant improvement in television ratings to bring in more revenue and bolster its place in American sports landscape, the Designated Player rule can help.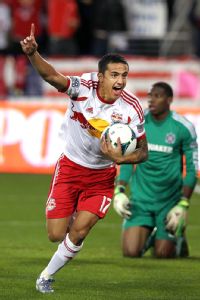 Brad Penner/USA TODAY Sports
Lagerwey points to one DP in particular who he sees as the archetype for a new wave of big name signings that can improve the league while also connecting with the unique American soccer fan base: Tim Cahill of the New York Red Bulls.

"Even though Henry has perhaps the more glowing resume, the more dazzling bits of skill, it turns out the guy that's willing to stick his neck in between six other players to score the diving header to win the game resonates with an American sports audience," Lagerwey said. "I think that's the future -- can you find these guys that are willing to give their heart and soul to a team? That's where I think the star aspect can help drive our league."

The long-term significance of the Designated Player rule ranges much wider than just the 65 players signed through its auspices, however. Just as Beckham's arrival spawned a new era of rapid growth for the league, the mechanism that allowed the Galaxy to sign him spawned a host of new initiatives that enable clubs to do more within the restrictive salary cap.

"At the end of the day, what all of us are trying to do is build a more compelling and entertaining product, not only for our fans in the stadium, but obviously for television as well." explained Heineman.

"The Designated Player rule paved the way for us to think about these things more creatively," he continued. "We need to continue to improve the talent on the field if we really want to be one of the top leagues in world by 2020, which is what we're very focused on doing here in Major League Soccer."

As for the question of the rule's success, neither Lagerwey nor Heineman hesitated to call the DP rule a massive triumph for MLS. Beginning with the groundbreaking nature of Beckham's stay and carrying through to the myriad ways MLS teams use it in 2013, the Designated Player rule is fundamental to where the league is now and where it hopes to go.