Schuler's comeback has helped inspire RSL's playoff run
As Chris Schuler talks about his play for Real Salt Lake, the 6-foot-4 central defender states more than once that he's "not special". He's right of course, but not in the way he intended.

In the MLS playoffs, Schuler has been well beyond special. He's been dominant, and his performances at both ends of the field have propelled RSL into Saturday's MLS Cup against Sporting Kansas City.

A compelling argument could even be made that Schuler is the Most Valuable Player of these playoffs, having bagged two goals in four matches, in addition to having helped limit opponents to just three goals scored during that span.

But even if one's preference for unofficial playoff MVP lies elsewhere, at minimum, Schuler is the owner of one of the most sweetly timed comebacks in MLS history.

- Heneage: MLS' smart shoppers

After playing the first 12 games of the season, a recurrence of a foot injury that has plagued him for the better part of two years flared up again, sidelining the St. Louis native for over four months.

There were even whispers during the summer that Schuler might have to be shut down for the season, although the player never allowed himself to be overwhelmed by such thoughts.

"It's easy to go down a dark rabbit hole during times of duress," Schuler said via telephone. "If you can stay positive, it helps out a lot. I just stayed focused on where I wanted to go and what I had to do to get there."

That meant doing all manner of rehab exercises. A typical day for Schuler involved driving to a facility in the Utah mountains to use a special treadmill, followed by more exercises in a pool. After that it was back to the RSL treatment room at Rio Tinto Stadium.

"[Schuler] took his injury the best that a pro could," said RSL goalkeeper, Nick Rimando. "He was in there every morning, and then after [training], trying to find a way to get back on the field, doing the right things. I think that got his focus on playing too because he did see other players going into the game, and starting, and doing okay. So I think he got his hunger back a little bit."

Initially RSL did not appear to miss the defender. The club hovered near the top of the Western Conference standings for most of the season, but much of this was down to an attack that was in the process of scoring a club record of 57 goals.

That kind of output can hide a team's weaknesses, and in this case it was RSL's defense which was cause for worry. That is not to say the club's backline was awful, but it lacked the consistency needed to win a championship, as a parade of players were auditioned to see who could partner Nat Borchers in the center of defense.

A sprained ankle sustained in August delayed Schuler's recovery further, so it was not until four games were left in the regular season that the defender returned to the field, against Vancouver on September 28. There were no guarantees he would be the answer.

"Being out for several months, it puts some questions in your head," he said. "But I had some positive, strong answers."

He did indeed. The chemistry between Schuler and Borchers quickly became evident. Not only did Schuler provide the kind of physical presence the team needed in the back, but he began to take on some of the organizational responsibilities usually handled by Borchers.

"My philosophy when I'm playing is, 'I'm not special.' I know I'm going to have to work hard to have any success. Part of that hard work is trying to communicate because I'm not a talented enough individual to go out there and do my own thing.

"I need help from everybody around me. Defenses function better when everyone is on the same page, and me and Borchers try to put everybody on the same page."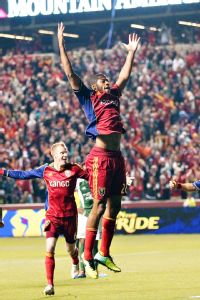 AP Photo/Rick BowmerSchuler celebrates his goal against Portland in the first leg of the Western Conference final.
The backline tightened up, and a season that was in danger of going sideways -- especially after a gut-wrenching 1-0 loss to D.C. United in the U.S. Open Cup final -- began to see a surge in momentum. That has carried through the playoffs, including series victories over the L.A. Galaxy and the Portland Timbers.

"The fact is that once Chris got healthy and was able to be in the lineup consistently, our whole team got better," said RSL general manager, Garth Lagerwey. "That was the lock-down defender we were looking for."

And one that Lagerwey and manager Jason Kreis thought they would have for the whole year after shipping Jamison Olave to the New York Red Bulls in an offseason deal designed primarily to provide RSL with cap relief. That vision has emerged at last in the playoffs, with Lagerwey grateful for the defender's persistence.

"Chris' mentality is unbelievable," said Lagerwey. "He's had injuries for the better part of three seasons now, and he's never given up and he's never wavered and he's always been committed and worked hard. We've kept the faith and he's rewarded us for that."

That mental fortitude is what has carried Schuler throughout his career, from his youth soccer days with the Chicago Magic, with Creighton, to the Premier Development League with the Chicago Fire Premier, and finally with Real Salt Lake.

He admitted he's never been a star on any of his teams but, with his work ethic and newfound health -- not to mention considerable talent -- that looks set to change.

Schuler said, "It's the good life when you're playing and winning."

He and his RSL teammates are hoping the good times continue on Saturday.