In 2013, MLS teams learning it's best to spread the wealth on talent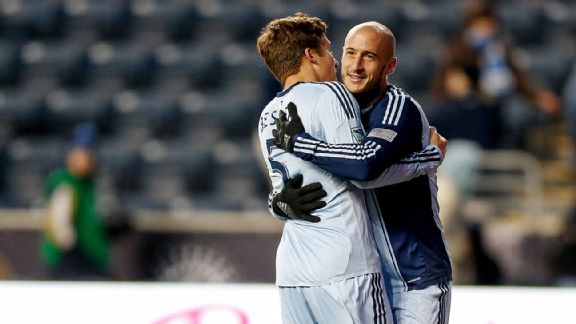 Brian Garfinkel/Getty ImagesSporting Kansas City's defensive tandem of Aurelien Collin and Matt Besler are a highly efficient pair for the amount of money spent.
It could easily be argued that Major League Soccer holds financial parity through the salary cap. Although all sides represent an equal $2.95 million share, the ability to stretch that figure through the acquisition of designated players holds the potential to disorder the playing field somewhat.

DPs once were seen as the difference-makers in games, but the 2013 playoffs have seen an interesting shift in views toward DPs.

By the time of the conference finals, the top nine spenders in MLS were no longer participating. Therefore, it would seem being a shrewd negotiator with an eye for talent is becoming increasingly important in MLS. The space for waste is nominal.

Thus it is with little surprise that, of the two sides set to compete for the MLS Cup, neither is in the top 10 for total spend. Speaking on the subject, Sporting KC coach Peter Vermes told Extra Time Radio:

"We're 16th on the list in money spent this year," Vermes explained. "According to the list last year, we're 18 out of 19. And the year before, I'd say we were 18 of 19. And somehow we continue to make the playoffs and continue to be first or second in our conference, and it has something to do with the guys on our team. … We have a team that has found a way to get results."

Although Vermes might not be wholly correct in placing his side 16th (it actually sits 14th) -- his assertion that KC is thrifty is on point. It was the top defensive side in the regular season, and, on average, a clean sheet cost the club $785,852.57 worth of talent.

This low figure is thanks to the club's ability to source All-Star-quality defenders such as Aurelien Collin for $256,250, while rearing homegrown talent such as Matt Besler for $180,000. Only the New England Revolution recorded more clean sheets for less of an outlay -- with an impressive $638,280.88. Thus it is little surprise that Jose Goncalves was named defender of the year having featured in every clean sheet at a cost of $104,375 (only the Portland Timbers' Donovan Ricketts played in more shutouts).

The numbers sit in stark contrast to that of the Montreal Impact, who were the only team to spend, on average, greater than seven figures when recording a clean sheet. The Canadians also had the fewest shutouts of the season -- suggesting that expensive individual talent is no match for a cohesive understanding like KC's.

The same equally applies to Real Salt Lake. The ninth highest in the league when it comes to shutouts for the season, the average cost of a clean sheet for the club was the third highest in the league. However this is still cheaper than their MLS Cup final opponents Sporting KC by $37,593.75.

Assessing the numbers further, the same distinctions can be made in the forward lines. With Real Salt Lake seeing 45 percent of their goals for the season come from strikers, it comes at a low cost of $28,389.61 per goal. Spending $851,688.33 for the season, the majority of that figure is distributed toward designated player Alvaro Saborio who collects $453,333.33.

However, for opponents Sporting KC and Vermes, the allocation of salary is spread more evenly across his players. Ranging between $92,000 and $212,500, the club sees a minute rise in cost per goal ($34,864.19) but a better overall share, with Sporting's forwards contributing 57 percent of the club's goal tally for the season.

It would also seem that some teams are increasingly looking to their strikers for creative output. The Timbers did not see a single forward break double figures in terms of goals this season -- with the Timbers' strikers contributing just 27 percent of their overall goal tally. However, the club ended up recording identical numbers for assists, meaning it was able to get the lowest cost per assist ($45,346.42) from any forward line in Major League Soccer this season.

For those who chose to spend big, such as the New York Red Bulls, the contrast is stark.

On a defensive end, this year's Supporters' Shield winners spent an average $893,086.41 per clean sheet, and they were one of only seven teams to spend more than $1 million (in the 0-0 draw with D.C. United) for a shutout.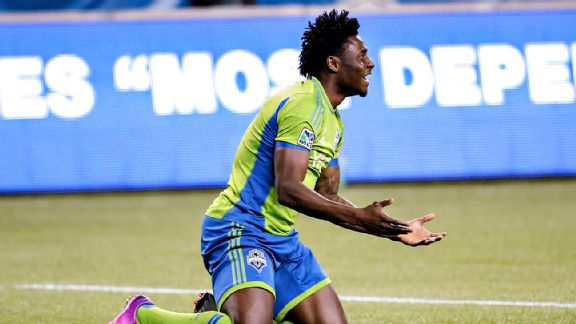 Joshua Weisberg/Icon SMIObafemi Martins proved to be largely a wasteful investment for the Seattle Sounders.
The second-highest spenders when it comes to attacking talent (behind the Seattle Sounders), the Red Bulls saw just a 36 percent return in terms of goals scored by forwards. With each goal costing them the princely sum of $232,159.28, they also paid an astronomically high $221,606.58 per assist. Only three teams; the Timbers, FC Dallas (31 percent) and Chivas USA (30 percent) saw a lower contribution of goals from forwards toward their overall tally.

Compare that with the equally cash-flush Los Angeles Galaxy, who spent an average of about $214,000 per goal. An equally high number, the Galaxy saw a 64 percent contribution from strikers toward their season's haul of 53 (with New York scoring just five more on 58).

This all lends itself to the idea that L.A.'s success of the past two years might be more of aberration than the norm in MLS. So far, Bruce Arena's back-to-back MLS Cup holders remain the only team to feature a high payroll with three DPs and win.

For incoming, wealthy expansion clubs such as NYC FC and Orlando City SC in 2015, it might be a shrewd move to focus on a more balanced squad, given that both of this year's finalists adopted that approach.

Consequently, this should see an overall improvement in the quality of play in MLS as teams begin to use their money more wisely. It would be fair to suggest that 2013 was the season when teamwork overtook individual talent among the league's top sides.

Statistical information researched with the help of Morgan Green.