ESPN FC's MLS Awards part one: Top Rookie, Coach and Newcomer
For Major League Soccer fans, nine long months filled with joy and heartbreak finally comes to a climax as Sporting Kansas City and Real Salt Lake will battle for the MLS Cup on Dec. 7.

While most attention will be rightly placed on the two remaining contenders, it's important to remember the standouts from a grueling 34-game regular season. With the league handling out its regular-season awards starting on Nov. 25, ESPN FC's panel of MLS writers have chimed in with their personal picks for each category.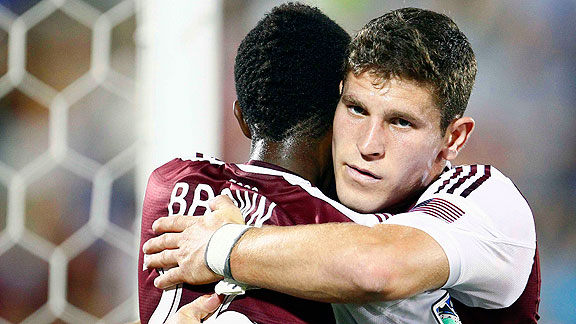 Isaiah J. Downing/USA TODAY SportsDillon Powers just edged out fellow Colorado Rapids rookie Deshorn Brown to get ESPN FC's pick for rookie of the year.
Rookie of the year: Dillon Powers, Colorado Rapids (three votes)

Jeff Carlisle, senior writer: Deshorn Brown, Colorado Rapids.

The Rapids forward had a significant impact this season, leading all rookies with 10 goals and four assists. His searing pace did plenty to stretch opposition defenses, and his goals helped the Rapids reach the playoffs.

Doug McIntyre, ESPN The Magazine writer: Powers.

The rookie of the year race is typically close in MLS, but not this year, at least for me. Rapids coach Oscar Pareja gave Powers plenty of responsibility in his first pro season, starting him in 29 games. Not only did the 22-year-old respond with five goals, he showed enough tactical awareness and defensive ability in midfield to make him a potential national-team camp invitee in January.


Alex Labidou, general editor: Brown.

If I have to be honest, hopefully MLS will one day adopt a best young player award as opposed to its current rookie of the year award. If that was the case, I would give Diego Fagundez the nod as the league's best young star this year. Soccer is different from most American sports in which the award makes more sense, as a lot of first-rounders are brought along more slowly than, say, in the NFL or NBA. That being said, Brown definitely had an impact in his first year with double-digit scoring and some assists as well.

Jason Davis, contributor: Powers.

Colorado has a pair of rookies who deserve recognition -- the other being Jamaican forward Brown -- but Powers was particularly stellar in his first year out of Notre Dame. Whether or not Powers was meant to be thrust into the Rapids lineup so quickly -- or if it was the direct result of injuries -- he made the best of the opportunity. Powers fired home five goals and set up six others, all the while playing a solid two-way midfield.

Kristan Heneage, contributor: Powers.

As a rookie, it's often about taking your opportunity when it comes. Powers did just that this season in a Rapids side that really impressed me. Playing as a midfielder, Powers is also thrust into one of the most difficult positions on the field. You have to contribute on both sides of the ball, and credit to Powers he did that, setting himself up well for next season.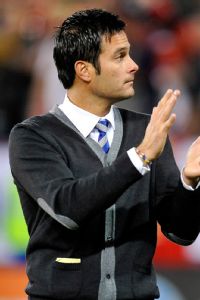 Joe Camporeale/USA TODAY Sports
Coach of the year: Mike Petke, New York Red Bulls (three votes)

Carlisle: Caleb Porter, Portland Timbers.

Porter engineered an impressive turnaround that saw the Timbers go from an eighth-place finish in the Western Conference in 2012 to the top spot in 2013. Along the way, Porter fashioned a side that was one of the most entertaining in MLS, one that scored the third-most goals in the league. Perhaps the college ranks are capable of producing good coaches after all.

McIntyre: Petke.

Portland's Porter is the popular choice, but the obstacles Petke overcame in his first year as a head coach at any level makes him even more deserving. While Porter honed his craft in the college ranks, Petke was thrown into the fire on the eve of the new season after the Red Bulls failed to land their first choice. All Petke did was lead the perennially underachieving New York club to its first major trophy in 18 seasons. Along the way, he expertly managed a locker room that includes outsize personalities in designated players Thierry Henry and Tim Cahill, all under the spotlight (and pressure) of the nation's biggest media market.

Labidou: Petke.

This was a tough call, but I have to go with Petke here. Portland had the biggest jump in victories this season, but there's no question that New York is MLS's toughest job to be successful in. With several players who have experienced success in bigger leagues, there are plenty of egos in the team's locker room. Petke, who essentially coached on a one-year deal, changed the culture in the Red Bulls locker room to that point that accountability was expected.

Davis: Petke.

The playoffs didn't go well for Petke and the Red Bulls, but considering everything he faced coming into the season, the Supporter Shield triumph makes him the choice for coach of the year. Petke's advantage was in the amount of talent at his disposal -- the issues he overcame included organizational dysfunction and the delicate balancing of egos in a team that always seemed more likely to fold than to rally before the New York native took the job.

Heneage: Porter.

To have such a significant impact on a club in your first season takes something special. Beginner's luck might get you through those opening few weeks, but it won't put you this deep into the playoffs. He's transitioned into the league incredibly well and coaxed big seasons out of guys you wouldn't have tagged to perform. He even survived the intense atmosphere of a derby game against Seattle in the playoffs. Those are the games you often cite experience as a deciding factor. Porter didn't win the MLS Cup this year, but that can't take away from an incredible debut.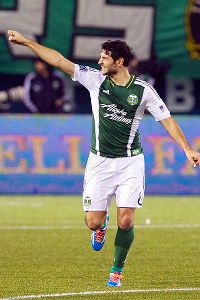 Jaime Valdez/USA TODAY SportsDiego Valeri was the unanimous favorite for MLS's Newcomer of the Year.
Newcomer of the year: Diego Valeri (five votes)

Carlisle: Valeri

Portland's attacking prowess is down largely to the arrival of Valeri, whose incisive passing and nose for goal gave the Timbers the true No. 10 that they had been missing and freed up space for teammates like Darlington Nagbe to do damage as well.

McIntyre: Valeri

When Portland went looking for a designated player before the 2013 season, they wanted a star with as much character as ability. They got it in Valeri, whose attitude helped him hit the ground running in his first season in MLS, something many bigger-name imports have failed to do. Valeri added instant class, and he also made teammates -- like youngster Nagbe -- better by dishing out 12 assists to go along with eight goals.

Labidou: Valeri

Valeri is the obvious choice for this award. MLS is sometimes an unforgiving league for technically savvy playmakers, but the Argentine quickly adapted to the North American league, making all of his teammates better. If he was this good in his first year, it's scary to think how good he'll be next year.

Davis: Valeri

Simply put, Valeri was the most important addition of the most improved team in 2013. The Timbers have many of the same faces in 2012 as they brought into the new season, and while Porter deserves heaps of praise for turning them into a more effective attacking side, his true masterstroke was integrating Valeri into the lineup. Players throughout the Timbers attack enjoyed career years, and Valeri was much of the reason.

Heneage: Valeri

Valeri is so graceful on the ball he could walk into any side in the league right now. I also think he's the kind of player that will inspire the next generation of American kids to pick up the sport. He plays with his brain rather than excessive physical attributes and shows to outsiders that this league is not as rudimentary as they think. His goal against New York typified Valeri as a player: skill, elegance, and instincts.


On Tuesday, ESPN FC will release Part 2 of its MLS awards, which includes the goal of the year, defender of the year, goalkeeper of the year and most valuable player.