Three Thoughts: Sporting Kansas City - Houston Dynamo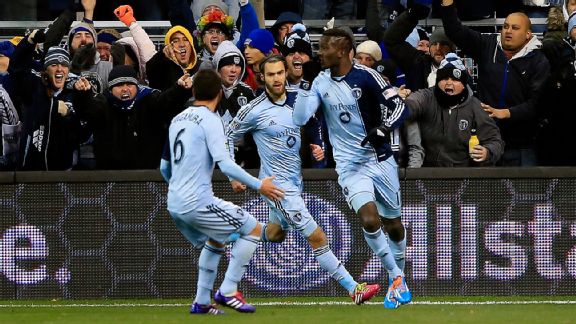 Jamie Squire/Getty ImagesStruggling all season, C.J. Sapong delivered in a crucial moment for Sporting K.C.
A popular saying really played towards Sporting Kansas City's favor on Saturday night.

The third time was the charm for Sporting K.C. on bitterly cold night in front of a vibrant home crowd at Sporting Park in Kansas City, Kansas. Whatever playoff magic the Houston Dynamo had on Sporting must have been used up in last year's upset, because this night belonged to Peter Vermes and his boys in blue.

Solid-enough defending, a bit of luck, and the type of all-out effort that has marked the team in recent years was enough to push Sporting past their playoff nemesis. Two forwards once thought surplus to needs scored, a resurgent Benny Feilhaber provided pass for the deciding goal, and Sporting booked their place in the 2013 MLS Cup Final.

This year's MLS Cup will be hosted by Kansas City.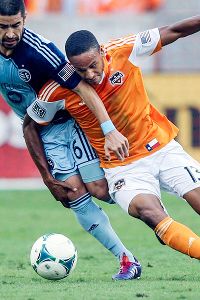 Troy Taormina/USA TODAY Sports
Houston definitely missed Ricardo Clark

Buoyed by a high energy start, the Dynamo took the lead on Boniek Garcia's opportunistic goal. But Sporting slowly stepped up their midfield work, exploiting the absence of Clark in front of the Houston back line. Both Graham Zusi and Feilhaber took advantage, receiving the ball in space thirty yards from goal on multiple occasions with chances to hurt the Dynamo. Sporting's midfield dominance also brought possibilities on the break, though the home side's decision-making left a lot to be desired.

Missing Clark also impacted the Dynamo on the attacking end. Without his two-way presence, Brad Davis possessed less ability to drift wide and play his customary role as creative influence, and came into regular conflict with Giles Barnes while covering for Clark's absence. Houston maintained their own ability to counter, but too often Garcia was the only player who presented Sporting with any danger.

Feilhaber was hardly perfect for Sporting, but it's easy to see his impact on the game as a direct result of Clark being on the sidelines rather than on the field, clogging passing lanes and forcing Sporting into turnovers. Houston's one goal came from a Feilhaber turnover; if Clark was healthy, how many more turnovers might have happened, and how many more chances would Houston have created on the break?

Sporting reversed recent history

The psychological edge the Dynamo brought with them into this second leg was much discussed in the build-up. Each previous opportunity Sporting faced with a chance to advance with a home second leg against the Dynamo, they failed. Not this time. Despite going down a goal in the early stages, the home side played up to their abilities rather than let the pressure of the situation cow them. Houston's injury issues helped, but it wouldn't have been entirely surprising to see Sporting crumble in yet another do or die match at home in Kansas City.

Sporting wasn't great, but they were certainly good enough. The early defensive miscues, aided by a handful of missed chances by Houston, melted away in the later stages of the game. Neither did they take their foot off the gas up a goal in the second half, backing up behind the ball to prevent a Houston equalizer. True to the style that has made them one of the league's best teams over the course of the last three years, Vermes's team ratcheted up the pressure as a means to victory.

The home crowd at Sporting Park was electric all night. Their team finally rewarded that brilliant support with a win at home when it mattered most, refusing to let the Dynamo "hex" reached ridiculous levels. Next up for the Sporting faithful: MLS's biggest game on their home turf.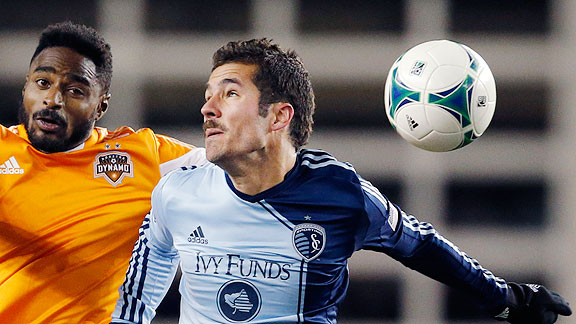 AP Photo/Orlin Wagner
A surprising Sporting trio stepped up

Vermes took some heat throughout the playoffs for relegating Designated Player Claudio Bieler to a reserve role, choosing to rely on other forwards, like the two he started Saturday night, C.J. Sapong and Dom Dwyer. There was also legitimate question over Feilhaber's ability to play in a system that required so much out of him defensively while also protecting the ball when in possession. Vermes vindicated himself on all counts against the Dynamo, with all three players contributing to a landmark victory.

Feilhaber, as mentioned before, had his poor moments. But he worked hard tracking back (not a previous Feilhaber trait) and provided the fantastic pass that Dwyer finished to give Sporting a lead they would not relinquish. Feilhaber's status as a "luxury player" deserves reassessing almost entirely on the strength of his playoff performance in 2013. Vermes trusted him to fit into Sporting's high-pressure 4-3-3, and he did the job.

Sapong and Dwyer, two players loaned out at various points this season, scored the goals that will take Sporting to the MLS Cup Final in two weeks. Both missed other chances, and neither has the calm confidence of a player like Bieler, but their physical nature and doggedness proved important on a night when Sporting couldn't afford to let Houston breath. Vermes pulled all the right strings, and the players he trusted rewarded him with a Eastern Conference title.