Salt Lake's edge to be tested by Portland's home advantage
The second leg of the Western Conference finals (9 p.m. ET Sunday, ESPN and WatchESPN) looks to be a case study in reverse psychology.

Real Salt Lake, winners of the first leg 4-2, is riding a wave of confidence. The return of Chris Schuler has done much to solidify the team's defense, and attacking midfielder Javier Morales looks back to his best.

And all year, RSL's diamond midfield has proved to be the antidote to Portland's possession-based attack, going 3-0-2 against the Timbers in all competitions.

Yet RSL manager Jason Kreis appears to be living by the motto "Only the paranoid survive." The more he's reminded of how well his team matches up against Portland, the less inclined he is to believe it.

"We have two-goal cushion, but momentum is a very huge force in this game," said Kreis via telephone. "And I believe it becomes even bigger when you have an attack-oriented team that is playing in front of a crowd that is as passionate as Portland's is."

- Carlisle: Kreis' future
- Davis: Nagbe's quiet progress

Some of Kreis' concern is born of experience. Two years ago, RSL hammered the Seattle Sounders 3-0 in the first leg and appeared to be cruising but was lucky to escape with its playoff life in the second leg, barely hanging on for a 3-2 aggregate victory.

Kreis is expecting more of the same this time around, meaning he expects the match will be about as enjoyable as a root canal.

"We just aren't going to be able to go there and afford ourselves any type of relaxation or calmness," said Kreis.

Contrast that with the vibe emanating from Caleb Porter. The Portland manager is in full salesman-mode, ticking off all the reasons why his team is capable of coming back from two goals down, be it his team's style or mentality.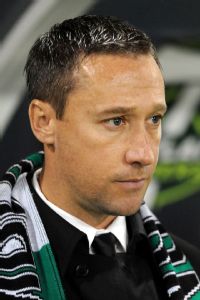 Steve Dykes/Getty ImagesIn his debut season as coach, Porter has taken the Timbers to the brink of MLS Cup.

Porter isn't daunted by history either. Since MLS went to a two-legged format to decide playoff series in 2003, teams have secured a two-goal advantage in the first leg 11 times. Only twice has a team come back, with the San Jose Earthquakes prevailing over the L.A. Galaxy in 2003 and the Kansas City Wizards turning the tables on the Quakes a year later.

Porter, of course, isn't focusing on the nine times the lead was held, but on the two stellar comebacks. He's also reminding his team of the times this year when it came back from two-goal deficits, including the season-opening 3-3 tie with New York.

"We're built to attack, we're built to score goals, we're built to push games," he said. "We've done it all season long. If we were a counterattacking team that had to win by two goals, you'd probably be worried. But with our team, we're capable of doing that.

"We're capable of coming from behind. We're capable of scoring multiple goals in a game. We're capable of carrying the game. And all those things need to happen if we're going to pull this off."



Doing that will require Portland to address several issues. One is finding the right balance, wherein the Timbers can push the game without leaving themselves vulnerable in the back. RSL has already shown its ability to punish the Timbers on the break, having cashed in on a counterattacking goal by Devon Sandoval in the first leg.

Another issue is dealing with RSL's prowess on set pieces, one that has grown with Schuler's reintroduction into the lineup.

"It's one of the most frustrating things as a coach to deal with," said Porter of conceding set-piece goals. "It's not something you can say, 'We've got to go and correct and practice it.' It's marking. You either mark your guy and defend the guy and stop him from getting a head on it, or you don't and they get a goal."

There is one last obstacle to be overcome, and that is dealing with Real's diamond midfield. It has proved to be the Kryptonite for Portland this year with RSL essentially beating the Timbers at their own possession game. Porter hopes his team can be the one to dictate the game's tempo.

"A big part of defending the diamond is having the ball and making the diamond work to defend, because it's more of an attacking shape," said Porter. "When they have the ball, those four guys are pinched in and interchanging. That's hard to deal with."

Granted, it's a lot easier with a healthy Diego Valeri, who, thanks to a nagging hip injury, returned to training Wednesday. While the likes of Darlington Nagbe can inflict plenty of damage, a Valeri that is at least close to full strength will certainly tip the odds in Portland's favor, but only if he can get the ball in dangerous spots, something RSL is focused on preventing.

"It comes down to getting the players to completely respect what Valeri does every time he touches the ball," said Kreis. "Some of it is about limiting his space in between lines, some of it is about individual players knowing where he is. There are so many things to think about when you're dealing with a player as talented as him."

RSL has its own injury concerns to worry about. Left back Chris Wingert is out with a broken rib, and Kreis revealed during Friday's conference call that forward Alvaro Saborio won't travel to Portland.

Despite those setbacks, so long as RSL can keep the ball -- and anesthetize the crowd and opponent in the process -- then it will be the one to progress to the MLS Cup final.