Goals likely to be at a premium with an MLS Cup place at stake
Peter Vermes and Sporting Kansas City went to Houston two weeks ago with the goal of securing a manageable scoreline ahead of the return leg back at home in the comfortable confines of Sporting Park. They accomplished that task with a scoreless draw against Dominic Kinnear's perennial playoff powerhouse, but that doesn't mean they have the upper hand.

If recent history is any indication, it's the Dynamo who should be feeling good about their chances at a third straight MLS Cup final appearance when the teams meet again Saturday night in Kansas City.

That's because Houston knows how win there, and it knows how to do it in the playoffs. In the last five meetings at Sporting Park, SKC has just one win. Even that win isn't much consolation, since it came in a series-losing effort in the second leg of last year's Eastern Conference semifinals. In 2011, the Dynamo beat Sporting 2-0 in a one-off conference final in Kansas City.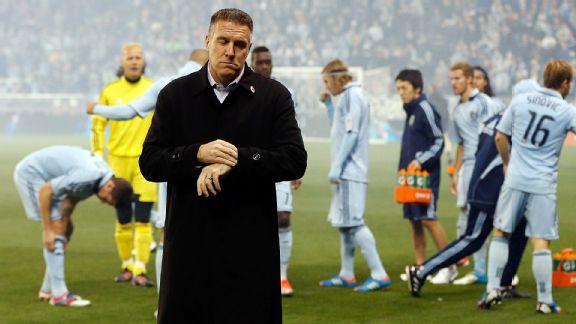 Jamie Squire/Getty ImagesFor Peter Vermes and Sporting Kansas City, it's long past time for a meaningful win over Houston.
Sporting's mission isn't just to beat the team in front of them, it's to overcome the psychological advantage the Dynamo hold. If Sporting wins, the MLS Cup final is in Kansas City for the first time. As if a chance at the Cup itself weren't enough, that fact figures to give Sporting more incentive.

Don't expect many goals in this one. We might even be looking at the potential of a penalty kick shootout to decide the Eastern Conference champions after 120 minutes of scoreless soccer. In six previous meetings this season, Sporting and Houston combined for a total of four goals.

Only one of those meetings, a 1-1 draw at Sporting Park in May, produced more than a solitary score. The last two times the clubs met -- the first leg of the conference finals and a regular-season meeting in October -- the scoreboard showed double zeros at full time.

Injuries are an issue, but rest is not. Thanks to the two-week interval between the first and second legs in deference to the international break, fatigue won't be a factor for the players on the field in Kansas City.

How the sides handled the long layoff will play a significant role in determining the winner; a long break is a double-edged sword, providing players time to recharge their batteries but presenting the risk of rust. After a grueling regular season and the intense burst of playoff games it took for Sporting and Houston to get to this point, teams are accustomed to a certain rhythm. Major League Soccer's playoff schedule is nothing if not arrhythmic.


Troy Taormina/USA TODAY SportsClark's fitness is a concern for Houston.
Houston's Ricardo Clark, Will Bruin, and Kofi Sarkodie all emerged from the first-leg slugfest with injuries. As of last week, Kinnear remained hopeful that Clark would play. Bruin and Sarkodie are expected to take part in the second leg.

The latter two are important parts of Houston's lineup, but it is Clark who is most crucial to their chances in Kansas City. The midfielder serves as the fulcrum of the Dynamo system, alternately breaking up play on the defensive end and contributing to the Houston attack. If Clark is missing, Kinnear simply has no ready replacement.

Sporting enters the game relatively healthy, save the usual knocks players are surely carrying this late in the season. Given the availability roster, it will be interesting to see how Vermes approaches the game. Sporting's intensity is their calling card, but with Baldomero Toledo officiating, the home side should be careful with its aggression.

Toledo called nearly 27 fouls a game in 2013, while handing out league-leading totals of cards: 72 yellow, 12 red. Sporting's style means they foul, and foul often. Vermes' team led MLS in fouls committed. By comparison, only Montreal was penalized less than the Dynamo during the regular season.


Fortunately for Sporting, Houston represents a set-piece threat more in theory than in fact. Despite wicked service from Brad Davis and two targets in Bobby Boswell and the 6-foot-4 Eric Brunner, the Dynamo scored just eight times from restarts this season. Houston's best chance of scoring -- especially on the evidence of this postseason -- rests at the feet of their creative stars in open play, Davis and Boniek Garcia.

Vermes doesn't seem like the type of coach to abide losing to the same team three years in a row. No matter the threat of cards or conceding dangerous set pieces, expect Sporting to harry, harass and manhandle Houston in a bid to break the playoff hex.

On the attacking end, Vermes has several options, though none are particularly good. Not one of his host of forwards is in form or represents a real threat on his own. The list of Sporting playoff goal-scorers includes Claudio Bieler and two defenders, Seth Sinovic and Aurelien Collin.

Bieler might seem like an obvious choice to start in a game that needs goals, but Vermes doesn't seem committed to his Argentine DP with so much of the focus on Sporting's effort-heavy approach.

There is no indication that the razor-thin separation between the teams will widen in 90 minutes at Sporting Park. Not when so much of what each team does involves making things difficult for their opponents.

The Dynamo bring confidence into the second leg of this Eastern Conference final series earned through previous triumphs in Kansas City. Sporting is the healthier side, ostensibly rested and ready to put everything on the line in front of their home fans.

Houston has Dominic Kinnear, an Eastern Conference playoff veteran who might even be able to overcome the (possible) absence of Clark. Sporting Kansas City should be the favorites, but aren't because history is against them.

It might take just one goal to win the Eastern Conference and book a place in the MLS Cup final. The question is whether either the Houston Dynamo or Sporting Kansas City -- teams that more or less cancel each other out -- can score it.