No mystery: Zusi detects a World Cup opportunity
As a graduate of criminology, Graham Zusi spent a significant portion of his college experience assessing and evaluating the situations put in front of him.

Now, the 27-year-old is set to be presented with his most difficult and personal case to evaluate yet: his own career.

An established member of Jurgen Klinsmann's U.S. squad, Zusi is also eager to sample the soccer experience of Europe. Last January, he trialed with West Ham United.

"Immediately, I knew I would have liked to have been there longer," Zusi said. "I was only able to train there for about six days and with their schedule, I only really got two days of actual training in."

That issue of timing was exacerbated by Zusi arriving at the same time the Hammers' prodigal son, Joe Cole, returned to the club. The opportunity went by, but the Florida-born midfielder took value from the experience:

"It certainly got me back on the ball earlier. The camp for the national team was starting right after my trial so I think that helped definitely. It was kind of an exciting time and gave me a boost of energy coming into the 2013 season."


That freshness helped Sporting Kansas City start the regular season with just two defeats in their first eight games. It was a feat made all the more impressive given the overhaul the club underwent in the offseason, as seven players departed and eight arrived.

"We still maintain the ability to beat people in the way we did the past couple of years -- relying on set pieces to get a lot of goals -- but I think we just added more dynamism to our team. I think we've made it a stronger team and we can beat people in several different ways.

"I think the way we play now is something we've been pushing for in the past couple of years. We've been trying to play this way but we were maybe missing one or two pieces. We felt we filled those spots in the offseason and that this was the year to really build on our teams from the past."

SKC is ranked second in terms of possession and, according to Zusi, their shift in style is embodied by one of their off-season additions, Oriol Rosell.

"[Rosell] knows his job and he does it. He sits in that No. 6 position and he very rarely gives the ball away which, in our system, is a very important aspect of that position because we do send so many numbers forward. He's that rock in the middle that allows us to do our job up top."

Thriving at club level, Zusi also holds international ambitions. Talk of participating in a World Cup was considered fantasy by the 27-year-old when he played at Maryland and in the United Soccer League with the Central Florida Kraze.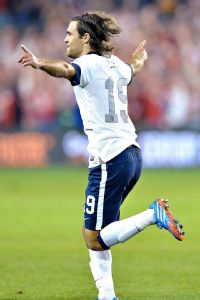 John Sleezer/Getty ImagesGraham Zusi scored in the United States' final two World Cup qualifiers, against Jamaica and Panama.
Today, though, he is very much involved in Jurgen Klinsmann's plans, although his success with Sporting forced him to sit out the United States' recent friendlies against Scotland and Austria.

"It's a bit bittersweet," Zusi said, reflecting on his absence from the squad. "You definitely want to play each game that you can for your national team. With the way that these playoffs have been laid out, we just played three games in one week. To travel all the way to Europe and then come back and have to play the semifinal and final would be pretty demanding on your body. "

Having also been reassured by Klinsmann regarding his omission from the recent roster, Saturday's Eastern Conference championship second leg against Houston Dynamo is all that occupies Zusi's mind.

A 0-0 draw in the first leg was far from a classic: "Unfortunately they have had a few American football games on the field recently and it tore it up," Zusi said. "There wasn't a lot of grass; it was difficult to play on.

"It was a pretty ugly game but you make do with what you have. The Houston pitch is very small as well; we like to spread the field as much as possible. For the way we like to play, our field will help us out a lot."

At Sporting Park, Zusi hopes to take advantage of familiar surroundings, on a surface he trusts, with the backing of his coach.

"I enjoy the ability to kind of roam throughout the team. Peter [Vermes] has given me a little bit of a green light to just do that, to roam and find the game wherever that may be. I think that's what I have enjoyed the most."

Believing strongly in his team's chances of winning MLS Cup this season, Zusi also knows that, should they advance past Houston, they will host the championship game.

It would be a significant advantage in terms of winning the club's first title since 2000 and could also prove Zusi a fairytale send-off to conclude his time at the club, not that he is looking that far ahead.

Firmly focused on helping SKC for now, Zusi admits he will seek a loan move, at least, in the winter. Beyond that, with just over six months to go until the World Cup, he will use the smarts he has, on and off the field, to make sure he puts himself in the best possible position to represent his country in Brazil.