Timbers' Nagbe lets his game do the talking
Darlington Nagbe is expressive on the field. His play speaks at full volume, a heady combination of speed, technique and instinct that makes him one of the most exciting young players ever to grace MLS.

Alongside Argentine midfielder Diego Valeri, Nagbe puts the Timbers atop any list of MLS teams most likely to wow us with creative, attacking play. His first touch is feather-soft. His right foot is deadly. No one quite lifts the roof off of Jeld-Wen Field like the third-year player from the University of Akron by way of Liberia and Cleveland.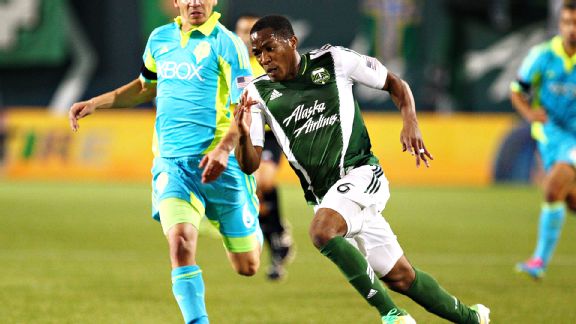 AP PhotosNagbe amassed ten goals and three assists in the regular season.
Nagbe is not nearly as expressive off the field, at least not when the topic is himself and the venue is an interview about his stunning advancement as a professional soccer player. Maybe it's the instinctive essence of his game, or his very apparent belief that he's got a long way to go in his development, that makes Nagbe so hesitant to go on about his personal contributions to the Timbers. Most likely, it's simply his nature. Nagbe's taciturn style just feels like humility.

If Nagbe knows how good he is, he doesn't seem to feel the need to tell anyone. He just plays. When asked about his growth, he immediately steers the conversation to the influence of his coaches and teammates.

"I think I have improved because the team's improved," said Nagbe, in his third professional season. "[Coach] Caleb [Porter] came in and did a great job, and brought in some veteran players. Ryan Johnson, Will Johnson, Pa-Modou Kah, those guys are great players. They've helped me get adjusted to the game and to the way Caleb wants to play, and so far it's paid off."


The effect of Caleb Porter's arrival in Portland on Nagbe can't be overstated. Porter coached Nagbe for three years at Akron, a run that included an NCAA title in 2010. Porter's familiarity with Nagbe's game, and the trust the coach instilled in him from day one, pushed Nagbe to new heights in 2013.

Nagbe started every league game for the Timbers and rewarded Porter with nine goals, bettering his career-high total of six from 2012 and tying for second on the team. A system that Nagbe understands, one that is much more suited to his talents, provided the platform for that success.

Nagbe doesn't see the relationship with Porter as special, at least not within the Timbers' team dynamic. According to Nagbe, the new coach who was his old coach doesn't play favorites.

"He doesn't treat me any differently," he said. "He tries to find with each guy what makes them tick. He's done a good job with that. Not just with me but with the whole team -- players we had before and the guys we brought in."

Nevertheless, this Timbers team has a few former Zips, a clear sign that Porter places some value on previous familiarity. With the changes, players who already knew what to expect out of the rookie head coach had value beyond their ability to contribute on the field.

The Zips connection smoothed Porter's transition and Nagbe's own understanding of the new system, the midfielder said.

"Having those guys here, it's helped a lot. Not just for me, but for Coach Porter, getting him adjusted to a new team and new players. It's been good this year, so hope it can get better next year also."

Even personal goals are simple for Nagbe. Just get better.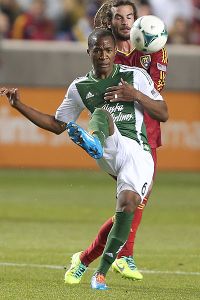 George Frey/Getty ImagesNagbe and Portland face a two-goal deficit when they host Real Salt Lake Sunday in the second leg of the Western Conference finals.
"Just try to get more goals and more assists than I had the year before … just try to get more than I did," he said. When asked to clarify, his response was equally succinct and to the point: "Just to improve over the season, and just to keep improving."

A direct question about his personal development quickly turned into another example of Nagbe praising those around him while shifting focus to the greater team challenge facing the Timbers on Sunday at Jeld-Wen Field when Real Salt Lake visits (9 p.m. ET, ESPN/WatchESPN). The Timbers enter the second leg of the Western Conference finals trailing 4-2 on aggregate.

"Personally, I feel like it's been a big year for me and for the team," began Nagbe. "We've brought guys into the team; Coach Porter has come in and done a great job. I've been happy with the way the season's gone and hopefully we can get the win this weekend."

An MLS Cup appearance is on the line and the Timbers need goals. Nagbe feels the pressure to score and embraces it.

"Coming in with a deficit, now we're just trying to focus on trying to score more goals. Trying to push a little bit more, but at the same time trying to be balanced and not give them momentum if they get a goal," explained Nagbe. "I'm in attack. My job is try to create or try to score goals. This game, knowing that we need to win by two goals, that means a lot. I'm looking forward to it."

Seizing the opportunity to push the game and to place the attacking burden on himself is part of Nagbe's improvement. Though blessed with plenty of natural ability and soccer intelligence, Nagbe didn't always take the initiative in his first two MLS seasons. His highlight-reel goals almost came of their own volition, not necessarily because Nagbe made them happen.

Watching Nagbe in 2013, it's clear his confidence is high and his abilities are still expanding. He's taking the game to defenders, and it's paying off.

Portland will need Nagbe at his most dangerous in order to overcome a two-goal deficit against a team of Real Salt Lake's quality. Home-field advantage helps; Portland is particularly tough to beat at Jeld-Wen, something Nagbe noted.

"We know at home we've been a good team all year," he said. "We've scored a lot of goals at home and not given up many, so we just have to keep doing what we're doing."

Despite what most would term a successful season for Nagbe and the Timbers, he has no intention of reflecting on the campaign while there is still work to be done.

"I wouldn't say there's a sense of accomplishment yet," Nagbe said. "We know there's still a chance to move on if we get a good result this weekend. Everyone's focus has been on that. We're not looking back at what we've done so far this season."

The team-focused Nagbe -- a rising MLS superstar and current contender for MLS player most likely to make your jaw drop -- is not much for wordy explanations of how he got here or what makes him so good. He is more apt to praise his coach or his teammates than to provide insight into his own game; he seems doggedly intent on giving credit to others for the obvious improvement he has made in his three MLS seasons.

And that's OK. When it comes to Darlington Nagbe, the way he plays says more than enough.