How the Kreis-Lagerwey connection could affect RSL's future
Work and friendship don't always mix, but the relationship between Jason Kreis and Garth Lagerwey is a powerful example of how long-term bonds can fuel success.

The two have known each other over 25 years, and it's hard to argue with the results they've produced during their time together at Real Salt Lake. Kreis has been the team's head coach since 2007, and it was his endorsement of Lagerwey that helped his former college teammate land the GM role that same year. RSL won the 2009 MLS Cup and is on the shortlist of title contenders every season, despite being in the bottom half of MLS's payrolls.

However, that relationship might come to an end shortly.

Kreis, whose contract expires at the end of this season, is rumored to be weighing his options. Incoming MLS franchise New York FC has made their interest in him well known, and Kreis acknowledged that he is considering his future with RSL after this season.

"I'm not going to lie, I have thought about it," he said via telephone with regard to the possible end of his tenure with RSL. Kreis added that he's thought about it most following games at Rio Tinto Stadium, but the coach won't allow it to distract from his current objectives with his club.

"At the end of it all, I can't be too concerned about it," he said. "There's going to be a time and place where I'm going to be very, very focused on making that decision, and that's not now at all."

That's where RSL hopes his friendship with Lagerwey will kick in.

In many ways, the relationship between the two is a breeding ground for conflict. As the two plot strategy in terms of constructing RSL's roster, they argue, harangue and engage in seemingly endless rounds of give-and-take. Yet with few exceptions, an agreement is always reached, and the two project a united front no matter how much disagreement has taken place behind the scenes.

"In this business, and in particular the dynamic between the coach and GM, you have to trust each other," said Lagerwey. "That's something that Jason and I have. No matter what, we trust each other. We know that the one is always looking out for the other, we're always looking out for each other mutually. That's a really, really powerful thing."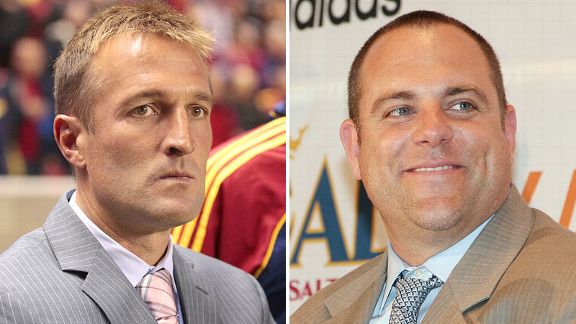 Getty ImagesRSL is hoping that that strong bond between Jason Kreis, left, and Garth Lagerway will motivate its head coach to re-sign with the club at the end of the season.
And confounding, given that the two are the prototypical odd couple. Lagerwey is the gregarious, outgoing type, while Kreis is all simmering intensity. Kreis is more detail-oriented and fixated on the next game, while Lagerwey focuses on long-term issues like the team's player development pipeline, at least outwardly.

"I think the side that the public sees of Jason is one where he's always in interview form, where Garth is more out in the open, shaking hands and slapping backs," said RSL broadcast analyst Brian Dunseth, who was a teammate of Kreis' with both Dallas and RSL. "Garth is the type of guy you want to hang out with, whereas Jason has to be a little bit tighter. But as a former teammate, Jason is one of the funniest dudes I know. He's witty; he's great in banter. Jason on the field versus Jason off the field, it's very different in those settings."

But there are plenty of commonalities between the two, going back to the first time Lagerwey and Kreis met as 15-year-olds, when they were trying out for the Olympic Development Program's Region II team in Bowling Green, Ohio. When they both landed at Duke University, they made a vow that they would become professionals, and would train every day in order to reach that goal.

"We were just soccer junkies," said Kreis. "Most of the time we would get together late at night under the lights in odd places and play small-sided games. We were all playing soccer, but there was a different thing going on there. It was very competitive. Every game seemed to matter. We were kicking each other. It was odd."

Lagerwey added, "I bet I've faced 10,000 shots from Jason Kreis in my life. It was this mutual bond that we were going to make it together. The unspoken rule we had was that neither one of us could ever say no. If somebody wanted to go out and train, the other had to drop what they were doing and say yes."

The pair went on to play in minor league soccer with the Raleigh Flyers and later the New Orleans Riverboat Gamblers. Lagerwey spent time living with Kreis' family on multiple occasions, including a period when he interned at the law firm where Kreis' mother worked.


Both players made it to MLS and helped the Dallas Burn raise the U.S. Open Cup back in 1997. Yet while Kreis enjoyed a long and successful spell in MLS, Lagerwey's career ended after the 2000 season, and he soon embarked on a career as a lawyer. He recalled that on Christmas Day 2006, a partner at the firm where he worked told him to get started on a deal in which their client was attempting to buy a minority stake in the St. Louis Blues, owned by one Dave Checketts, who also owned RSL at the time. Lagerwey crossed paths with Checketts enough that when the latter was looking to hire a GM for RSL, Lagerwey felt confident enough to apply.

By then, Kreis was already the team's head coach, and he didn't hesitate in giving his former teammate a glowing recommendation.

"[Lagerwey's] intelligence is off the charts, and he's somebody at the time who was so very hungry to get into the field and prove himself right away," said Kreis. "From my point of view, he had all the ingredients to be a successful GM, and we had personal history together."

Six years on, not only has the friendship endured, but now the pair is on the cusp of another MLS Cup final appearance. Real currently head into the second leg of the Western Conference finals leading the Portland Timbers 4-2. It's an enviable position, but Lagerwey recalls that his least favorite match since becoming the club's GM came two years ago, when RSL nearly squandered a three-goal first-leg advantage against Seattle. On that night, RSL hung on for a 3-2 aggregate victory. He's expecting an equally tense encounter this time around.

"I'm certainly happier to be up two goals than down two goals, but I think it's going to be really difficult," he said. "If we have to bunker for 90 minutes, I don't see that going well. It's not going to be fun, I can tell you that."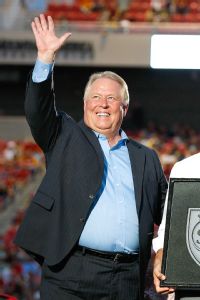 Russ Isabella/USA TODAY SportsRSL's owner, Dell Loy Hansen, had the chance to lock down Jason Kreis to a contract before the season. Now, the pressure's on.
Not that RSL's brain trust will look at it this way, but regardless of how Sunday's match ends up, the campaign has already been a success for Lagerwey and Kreis. It's worth remembering that thanks to salary cap concerns, the duo spent a good chunk of last winter shipping some of RSL's best talent elsewhere, including midfielder Will Johnson, who now suits up for Portland. But through it all the two managed to successfully retool the team's roster, reaffirming the deep roots that anchor the relationship between Lagerwey and Kreis.

"[Lagerwey and I] can go through all those emotions and periods where we can't stand each other, and don't want to be in the same room with each other," said Kreis. "But at the end of it all, we value our friendship over everything else."

RSL fans are hoping that bond is what will keep Kreis coaching the team for years to come.