Well-traveled Vermes hoping for MLS Cup trip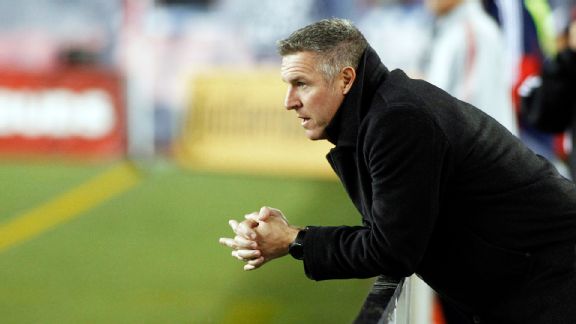 Stew Milne/USA TODAY SportsPeter Vermes is hoping that his vast experience can get K.C. to its first MLS Cup final since 2004.
The world of sports is littered with athletes who, as their careers wound down, had no idea what to do next. Yet Peter Vermes wasn't plagued by such uncertainty. Even when he retired back in 2002, he was ready to heed the call of the coaching profession.

One of the U.S. soccer pioneers of the early 1990s, Vermes' career took him to Hungary, the Netherlands, Spain and at last to MLS. Yet his coaching education started long before he exited the stage as a player; he started taking classes to get his various coaching licenses back in 1995, always with an eye towards one day taking over an MLS club. In 2006 he joined Kansas City as technical director, taking over as head coach on an interim basis midway through the 2009 season. He has been manning the sidelines for the Kansas City franchise ever since.

"I've always felt I've had so many great experiences that it would be crazy not to use those in the next phase of being involved in the game on the other side," he said via telephone. "Coaching was always something that I wanted to do. When I started out as a technical director, I always thought I would go into the management side more. It just started turning that way, and when I was asked to be the interim coach for the last 10 games of that year, I was hooked."

The bait was set long before that moment, however, and to hear Vermes speak of his former coaches is to catch a glimpse of how his soccer education unfolded. Even the much-maligned U.S. college system played its part, as Vermes credits his collegiate coach while at Rutgers, Bob Reasso, for teaching him how the business side of soccer dovetailed with what happened on the field.

In the Netherlands, Vermes spent time at Volendam under manager Leo Steegman, where a greater emphasis was placed on technique and tactics regardless of how experienced a player was. He recalled that on Tuesdays and Thursdays there were double sessions -- Vermes would spend the lunchtime hours picking Steegman's brain.

"What I really learned there was a level of patience with players, and how important the continued development of a player is throughout his career," said Vermes. "In Holland, the coaches are constantly teaching the players. I think sometimes in coaching, you kind of get this thing where a guy is beyond learning anymore. I couldn't believe that. I think you're learning right up until the last day you're playing."

A four-year stint at Spanish second division side Figueres followed, a club where Vermes counted current U.S. U-20 head coach Tab Ramos and former Barcelona manager Tito Vilanova as teammates. Yet what Vermes remembered the most was the thorough preparation of manager Jorge D'Alessandro.


"I've never seen anybody know so much on how to break the different aspects of the game down -- whether it's training sessions, tactical sessions, what have you -- that help you get better and more importantly get prepared for your upcoming opponent," he said. "[D'Alessandro] was extremely organized, and just had an incredible knowledge about breaking the game down. I really respected his preparation leading up to a game."

Vermes spent the rest of his career in MLS, playing for the New York/New Jersey MetroStars and the Colorado Rapids before landing in Kansas City just prior to the 2000 season. His arrival marked a reunification of sorts. Kansas City was managed at the time by Bob Gansler, who had coached Vermes when the two were with the U.S. national team that went to the 1990 World Cup. With players such as Preki Radosavljevic, Tony Meola and Chris Klein on board, Kansas City had a talented side, but Vermes credits Gansler for quickly hitting upon a hybrid 4-3-3 that fit the strengths of his players. That K.C. side went on to claim both the Supporters Shield and MLS Cup, with Vermes playing in the center of defense. And even then, Gansler was convinced he was looking at a future coach.

"From the first day I saw Vermes you just knew he was a student of the game," said Gansler. "For him to make that transition from being a center forward for the national team in 1990 to a decade later being Defender of the Year in MLS, you don't do that on instincts and intuition and luck. There was a constant curiosity about him in terms of why we were doing what."

Vermes has carried that experience and inquisitiveness into the present. Without question, he's experienced his share of disappointment in his career -- twice getting cut from the U.S. World Cup squad, twice being traded -- and those experiences are at the forefront of his mind when dealing with his players. The fact that he serves as both technical director and head coach is what gives him the most joy -- Vermes feels like he's "building a club and not just a team." That said, Vermes admits to a certain helplessness on game day once the whistle blows.

"You can always have your team prepared, but then they have to go play the game," he said. "When the game starts, there's very little impact you can have other than the talk at halftime. You can change a player, but overall the players still have to go get the result. I think that's the toughest part."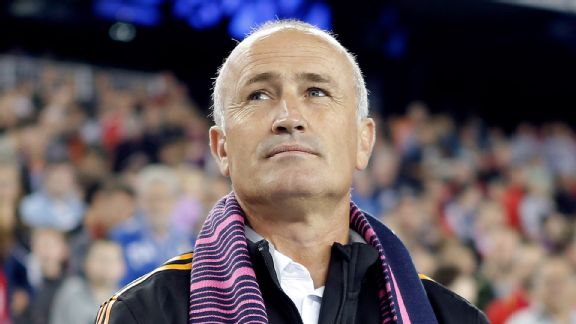 Winslow Townson/USA TODAY SportsDominic Kinnear has a friendly history with Peter Vermes, though both men will shelve that during the weekend's conference final, second leg.

With that in mind, Vermes hopes that such knowledge will prove just as valuable this Saturday when he will attempt to get his side back to the MLS Cup final for the first time since 2004. To get there, he'll have to navigate his team past a Houston Dynamo side that has proved to be his playoff nemesis. Houston has eliminated Kansas City in each of the past two years, and while a 0-0 result from the first leg in Houston has Sporting in a better position than it was a year ago (a 3-1 first leg deficit), Vermes is taking nothing for granted.

"Houston is a team that can in many different ways can hurt you; through the run of play, in transition, they're good in the air, they're good on set pieces," he said. "The key is staying concentrated for 90 minutes."

It will also mean squaring off against old friend and former international teammate Dominic Kinnear. Vermes recalled that it was Kinnear who first offered him a coaching job back in 2006 when he was looking for an assistant after the team was relocated from San Jose to Houston. It didn't work out but by all appearances, it looks as though Vermes made the right choice. His team is in contention for a championship, and on Saturday, SKC will try to take the next step in front of what is expected to be a record crowd at Sporting Park.

"That says a lot about how the community has connected to the team," said Vermes. "That is something I get really excited about because it's not just what you have done over one game, it's what you've done over a consistent basis."

Spoken like a true coach.