Once tapped for stardom, Sapong and Bunbury adjusting as role players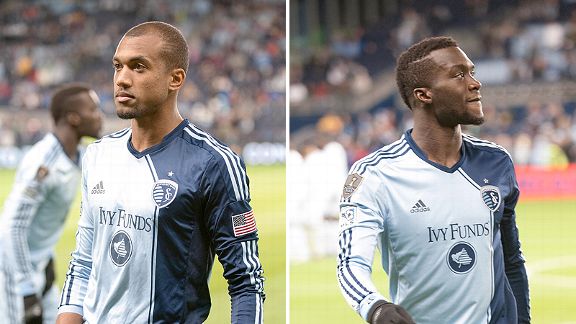 USA TODAY SportsTeal Bunbury, left, and C.J. Sapong, both hyped as future star strikers for the U.S., are now trying to figure their roles as supporting players on Sporting KC.
Putting the tag of "big potential" on a young player is often inherently unfair.

Those first flashes of raw talent don't guarantee future success, no matter how bright they might be.

Too many things can go wrong on the road to stardom, not the least of them injury, for initial success to be taken as a predictor of future productivity. Inconsistency, a natural part of development, isn't given enough weight. If the spotlight is harsh enough, anything short of absolute brilliance looks like failure. The cruelty of expectation is compounded by hindsight.

That phenomenon is worth considering when talking about two of Sporting Kansas City's cadre of forwards: C.J. Sapong and Teal Bunbury. It wasn't that long ago that Sapong and Bunbury were not just the future of Peter Vermes' athletic, attacking side, but the future of the U.S. national team as well. Plateauing on-field maturation for both, and a knee injury for one, quashed the hype that surrounded the pair just a few short years ago. At various points in the last year, neither player looked like he would play a major role for Sporting Kansas City in 2013.

Nevertheless, Sporting suddenly find themselves relying on the pair (as part of a forward-by-committee setup) with an MLS Cup Final berth on the line.

Sapong won Rookie of the Year honors in 2011 on the back of a five-goal season. The James Madison University product displayed supreme athleticism but clearly needed refining as a soccer player. His performance in his first pro season was good enough to make it unfortunate that his birthday (Dec. 27, 1988) made him ineligible for the U.S. Olympic qualifying team by just a handful of days. But Jurgen Klinsmann called Sapong up in early 2012 for the annual USMNT January camp, a clear sign that the coach saw some promise in the raw forward. Sapong made a pair of substitute appearances in two friendlies during the camp.

In 2012, he scored nine times in MLS, a strong step forward and perhaps an indication that his trajectory as an elite-level MLS striker was still on the rise. A closer look at his form through the year reveals Sapong started strong before struggling through the middle portion of the season. He rediscovered his scoring touch toward the end of the campaign, firing home four goals in Sporting's last seven games. Another step forward seemed in the cards for 2013.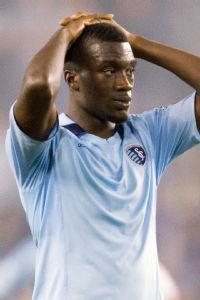 Shane Keyser/Kansas City Star/Getty ImagesC.J. Sapong has had a rough 2013 season, posting career lows in every statistical category.
Instead, Sapong stepped back in 2013. His minutes dropped dramatically (1,551) from 2012's career high (2,210). At two different points, Sporting Kansas City sent him on loan to USL-PRO partner Orlando City, and though each was short-lived, the stints indicated his MLS club saw him as somewhat unessential to the cause for a period. It also made clear that he wasn't developing as they'd hoped, that his soccer savvy and finishing ability lagged behind his prodigious athletic ability.

When utilized by Vermes, Sapong is now most often deployed on the left of Sporting's forward line. Systematically, the fit is imperfect.

Teal Bunbury is a different player, and more than a year younger than Sapong, but his bright start paralleled his teammate's in many ways. The former Akron Zip arrived in MLS full of promise, his speed and finishing ability marking him for an immediate professional impact.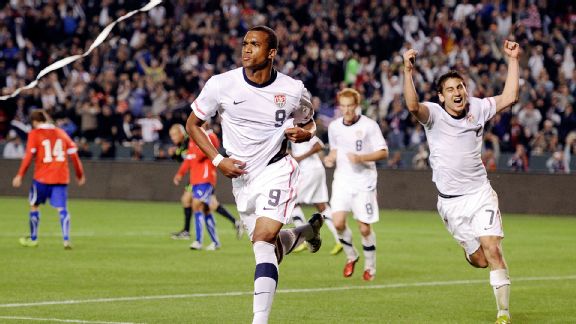 AP Photo/Mark J. TerrillPrior to his ACL injury, Teal Bunbury was gaining strides for the U.S. national team.
In his rookie campaign in 2010, Bunbury started 13 league matches and scored five goals, leading to a USMNT call-up in November as part of a experimental post-World Cup American side under Bob Bradley. The following January, Bunbury scored a penalty kick goal against Chile, his first and only international tally. A training stint with Stoke City of the English Premier League augured a big future.

Building on his strong first year, Bunbury took advantage of Vermes's greater trust in 2011 by scoring nine goals and helping Sporting to first place in the Eastern Conference. His goal total was good enough to tie for the team lead with Omar Bravo and Kei Kamara, and he tacked on three assists for good measure. Again, Bunbury's 2011 MLS season earned him a January camp call-up for the USMNT, this time under Klinsmann. Bunbury also took part in the failed American bid to qualify for the 2012 Olympics, starting one match under his former college coach Caleb Porter.

Bunbury's 2012 season brought a halt to his possible improvement. He started 14 games through August when a torn ACL ended his campaign early. Despite collecting five goals in 22 total appearances, Bunbury's game was still very much a work in progress.

Susceptible to drifting out of games and not nearly the center forward presence needed to make Sporting's 4-3-3 most effective, Bunbury dropped out of Vermes' preferred lineup. Even before the injury, Bunbury receded into the background as one of Sporting's supporting cast -- his lot very similar to that of Sapong.

While Bunbury worked his way back to fitness and Sapong bounced in and out of Vermes' plans, a different pair of young strikers started to make their presence felt in Kansas City: Soony Saad and Dom Dwyer.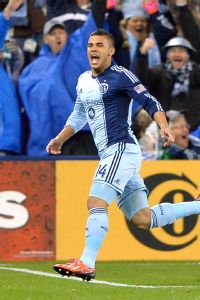 John Sleezer/Kansas City Star/Getty Images)Dom Dwyer is one of the new set of strikers that have added competition for Teal Bunbury and C.J. Sapong.
Dwyer's rampant scoring form for Orlando City while on loan and Saad's blistering shot made the younger players viable options in addition to Argentine DP Claudio Bieler. Until Kei Kamara's sale to Middlesbrough during the summer, forward minutes for Sporting remained in short supply. Even now, Vermes is rotating through a group that includes Sapong, Bunbury, Saad, Dwyer, Bieler, Jacob Peterson and even midfielder Graham Zusi. Fewer available minutes aren't conducive to Sapong and Bunbury getting back on the track that once made them presumed future USMNT contributors.

Sapong is now 24 years old. Bunbury is 23. Their ages don't preclude them from becoming stars in the future -- a litany of MLS late-bloomers show that to be true. Chris Wondolowski was still a bit player for the Houston Dynamo at the age of 24, and wouldn't break double digits in goals until 27. It can (and does) happen.

But the rapid rise to stardom Sapong and Bunbury seemed destined for just a few years ago didn't happen. Like so many highly touted young goal scorers who burst on the scene full of enthusiasm and knock in a few, they leveled out in short order.

The demands of the professional game, particularly for players arriving from college, often turn surefire stars into unspectacular role players. There's nothing wrong with fitting into that particular slot, but it's not the one so many imagined the Sporting pair would fill. Once USMNT prospects, neither appears anywhere near Klinsmann's current depth chart.

Young enough that the book on them is far from closed, but stalled enough in their development that their previously imagined potential is unlikely to be met, Sapong and Bunbury land on a list populated by more names than anyone could possibly count. They're not failures. But neither are they stars.

For overhyped prospects, it's the unfair reality.