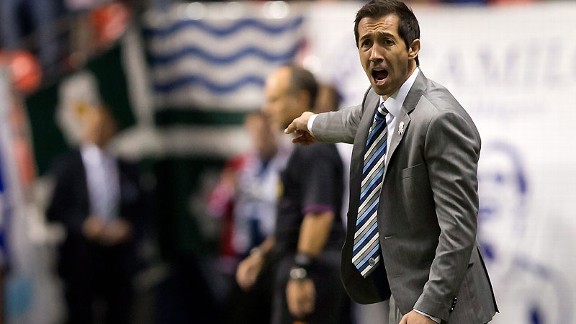 GettyImagesVancouver Whitecaps head coach Martin Rennie shouts directions against Chivas USA
One can't blame Vancouver manager Martin Rennie for looking at his side's proverbial glass as half-full. A year ago, the Whitecaps were in the process of finishing dead last in MLS. On Sunday, the team became the first Canadian side in the league's brief history to qualify for the postseason.

"We've been able to turn the team around to some extent from last season, so I think it's some improvement to at least make the playoffs," he said. "It's the first sign of progress I think we have to make."

But there are reasons to worry. Vancouver staggered to the finish line with 1-6-2 record since Aug. 14, with just seven goals scored in that span. The offensive struggles are even more pronounced when one considers that four of those goals came against last place Chivas USA.

That outburst was the reason Rennie favored a frontline pairing of Camilo and Kenny Miller against Portland last weekend. But rather than deliver a repeat performance, the attack shot blanks in losing 1-0 to a side that won its first game away from home all year.

"I don't think we created enough, and I don't think [the forward partnership] worked out that well," said Rennie. "But the game before that against Chivas, it looked really good. Their movement was good, and they linked up well together. At the moment, we're not getting the consistency that we need, but you need to find that at the right time, and we've still got a chance to do that."

With a one-game playoff at Los Angeles looming, it would appear that Vancouver's chances of upending the reigning league champions would improve considerably with the insertion of speedy players like Dane Richards and Darren Mattocks.

L.A. will likely be without injured center back A.J. DeLaGarza who normally provides some critical recovery speed in the middle for the Galaxy's backline. Rookie Tommy Meyer has performed admirably in his absence, but the mobility of Mattocks would seem to create an ideal matchup for Vancouver.

Mattocks looks to have recovered from an injured hamstring, so this weekend's game against Real Salt Lake will make for an interesting gauge of the Jamaican's match fitness. If all goes well, Mattocks' availability, combined with the relief that has come with the team's first playoff berth, will provide a glimmer of hope for the Whitecaps.

"In the playoffs, it's not so much about the performance as the result, and we need to find a way to get a result and get into the next round," said Rennie. "Sometimes, being the underdog can help a little bit in that there is a little bit less pressure."