Houston's Kinnear lets his team do the talking
Every November, Houston Dynamo manager Dominic Kinnear is left with a bit of a conundrum. It's about this time of year that his side begins laying waste to opponents in the MLS playoffs. And in the process, the man who tries not to draw attention to himself begins drawing attention to himself.

For Kinnear, even being photographed or filmed prior to a game is like wearing a straitjacket filled with porcupine quills. He'd much rather have the bulk of the focus put on his players.

Without question, there are some talented performers wearing Houston orange, but Kinnear's penchant for getting his team to peak at the right time is borderline uncanny, and this year has proved no different. Houston dispatched the Montreal Impact 3-0 in the play-in game and then disposed of the New York Red Bulls 4-3 over two legs.

A 0-0 home draw with Sporting Kansas City to open the Western Conference finals wasn't perfect, but Houston still controls its fate heading into what will, no doubt, be a difficult second leg. And so the search commences to figure out just how Kinnear does it.

Alas, on this occasion, Kinnear isn't biting. A terminal case of laryngitis ensues, leaving it to others to do the talking for the Houston manager.

"[Kinnear] has just always been like that," said Houston midfielder Brad Davis, with a touch of bemusement. "He doesn't like being in the spotlight. I don't know if that's always how he's been, but he's not a fan of doing that type of thing."

- Carlisle: Caleb Porter's evolution
- Davis: Velasquez's story

But the question still stands. How exactly has Kinnear become the master of the MLS postseason, all while managing a team with just the 13th highest payroll in the league? As with most things that look easy but aren't, a combination of factors is at work.

It starts with an emphasis on locker room dynamics. Granted, most managers are striving for precisely the same thing, but there are plenty who can't seem to navigate their way past the siren call of having playing ability trump all concerns.

"He's always been more of a guy who would sacrifice a little bit of talent to bring in a guy who was going to fit into the locker room," said Davis, who has worked with Kinnear since 2005.

"At the end of the day that dynamic is more important. You can have a group of guys that are the most talented in the world, but if they don't get along they're not going to play well together."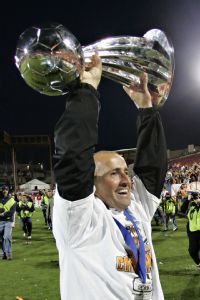 Thomas Shea/Getty ImagesDominic Kinnear led Houston to MLS Cup wins in 2006 and 2007.
Then there is the way Kinnear manages his roster throughout the season. At the start of each campaign, he informs his team that there will be plenty of minutes to go around and then follows through on that pledge.

It's an approach that can frustrate fans, in that the lineups he fields in the U.S. Open Cup and the CONCACAF Champions League are oftentimes well short of the best available. But it has the effect of keeping the bulk of the roster engaged, so that when suspensions and injuries inevitably arrive, the drop in performance is less than it might be otherwise.

Furthermore, if the playing level is high enough, there is the real chance that a one-time reserve -- such as Omar Cummings during the current postseason -- can keep his spot.

"I feel like all the guys who have come in and filled those roles have done pretty well," said Houston defender Bobby Boswell. "That's why guys aren't too frustrated. It's hard to be mad at a coach when you miss time and the guy who comes in does a really good job. He's fair in that regard. If a guy goes out and plays well, he's usually back on the field playing."

The biggest benefit of all is that in a campaign that has grown longer with each passing year, Kinnear's sides usually have something left in the tank during the stretch run. His career record in games played after Sept. 1, including the playoffs, is a gaudy 46-22-29.

"I think what Dom's done with us, this year especially, has been pretty amazing," Boswell said. "I've been in the league nine years, and I think this has been the longest year. It sucks getting to the finals and losing.

"You have no offseason and you're around each other so much. Whether it's giving guys time off or tapering practices down, we haven't had a lot of inner turmoil, which I think a lot of teams that had been around each other this long would have."

Kinnear has also practiced a consistency in terms of his tactics and preparation. Davis joked that the Houston manager uses the same training sessions that he did back in 2005. But, in a postseason that has seen several teams overthink things and deviate from what gave them success during the regular season, Kinnear's steady hand inspires confidence in his players.

"If Dom did change things we'd start to wonder what was going on," Davis said. "That's kept us on an even keel."

So has Kinnear's approach to what Boswell calls "make-or-break points," those moments during the regular season when a bad decision can send a struggling team into free fall. Since joining the Dynamo in 2008, Boswell estimates that Kinnear has gotten such choices right nine out of 10 times.

This year, such a moment came after a heavy 5-0 defeat to Montreal back on Aug. 24. Boswell recalled that Kinnear could have ripped his team, but instead took a calm approach.

"For me that was one of the lower points in my career," the defender recalled. "He just came in and said, 'Hey, all I'm going to say is we were bad tonight and they were good. But I still believe in this team, and I still believe this team will be in the playoffs, and we'll make a good run at it.' And here we are, one game away from an MLS Cup final."

If Houston gets that far, perhaps then Kinnear can be coaxed into talking about himself a bit more.