McInerney rides the ragged edge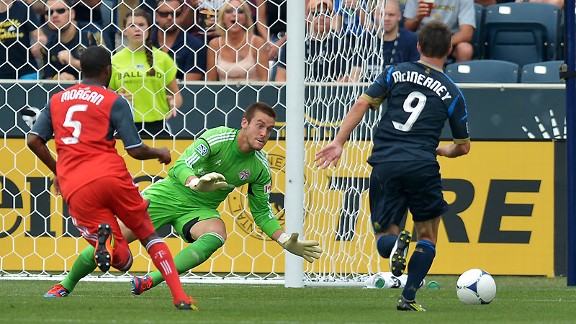 GettyImagesPhiladelphia Union striker Jack McInerney bears down on goal
Jack McInerney has had the kind of season that could induce a permanent case of motion sickness. The Philadelphia Union forward began the year experiencing the low of being an afterthought to then-manager Peter Nowak. When Nowak was fired he felt the high of gaining the favor of new manager John Hackworth. Then there was the empty feeling of finding the net just once in ten-game stretch, and returning to the bench.

But ahead of Wednesday's season finale against Sporting Kansas City, McInerney is flying high again, having scored in four consecutive games to give him eight goals on the season in 23 matches, 16 of them starts.

"It's been kind of a rollercoaster," he admitted by telephone. "Everything that could have happened this season did happen. For me as a young player, it's good for experience... Right now, it shows what progress I've made."

It's been a season full of lessons for McInerney. He describes himself has being just 5' 9", 160 pounds, but has often been deployed as a lone striker in Hackworth's setup. McInerney admitted the position is "something I don't like to do" but the former U.S. youth international has learned to adapt, especially when going up against the big, imposing defenders that are the norm in MLS.

"When I first started playing [the position], I didn't really know how to adjust to the physical play," he said. "But over the games, I've learned little tricks, stuff to do to create that extra space for me so I don't take that beating."

Developing that sense took time, however. McInerney's dry spell over the summer came about because of a tendency to drop back too much into midfield. A video session with Hackworth - and a brief benching - showed the Union forward the error of his ways.

"We had no one to stay up high, and do that kind of work," he said. "I just needed to stay up there and make the runs in behind and let everyone else do the rest because we need someone up there to finish."

That is precisely what McInerney has done in the last four games, including a header against Houston last weekend that he created out of nothing. And it has coincided with a stretch of three wins in the Union's last five games. Not bad for a team that hasn't had much to play for over the last few months.

"For a young player, it's all about confidence, and for me to put this little string of goals together and get some results, it's good for the team too," he said. "We want to win and carry that over into next season, and I'm putting myself in a good position to hopefully keep my starting spot and be here next year under Coach Hackworth."