The Evolution of Caleb Porter
Late last Thursday, Portland Timbers coach Caleb Porter sat in his office at Jeld-Wen Field pondering his most satisfying triumph to date as a professional coach. Bitter rival Seattle had been vanquished 3-2 that night, giving Portland a 5-3 aggregate triumph in the MLS playoffs that really wasn't that close.

His side had performed brilliantly in both matches against the Sounders, opening with a cagey performance in the first leg that saw it soak up considerable pressure, and then following that up with a dynamic attacking display in the second leg. Porter had plenty of reasons to be proud of his team, but he was especially impressed with the tactical flexibility his side showed.

"In some games we've downshifted, which is great because now we're a team that can do that," he said. "It's something where I've probably evolved in my philosophy a little bit, as well, and learned from past mistakes."

Since then, of course, Portland sustained a 4-2 first-leg defeat at Real Salt Lake in the Western Conference finals, and it remains to be seen if Porter and his charges can fashion a comeback. But his comment about his past shortcomings was revealing, as it highlighted how much Porter's fortunes have changed in the last 20 months.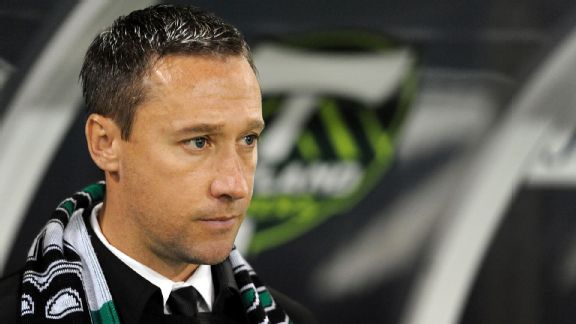 Steve Dykes/Getty Images"It was the lowest moment in my life by far," Caleb Porter said of his experience coaching the U.S. U-23 team that failed to qualify for the Olympics. "I suffered; I was devastated."
In March 2012, Porter hit the absolute nadir of his coaching career. Charged with qualifying the U.S. U-23 team for the London Olympics, he oversaw a gut-wrenching Olympic qualifying tournament. A 2-0 loss to Canada meant the U.S. needed to win its last group-stage match against El Salvador to progress to the semifinals, where the winner would qualify for London. Instead, the Americans were eliminated after a 3-3 draw, with the Cuscatlecos equalizing with almost the last kick of the game.

There was plenty of blame to go around, but failing to progress out of the group stage on home soil amounted to a colossal failure. Porter's insistence on playing an attacking style, even with a lead, left him open to considerable criticism.

"It was the lowest moment in my life by far," he said. "I suffered; I was devastated. That was a pivotal moment in my soccer coaching career."

Such failure was something Porter hadn't dealt with much while coaching at the University of Akron, where he led the Zips to the 2010 NCAA College Cup. But therein lay the problem. Porter had experienced so much success with Akron that it skewed his perspective of what would work and what wouldn't when he stepped up a level.

"You only know what you know," Porter said. "What I was doing in college was working to the point where I wasn't losing many games. I think I probably felt that my philosophy of play was a way that could work at any level in any situation. [With the U-23s], we gave up too many goals. We scored goals, too, but we were probably a little too opened up and not balanced enough.

"I was probably a little stubborn. But it's because I hadn't been burned. I hadn't failed."

In a bid to purge himself of the pain, Porter wrote a 150-page report on the entire Olympic qualifying experience and presented it to U.S. Soccer Federation president Sunil Gulati and U.S. national team coach Jurgen Klinsmann. And certainly there were some aspects of Porter's approach that needed to be retained.

"I think the positive thing for Caleb was he realized that his thought process on the game, how he treated his players, and playing a certain style, with all of that he could be successful at the professional level," said John Trask, an assistant to Porter with the U-23s and currently the head coach of the men's team at the University of Wisconsin. "Pros would gravitate to him just like college kids did."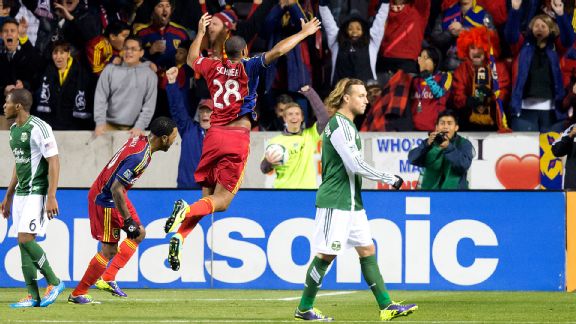 Russ Isabella/USA TODAY SportsCaleb Porter's Timbers must overcome a 4-2 loss at RSL or their playoff journey is over. The return leg is on Nov. 24.
Porter took it as an opportunity to evolve, and in August 2012, he landed the Portland job for 2013 (after finishing the 2012 Akron season). The results this year have no doubt been impressive as Porter has been able to apply what he has learned. After leading the Timbers to the top spot in the Western Conference, Porter is the front-runner for Coach of the Year. In the process he has implemented an attacking style that is easy on the eyes while also retaining a hint of pragmatism.

"You've seen some games where we're OK absorbing and countering," said Porter. "That's never been anything I've done with my teams, ever. I felt that was something I had to add into my philosophy."

That said, it's unlikely Porter will be holding much back when the Timbers host a talented and disciplined RSL team in the return leg on Nov. 24. Portland needs to make up two goals, and already he is reminding his players how they came back from two-goal deficits earlier this season against New York and Colorado, and how the Timbers scored three times in 50 minutes during the second leg against Seattle. Porter said he even plans to remind his players of the San Jose Earthquakes/L.A. Galaxy match from 10 years ago -- when the Quakes came from four goals down -- and use it as proof that a comeback is possible.

"We're just going to absolutely go for it," he said. "We need to be smart and patient. The first goal is the key. But we understand that at the end of the game, our season is either ending, or we're going to the MLS Cup championship. We've got 22,000 fans that want to see us go to MLS Cup, and I can guarantee for 90 straight minutes, all the way until that final whistle – or maybe 120 minutes if it goes to extra time – that this team will give absolutely everything they have to try to pull this thing off."

If Porter and the Timbers are successful, the evolution of both coach and team will be nearly complete.