Velasquez runs with his unlikely opportunity
It might be tough to find a player more thankful for the opportunity to play professional soccer than Sebastian Velasquez. Considering how close the Real Salt Lake's 22-year-old midfielder was to not having one at all, it's easy to see why.

Velasquez was just days away from calling time on his soccer career and permanently returning to the nation of his birth, Colombia, when a team located in a state he couldn't find with a map gave him a chance.

A series of phone calls among coaches at a small two-year college in South Carolina, an NCAA powerhouse and Major League Soccer's Real Salt Lake landed Velasquez a tryout with the professional club. In January 2012, Jason Kreis' team selected Velasquez with the 36th selection of the MLS SuperDraft.

The two-year college was Spartanburg Methodist, where Velasquez landed after a pair of trials in Spain with Barcelona and Espanyol -- Velasquez got his GED and left high school early to take the chance -- ended in disappointment. The midfielder starred for two seasons at the tiny South Carolina school, scoring 55 goals in 33 games.

The NCAA powerhouse was Clemson, where Velasquez had earned a spot based on his stellar play at Spartanburg Methodist. But the Spanish trials weren't done haunting Velasquez; according to NCAA rules, they made him ineligible for the Tigers. His dream looked like it was coming to a disastrous end, and he was set to join his mother back in Colombia when he received an eleventh-hour lifeline.

"I was already getting kicked out of school at that time," said Velasquez. "[Clemson coach] Mike Noonan called me to his office and asked if I wanted to give one last chance. It was the only thing I had. It was either be successful or end up in the slums."

Noonan called Real Salt Lake assistant Miles Joseph, a Clemson alum, and a tryout was arranged. This time, Velasquez wasn't going to fail. The attacking midfielder impressed the RSL staff enough to merit the distinction of being the only junior college player selected in the 2012 SuperDraft.

It was at the behest of the assistant coaching staff that RSL made the pick, as Kreis was out of the country when Velasquez traveled to Arizona to train with the team.

"He took a big risk in drafting me, and now he's giving me his trust by putting me in these big games," said Velasquez, who added that the connection with Joseph carried over. "I have a great relationship with Miles. He's like my stepdad on the team."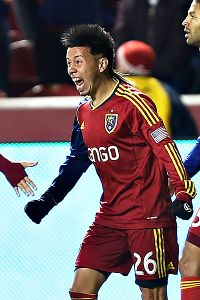 George Frey/Getty ImagesSebastian Velasquez celebrates his goal against the Galaxy.
Now, as his second MLS season comes to a close, Velasquez is a key figure for a Real Salt Lake team on the brink of a place in the MLS Cup. His goal against the L.A. Galaxy in the second leg of the conference semifinals tied the aggregate score and pushed RSL to a victory over the two-time defending champs.

His play on the outside of Kreis' trademark 4-4-2 midfield diamond is a work in progress that is nevertheless paying dividends.

Furthermore, training and playing alongside one of the league's best in Javier Morales hasn't hurt. Velasquez views the Argentine as a mentor.

"He's the best attacking mid in the league," Velasquez said. "That's my position, so to be able to watch him train every day, to see the fight he has in him, to see how much influence he has on the field, how much guys really have for him on the field, even opposing players.

"I try to learn from him day by day. If you got to know him, he's probably one of the nicest people you'd ever meet. He's one of the most humble people I've met."

That mentorship extends to gentle ribbing, helped by Velasquez's over-the-top hairstyle. Last season, Velasquez suffered through the ignominy of teammates cutting his trademark rattail -- more than once. He always grew it back.

"I think they got tired of trying," he said. "Now they'll say it once or twice, that's how Javi threatens me: 'You better not do anything bad before the game, you better rest up, or I'll cut your rattail.'"

Part of Velasquez's maturation was simply learning how to be a professional. The midfielder took a steep step from junior college to MLS, and a collection of bad habits came along for the ride.

"Last year, it was a new world for me, becoming a professional," he said. "I didn't know what it was to be a professional. This year, I think I understand what it means to be a professional, as far as taking care of my body, resting right, eating the right things. Last year, I would have a burger before a game. Now I'm eating the right stuff."

The amount of work needed to stay on top of his game represented another adjustment.

"I went into a slump for a long time (in 2012). I went downhill for a couple months. I really didn't understand it. When you come from playing a college season where you only play two or three months, you can have a great college season of two or three months and then it's over.

"Instead, in a professional career, it's your job, it's what you do every day so you're going to have ups and downs and it's how you react to those situations. This year I've handled it a lot better. I kept working hard and thankfully things are falling into place."

The equalizer against the Galaxy was Velasquez's first goal as a professional. True to a tradition he established last season, he marked the occasion with a new tattoo. Up to this point, his only goal ink came thanks to a reserve game tally from 2012.

"Last year, I got a tattoo for scoring my first goal in a reserve game. I wanted to get a tattoo for scoring my first goal with the first team. But I've been waiting for so long. Finally it happened against the Galaxy."

The resulting tattoo is a depiction of Rio Tinto Stadium's south goal, complete with the ubiquitous 'Believe' sign that hangs in the stadium and images of the denizens of Section 10, home to RSL's supporters groups, in the background. A local tattoo artist and friend of Velasquez did the work as a gift to congratulate him on the goal.

It's clear from his words that Sebastian Velasquez fully embraced Utah upon arrival in a state he admitted was an unknown to him prior. "I didn't know where it was," he said. "I was from the other side of the country."

Velasquez spoke about the kindness of the people and the sense of home he felt in Salt Lake City. That's no small thing for a young player who wasn't sure if he'd be leaving the only home he knew -- the United States -- for a nation that was little more than a place to visit, which just so happened to be the country of his birth, just a few months before Real Salt Lake called his name at the draft in Kansas City.

Gratitude flows freely when he talks about his place at RSL. Velasquez wants his effort and his play to express his thanks and he's also mindful of the task still facing his team in the weeks ahead.

"It's a way of showing how thankful I am to this team for giving me the opportunity to be a professional. For giving me an opportunity to play in the best league in the country.

"Every time I put a jersey on for Real Salt Lake I give my blood and guts and heart. Luckily it's been a very special moment for me, but the playoffs are still on and we have to keep our feet on the ground and move forward."