MLS' marquee teams back to the drawing board after poor postseason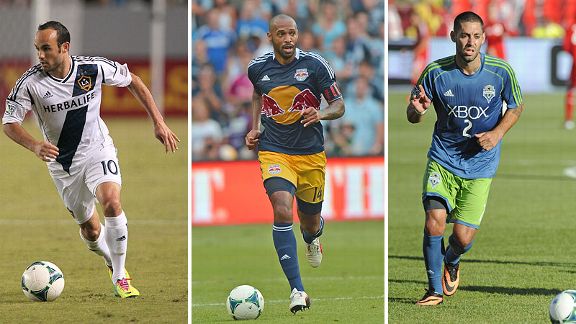 Getty ImagesLandon Donovan, Thierry Henry and Clint Dempsey were all part of disappointing playoff runs this year.
Real Salt Lake manager Jason Kreis is fond of saying "The team is the star." After the conference semifinals, a playoff round that laid waste to the league's marquee sides, it's a mantra that the folks at MLS headquarters would be wise to adopt.

What choice do they have? The New York Red Bulls, Seattle Sounders and Los Angeles Galaxy each exited the playoffs in teeth-gnashing fashion, although they arrived at such a juncture by varied paths. That means stars like Robbie Keane, Landon Donovan, Thierry Henry, Tim Cahill and Clint Dempsey can begin work on their offseason conditioning plans. And the individuals occupying the executive suites of those clubs have some decisions to make, with some of the choices looking far from easy.

The biggest underachievers



On Sept. 13, Seattle beat RSL 2-0 and appeared to be cruising toward the Supporters Shield, and in all likelihood a deep playoff run. What transpired instead was one of the more jaw-dropping collapses in league history. The Sounders won just once in their remaining 10 games, and flamed out spectacularly in the playoffs, falling to Cascadia rivals Portland 5-3 on aggregate. It was a stretch where the lack of chemistry was just as evident as the team's undeniable level of talent.

"I'd be lying if I said it was the best locker room we've had in the five years I've been here," said Seattle GM and minority owner Adrian Hanauer on a conference call with reporters. "There were some tensions at times. I think with the way our season went, it lent itself a little bit to that tension."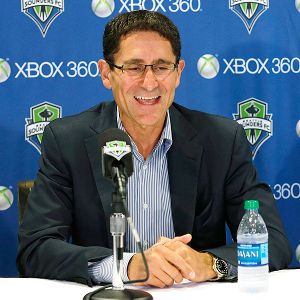 AP Photo/Ted S. WarrenThe joy from signing Clint Dempsey in August has now turned into more work ahead.
Hanauer added that in particular, the up and down nature of the season and the challenge of integrating Dempsey late in the campaign exacerbated the sense of unease within the side.

Now it looks like considerable personnel changes are in order. Hanauer specifically identified Dempsey, Osvaldo Alonso and Brad Evans as part of the team's leadership triumvirate moving forward, which would leave one to believe that Evans is on the verge of signing a new deal. Yet Hanauer also indicated that there would be considerable modifications to the roster going forward. He declined to say where, but at minimum a significant retooling of the defense is needed.

"We do feel like we need to make some changes on the team to win a championship and so we are going to create some cap space," he said. "It will take time and obviously I'm not going to talk about how we will get there exactly, but there could be some decent turnover on our roster."

But before that happens, Seattle needs to decide whether manager Sigi Schmid will be retained. While Schmid has won three U.S. Open Cups since arriving in Seattle, the Sounders have tended to flop in the playoffs, winning just two out of seven playoff matchups during his tenure. The last three years have seen Seattle unable to overcome poor performances in the first leg, leading to a sense that the team has plateaued.

"The big question is: How do you change something that has been a similar pattern for several years now? That's where people think change might be needed," said former Sounder and current ESPN FC television analyst Kasey Keller. "Then at the same time you have to look at the fact that only three teams have made the playoffs each of the last five years, and Seattle is one of them.

"So there's a lot of other teams that haven't had nearly the success that the Sounders have had. The tricky part of that is the two other teams are Salt Lake and Los Angeles. L.A. has two championships and Salt Lake has one and is in a very good position to get to another one, which is what has eluded the Sounders."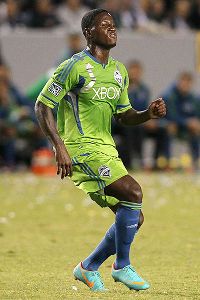 Victor Decolongon/Getty ImagesEddie Johnson's contract situation cast a shadow over the Seattle Sounders.
Hanauer insisted that Seattle would take its time in determining Schmid's fate. A meeting is scheduled between Hanauer, Schmid and owner Joe Roth for later this week, with Hanauer indicating it may be two or three weeks before a decision is made. But Hanauer also made it clear that he still holds Schmid in high regard, and seemed loath to break up what has been a solid working relationship.

"You start switching coaches, you can get caught in the revolving door pretty quickly of changing coaches," he said. "And I understand the emotional catharsis that some people have over being able to blame someone ... but my job is to weed through what really rationally is the best decision."

The biggest missed opportunity

When looked at in its totality, it's difficult to find fault with much that the Red Bulls, and in particular first-year manager Mike Petke, accomplished this season. In their 18th year of existence, the Red Bulls finally bagged a major trophy, claiming the Supporters Shield. But what was impressive was the way New York went about claiming the league's best record.

"They won games this year in a way that I haven't seen them win in the past," said ESPN FC television analyst Alexi Lalas. "I'm not talking pure tactical stuff. I'm talking about looking at a Red Bull team and saying, 'That team wanted to win; that team fought in a way that was different than in the past.'"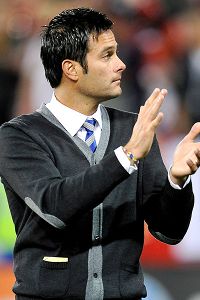 Joe Camporeale/USA TODAY SportsDespite losing in the playoffs, Mike Petke had a strong season and deserves a new contract.
But then the playoffs arrived, and it was clear that the ghosts that have haunted the New York franchise during the postseason haven't left yet.

The biggest source of angst emanates from the fact that New York was firmly in control of its playoff series with Houston, leading the first leg 2-0 on the road. Then Houston pulled a goal back and -- more critically -- defender Jamison Olave was sent off for a tackle from behind on Omar Cummings. Houston equalized and then came back from a goal down in the second leg to claim the series in extra time. The loss was a blow to a team that had showed considerable improvement this year, but revealed just how dependent the side was on Olave.

"When you've invested money and big numbers in certain people, you lose guys to injury or suspension, your secondary options are always going to be significantly less," said Keller. "And Olave was a big component in that team defensively that struggled defending set pieces all year, that looked to outscore you more than grind out 1-0 results. When you miss that component at that stage, it just gave Houston an opportunity."

That said, the future looks good for the club, with the identity that Lalas alluded to boding well for next season. But there are still plenty of questions. How much does Thierry Henry have left and how effective can he be, especially in the playoffs, where he has historically had little impact? The questions for Tim Cahill are the same, although his contributions this season hinted that he still has more to give.

Then there is Petke's contract status. The New York manager confirmed to Lalas that he has yet to sign a new deal, which begs the question, "What is New York waiting for?" This is something that management should have taken care of long ago, and they may yet. But the fact that New York hasn't locked Petke up is enough to raise an eyebrow and leave one to wonder whether the club is about to squander all that has been gained.

The biggest case of trader's remorse

During his final media availability of the year, it didn't take L.A. manager Bruce Arena long to zero in on why his team's quest for a third consecutive MLS Cup fell short when it fell to Real Salt Lake 2-1 on aggregate.

"We were too dependent on Robbie Keane," he told a gathering of reporters. "We had a number of players that failed in the final third of the field, that could have been a little bit better, whether it was from a cross or pass or shot."

The list of candidates who failed to provide that third scoring option behind Keane and Landon Donovan is lengthy, and Arena addressed each one of them. Jack McBean and Jose Villarreal?

"They got a little bit better, and they're still young," he said. "But they have to start stepping up and being men each and every day in training. When their opportunities come they have to grab them."

Gyasi Zardes?

"Gyasi had a good year, but I think he fell short in terms of finishing plays off," said Arena. "We've got to hope that this year is a good experience for him and he grows into a more responsible role next year and finishes more plays."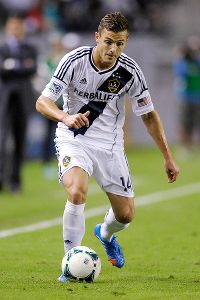 Kelvin Kuo/USA TODAY SportsThere has been plenty of criticism over L.A.s' decision to trade for Robbie Rogers.
Robbie Rogers?

"[Rogers] has to be better next year," said Arena. "He has to start the year better and position himself to play. He got his feet back on the ground this year, but the final product has to be better for Robbie."

It is that last critique that will induce the most handwringing. While the Galaxy's playoff ousting at the hands of Real Salt Lake will be the final memory from the 2013 campaign, the just-concluded season will be remembered more for the May trade that sent Mike Magee -- who at the time had scored six goals in 10 games for L.A. -- to Chicago for the rights to Rogers. Magee went on to bag 15 goals in 22 matches for the Fire. Rogers recorded just a solitary assist, as an injured hamstring and a stomach infection limited him to just 11 appearances, seven of them starts.

It's the kind of comparison that would normally lead to a ton of second-guessing. But Arena, at least outwardly, didn't sound like a man dealing with any inner torment over the deal.

"No regrets on anything, you move forward," he said. "There's a lot of reasons for that trade that ... will be in my book."

L.A. didn't experience that much of a drop-off in terms of goal production this year, scoring 53 times in 2013 compared to 59 in 2012. But it was in the postseason that Magee tended to do the most damage. Without his late runs, teams could key on Keane and Donovan without fear of anyone else stepping up. When Keane squandered several opportunities in the first leg, L.A.'s goal of a three-peat evaporated.

As for next season, Arena has already been hard at work, signing former Chicago midfielder Baggio Husidic and re-signing defender Todd Dunivant. Sean Franklin's contract situation has yet to be decided. As for reinforcements, that search has already begun.

"We could use another forward who is more of a target forward, to complement the players we have there," said Arena. "We can use an experienced flank player. We can get better with our passing in the central midfield position. We can get a little bit better in the back as well. Although we have a good group there, we'd still like to get a little bit better if we can."