The state of the USMNT right back pool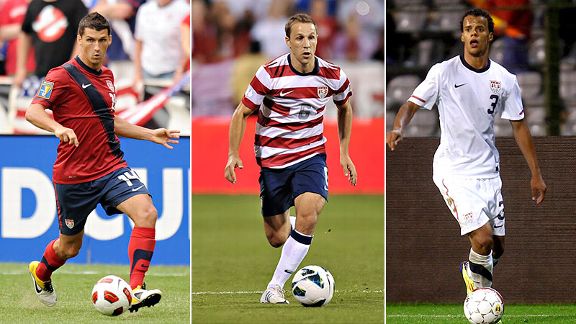 Getty ImagesEric Lichaj (l) is the latest addition to a growing competition at right back that features Steve Cherundolo (c) and Timmy Chandler (r).
In a roster littered with mainstays, filled out by a couple of fringe players, the lone surprise from Jurgen Klinsmann's call-ups for a set of European friendlies against Scotland and Austria is Nottingham Forest right back Eric Lichaj.

In a pool thin on full backs, Lichaj's long stint in the figurative wilderness -- this is his first USMNT call-up since 2011 -- was a relative head-scratcher. Throughout the Hexagonal World Cup qualifying campaign, Klinsmann showed he would rather use out-of-position players like Brad Evans and DaMarcus Beasley (players Klinsmann values for their intelligence and understanding) than turn to younger options like Lichaj in light of a rash of extenuating circumstances that eliminated several other candidates.

There's little argument that Lichaj deserves a look. Despite failing to make a mark at Aston Villa, the Illinois product has established himself as a regular starter and consistent performer for Nottingham Forest in the English Championship. Now 24, Lichaj represents a natural right back option for Klinsmann in the form of a confident, active player. It's hard to imagine Klinsmann will elevate Lichaj past Brad Evans on the depth chart anytime soon, but introducing him into the squad eight months ahead of the World Cup gives the USMNT head coach time to consider Lichaj's potential.

The truth is that Lichaj, despite the lack of consideration to this point in the cycle, is still a candidate for the World Cup team next summer. Even if the U.S. didn't have a history of late surprise inclusion, the dearth of actual full backs in the pool makes him a viable possibility. A series of unlikely events would need to transpire to push Lichaj down the list. Considering that all we have to go by are Klinsmann's actions (ignore his words -- he has a regular habit of contradicting himself) the mere fact Lichaj is with the team in Scotland bodes well for his chances.

First and foremost among those "unlikely events" is the surprise inclusion of Timmy Chandler at some point between now and the naming of the roster for Brazil. After begging off of international duty, ostensibly to focus on his fitness and club prospects, Chandler is finally healthy, playing and apparently willing to be a part of the USMNT. Surely it's telling that Klinsmann passed on calling up Chandler despite all conditions for his return being met. Klinsmann might not always do what he says, but he has remained consistent in his refusal to include players he deems less than committed to the cause. Chandler's situation is of his own making, and his exclusion this time around might signal the end of his own World Cup chances.

Klinsmann must hope, however, that his treatment of Chandler isn't seen as punitive. Several German-American dual internationals (John Brooks, Julian Green) are uncommitted and could empathize with Chandler. Chandler's prospects of playing with Germany were never as strong as those of Brooks and Green, but it's not impossible they could side with the Nuremberg defender and pass on representing the USMNT.

One last thought here for Steve Cherundolo.

The Hannover man is finally back to relative health after a series of knee injuries, making the bench in Hannover's last Bundesliga fixture against Braunschweig on Friday. Cherundolo is the X factor in the right back pool, a heady, experienced player capable of giving Klinsmann everything he needs out of the position no matter the system the USMNT choose to trot out.

With consistent playing time, Cherundolo jumps immediately into the discussion for Brazil and makes a surprise addition of Lichaj less likely. But Cherundolo will be 35 by the time the World Cup rolls around, so any time he's able to get in Germany between now and next June must be weighed against his age and potential for further injury. It's harsh but accurate to say that the state of the full back pool (both right and left) must be calamitous if Klinsmann is putting any eggs into the Hannover veteran's basket.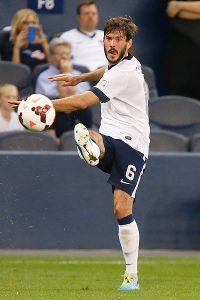 Kyle Rivas/Getty ImagesBrad Evans, normally a midfielder, is one of the unconventional options that Jurgen Klinsmann has used at right back.
We don't yet have any reason to think that a natural right back -- whether its Lichaj, Chandler, Cherundolo or a player as yet unidentified -- will push Klinsmann away from utilizing the imperfect solution of Brad Evans in the position. With few exceptions most notable for dropping off the radar as quickly as they pop up, Klinsmann has passed on the available right back choices in MLS. Evans has played relatively well for the USMNT, though it's worth noting that the competition has not always been top level and Evans is hardly a force in the attacking end of the field.

Chandler remains in limbo. Cherundolo is still on the bench. Could Lichaj be the player to change Klinsmann's thinking?