Three Thoughts: Real Salt Lake-Portland Timbers
In the first 90 minutes of a 180-minute battle to reach the 2013 MLS Cup final, Jason Kreis' Real Salt Lake grabbed a two-goal aggregate lead to take with it to the second leg in Portland in two weeks' time.

RSL rode a wave of dominant possession, excelled on set pieces and showed its ability to hit hard on the counter in a 4-2 win over the Portland Timbers at Rio Tinto Stadium in Sandy, Utah. Despite falling behind early, the home side showed why it shouldn't be taken lightly and why the club, of all teams, might be best suited to taking out the top-seeded Timbers.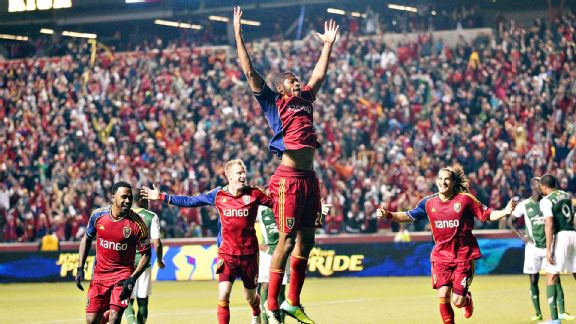 AP Photo/Rick Bowmer
Chris Schuler picked a great time to reach his potential

Twenty-six-year-old RSL defender Chris Schuler has long been a player high on potential but short on consistency. Injuries limited his playing time over the course of four MLS seasons, including 2013, when he made just 16 regular-season appearances. The man who was supposed to replace Jamison Olave alongside Nat Borchers took some time to establish himself in the starting lineup.

But Schuler picked the perfect time to be healthy and confident. With his defensive abilities already a boost to RSL in the most important part of the season, he has suddenly added goal scoring to his repertoire.

Schuler notched the first RSL goal on Sunday night, a tally that put the game back on level terms and catapulted the home team to its eventual 4-2 win. The goal was Schuler's second in the playoffs -- his first came against L.A. in the previous round -- a number that matches his career regular-season total.

Adding Schuler as a set-piece threat to an already dangerous attacking team like Real Salt Lake almost seems unfair and could very well be the thing that pushes this team onward to an MLS Cup final.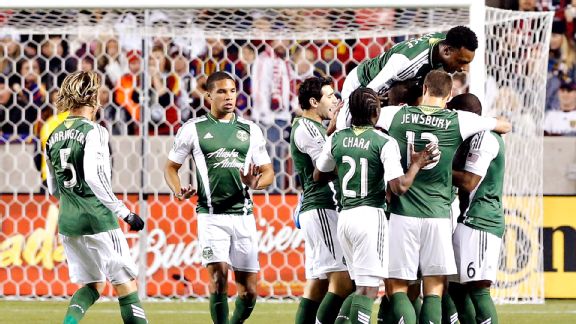 Chris Nicoll/USA TODAY SportsThe Portland Timbers' celebrations were short lived as Real Salt Lake poured in four straight goals.
Portland's opening goal only served to rouse RSL

The early stages of the match belonged to the Timbers. Intent on pushing for a lead, Portland controlled the ball and appeared to be the team most likely to open the scoring. Sure enough, a foul on Diego Valeri by Chris Wingert within shooting range allowed Will Johnson to stake the Timbers to a road advantage with a knuckling free kick.

From there, however, the game belonged to Real Salt Lake. Exploiting an advantage in speed up the flanks, the home side reasserted its passing game and put heavy pressure on Portland's defense. Stranded in midfield by passes that went around, not through, them, the Timbers' sturdy duo of Will Johnson and Diego Chara were helpless to slow down RSL.

Schuler tied the game with a towering header in the 35th minute. In the aftermath, RSL continued to control the ball, chopping away at the Portland back line. Over the course of the remaining 65 minutes, RSL relentlessly pushed to extend its lead, scoring on a gaff by Futty Danso, a sublime counterattack and another set piece.

Only a late goal by Frederic Piquionne slightly sullied the performance, pulling the Timbers within two headed to Portland in two weeks.

RSL has the key to unlock the Timbers

Anyone unfamiliar with the Timbers might suspect that their defense was a problem all season after watching this game. But while Portland dealt with a rotating cast of characters in its back line throughout the regular-season campaign, it ultimately managed to put up a more-than-respectable defensive record. A large part of the credit goes to the Timbers' style of play and the dedicated work of players like Diego Chara and Will Johnson in midfield.

Real Salt Lake is uniquely qualified to nullify those strengths, as evidenced by its regular-season record against Portland and the first leg in Utah on Sunday. Portland's defending withered under the pressure of a team anxious to secure a lead in the series in its home leg, and did so in spectacular fashion. Simply put, the Timbers aren't built to absorb waves of pressure.

Futty Danso's mistake on Robbie Findley's first-half goal, in addition to set-piece failures on goals by Schuler and Javier Morales, is illustrative of the issues Portland has when playing on the back foot. Even when Portland managed to take the initiative, RSL proved capable of punishing the club with the counter with Devon Sandoval's goal just after halftime.