How Ben Olsen turned adversity into an ally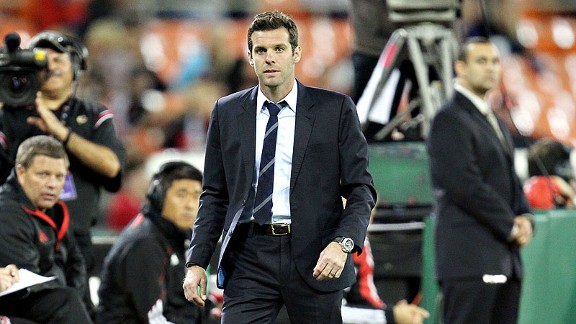 Ned Dishman/Getty ImagesNo De-Ro? No problem, as D.C. United manager Ben Olsen has taken a defense-first approach to grind out results.
When reigning league MVP Dwayne De Rosario went down with a knee injury last month, the sense of déjà vu surrounding D.C. United was palpable. It marked the second year in a row that the black-and-red had lost a key attacking player with the postseason approaching. And just like in 2011, United was on the fringes of the playoff places.

Fortunately for United, that is where the fortunes of the respective squads diverged. Last year's team imploded after losing attacker Chris Pontius to a broken leg, going 1-6-2 in its last nine games. But the 2012 edition has turned adversity into an ally, recording a mark of 5-0-1 since De Rosario went down and securing its first playoff spot in five years.

United's turnaround is due to a variety of factors. Without question, the schedule has been more forgiving this time around. The black-and-red will have played two fewer games since De Rosario's injury as opposed to 2011. And none of United's games during this current streak have come against a team in playoff position.

But focusing solely on those statistics would severely undervalue the work done by manager Ben Olsen and his staff, who astutely decided that it would be foolish to try to make up for De Rosario's offensive production.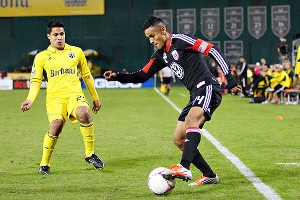 Ned Dishman/Getty ImagesConverting Andy Najar to the back line has been a key part of Olsen's strategy.
"Tactically we had to change who we were a little bit," Olsen said via telephone. "We had to make sure now defensively we were much better. We couldn't rely on Dwayne to consistently put numbers up for us each game. So we wanted to put up more zeros and grind some results out and see how that went. I asked the guys to buy in, I asked each one of them to give a little bit more and raise their game."

The increased defensive emphasis has revealed itself in a variety of ways. At times, Olsen has played with two dedicated holding midfielders. There also have been moments when one of his forwards has dropped deeper to add to the numbers in midfield.

Either way, the team has delivered, and the numbers are borderline astonishing. In 2011, United conceded 17 goals in its last nine games. The current stretch has seen DCU give up just four in six games. The fact that the back line of Andy Najar, Brandon McDonald, Dejan Jakovic and Chris Korb has jelled over the past few months has been a huge plus and highlighted how much the team missed Jakovic last season.

"When we lost Pontius last year, I was much more worried than I was this year when we lost De Rosario," Olsen said. "Last year, we didn't just lose Chris; we had lost Jakovic at the same time. That combination was too much for us to handle. This year, not only were we just a better team playerwise, we have more depth, we have more guys who are mentally tough."

The maturation of young players like midfielder Perry Kitchen, goalkeeper Bill Hamid and midfielder-turned-defender Najar has been significant. Unexpected contributions from veterans like forward Maicon Santos and midfielder Marcelo Saragosa have been huge as well.

Then there is the development of Olsen as a coach. Early in his playing career, the former U.S. international said coaching was "the furthest thing from what I wanted to do." Even upon his retirement, he had his doubts. That didn't stop Olsen from signing on as Curt Onalfo's assistant, and he expected to serve a two-year apprenticeship to see whether coaching was really for him. But when Onalfo was fired, Olsen was thrown into a head-coaching role, even though he readily admits he wasn't ready. After ultimately deciding to give him the job full time, United has allowed Olsen to grow into the position, and the process is ongoing.

"I'm much more comfortable in my ideas and what I want out of this group as opposed to last year," he said. "I had ideas of what I wanted, but last year I kind of struggled with relaying that message to the guys. I'm a young coach, and I have a lot to learn."

One tenet that Olsen has learned quickly is that the power of the coach has its limits.

"I'm not putting all the blame for last year on myself," he said with a laugh. "I just don't think we were good enough in the end. This year we were good enough to get through this. I don't know if it was any unbelievable coaching from me, or the difference of me from now and last year."

How far can Olsen's approach take United? On the surface, United's competition in the Eastern Conference would all appear to have more firepower, assuming that De Rosario's attempts to come back before the end of the season fall short. But the MLS playoffs are the ultimate crapshoot, and more than once has a team with a stingy defense and opportunistic attack hoisted the MLS Cup. Olsen, for his part, isn't looking too far ahead.

He said, "We're enjoying the moment, and we're looking forward to spoiling some teams' parties down the stretch here."