Galaxy come down to earth with a bump
There will be no three-peat in Los Angeles. Whatever it was that made the 2011 and 2012 L.A. Galaxy the sharks of MLS -- ruthless on the attacking end, dogged in defense -- was missing from the 2013 version. On Thursday night in Sandy, Utah, Jason Kreis and Real Salt Lake exposed deficiencies and put an end to L.A.'s bid for MLS immortality.

The loss was as much about RSL's good play as it was about the Galaxy's mistakes, but it doesn't require an expert soccer mind to see that Bruce Arena's side wasn't up to the usual standard. This was a more muted, more fundamentally flawed L.A. Galaxy than the last two MLS Cup winners.

Though the season ended in Utah, L.A.'s problems began in the home leg. Kreis' gambit of deviating from the tried-and-true diamond midfield -- playing Kyle Beckerman and Yordany Alvarez as dual defensive midfielders -- failed to slow down the Galaxy attack. However, neither Landon Donovan nor Robbie Keane, L.A.'s high-powered and high-paid pair of forwards, proved sharp enough to take advantage. Rather than claiming a multiple-goal lead to sit on in the return leg, as any Arena-led team would hope to do, the Galaxy had little margin for error.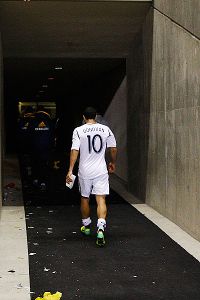 George Frey/Getty ImagesLandon Donovan made minimal impact on the playoff series versus Real Salt Lake.
Only a brilliant shot by Sean Franklin saved L.A. from leaving California with nothing to show for that dominance. At some point, it's difficult not to think of Mike Magee, a vital cog in recent playoff glories.

"We really had our opportunities on Sunday to have a cushion coming in here and didn't do it," lamented Arena after his side's elimination.

In the second leg, one simple mistake -- the failure of center backs Omar Gonzalez and Kofi Opare to track a defense-splitting Sebastian Velasquez run -- resulted in the evaporation of that slim lead. Velasquez's headed goal, his first MLS tally of any kind, brought the two teams level and reset their respective intentions.

Forced to press the action in search of the lead, the Galaxy were unable to leverage their deadly counterattacking ability. Passing broke down, and creativity in the attacking third dried up. The whole effort appeared half-hearted, as if the Galaxy were desperate to avoid extra time and penalties but simply didn't know how.

Most surprising from an Arena-coached team was the Galaxy's failure on set pieces at both ends. Offensively, a major weapon the Galaxy used to great effect in previous playoff campaigns deserted them.

The decision to occasionally play corners short rather than look for the dangerous head of Gonzalez was, in hindsight, symbolic of the step back L.A. took this season and indicative of how much it missed the brilliant service of David Beckham.

Defensively, L.A. was victimized by confusion and youth when facing restarts. The series-winning goal in extra time came about because three Galaxy defenders misjudged the flight of a Javier Morales free-kick and failed to mark Chris Schuler at the back post. Opare's attempt at a clearance came up short. It was a simple goal and a simple summation of an L.A. team simply not good enough to win another MLS Cup title.

- RSL eliminates L.A. - highlights
- Analysis from Alexi Lalas and Taylor Twellman

While Arena's postgame comments specifically pointed to Thursday night's set-piece issues, his words could apply to much of the Galaxy's season:

"Tonight we failed on defensive set pieces. The wind made the game terrible with the field conditions and all of that, so it was a real sloppy game, a scrappy game. They were more opportunistic in their set pieces than we were, and that was the difference in the game."

Even Arena's typically blunt attempts to pin some of the blame for the Galaxy loss on extraneous factors like the weather or referees were below the usual Galaxy standard. It was an assessment that was dispassionate and detached.

Although he went through the motions, Arena knew this version of the Galaxy wasn't good enough, and he knew it wasn't the weather or the referee that did them in.

"The conditions were tough for both teams with the hard field," Arena said. "This field is like playing on the street and makes the ball bounce a lot. The conditions are tough, but both teams had to play in those conditions and they played better than we did.

"The last goal," continued the L.A. coach, "the referee [calls] the whole night like it's a boxing match and he calls that foul -- but in all fairness, we shouldn't position ourselves to be called for a foul down there -- and they score. We had to be smart to place this game into penalty kicks once we got to overtime, and we didn't get it done."

Not smart enough, not sharp enough, not good enough to get it done. The Galaxy's back-to-back titles can't be minimized, but the chance of another MLS Cup went begging because this team paled in comparison to those championship winners.