Remembering the greatest game in MLS history
Ten years later, it's still the greatest game in MLS history.

On Nov. 9, 2003, the San Jose Earthquakes and the Los Angeles Galaxy met in the second leg of their Western Conference semifinal series. And on that chilly evening at Spartan Stadium, the Quakes broke out of the championship coffin that had been prepared for them, coming back from a four-goal aggregate deficit by scoring five unanswered goals, including a Golden Goal in the sixth minute of extra time.

Some fans will undoubtedly quibble with the label, but this was a game that had everything. Title hopes were on the line, and great players -- some of the league's best from that era -- were involved. The match involved two bitter rivals, and it was a game that featured goals -- lots of them -- that bathed the match in an almost suffocating amount of tension. And the game was witness to as big a momentum swing as you're likely to ever see.

"I would say that there have been games in our league from a pure soccer standpoint that were greater games in that sense," said current Galaxy attacker Landon Donovan, but who on that night was wearing San Jose blue.

"But as far as drama and emotion and what it meant and what was at stake and the rivalry being thrown in, I've never played in a game that was more exciting than that game. I've never had a feeling like I had in that game. I can't imagine that I ever will again."

The only downside is that aside from the 14,145 fans in attendance, few people were able to see it. The match wasn't on local television or radio and was only broadcast by a Telemundo-owned station in Los Angeles. Otherwise, only those fans fortunate enough to have access to the league's DirectKick package were able to watch the game live.

"It's the greatest game nobody saw," quipped then-San Jose captain Jeff Agoos.

The Rivalry

The period from 2001 to 2005 marked the peak of the San Jose-L.A. rivalry. The teams shared an owner in AEG, but little else. For years, San Jose considered L.A. its biggest rival. The Galaxy barely noticed, as it was challenging for titles while San Jose failed to reach the playoffs for four seasons running.

That all changed in 2001. Donovan arrived along with manager Frank Yallop, and the Quakes claimed that year's MLS Cup final at the Galaxy's expense. The Galaxy came back in 2002 and achieved an MLS Cup and Supporters' Shield double. The 2003 season was the tiebreaker: A season to decide -- for the moment -- which team was superior.

"San Jose really cultivated that blue collar, hardworking, organic type of feel," said ESPNFC television analyst Alexi Lalas, who was a member of the Galaxy at that time, and later served in executive positions for both clubs. "We were, as they are today, much more about the show and the glitz and the names and all that. It hasn't really changed."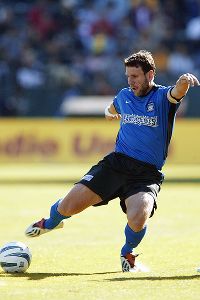 Jeff Gross/Getty ImagesAgoos' goal got the comeback started.
"We were the small little brother, trying to punch above our weight," Agoos added. "We were a small team that didn't have the resources that L.A. had. They came in with an incredible amount of talent on that team, and we just said, 'We're not going to bow down like other teams may.' We believed in ourselves and we stood up for ourselves."

The Buildup

The 2003 regular season wasn't kind to the Galaxy. A season-opening, eight-game road trip, necessitated by the completion of what is now known as StubHub Center, put the champs in a deep hole. San Jose, meanwhile, cruised through most of the regular season, taking the top spot in the Western Conference while L.A. snuck into the playoffs in fourth place.

Late in the season, San Jose started to stumble, however, and L.A. began to find its rhythm. When the playoffs started, and the Galaxy prevailed 2-0 at home on goals by Carlos Ruiz and Sasha Victorine, it wasn't all that much of a surprise.

In fact, almost as noteworthy was a halftime scuffle between Ruiz and San Jose defender Troy Dayak. Then-Galaxy head coach Sigi Schmid called it "handbags at 10 paces." Dayak insists to this day that Ruiz concocted the whole incident, one that saw the San Jose defender fined by the league.

"It was absolutely nothing," Dayak said. "I was pissed off that he had undercut me in the game. I confronted him and said, 'Hey, I don't appreciate that.' All of a sudden he looks around and takes a dive, falls down inside the tunnel. I'm like, 'Dude, that is so cheesy.' Everyone knew that if I'd have hit him he would have been bleeding or had a big lump on his face."

Ruiz didn't respond to an interview request from ESPN FC.

As for the result, the Galaxy felt they had let San Jose off the hook to a degree, as Ruiz botched a late breakaway attempt that would have put L.A. up 3-0.

"Ruiz tried to get a little cute with it, it didn't quite work out," said ESPN FC television analyst Alejandro Moreno, who was with the Galaxy at the time. "It could have been game, set, match already, but it wasn't. And we knew it was going to be difficult going into San Jose."

Part of the difficulty lay in the venue. Spartan Stadium made the cockpit of a fighter jet seem spacious by comparison. Not only was the field undersized, but it was almost completely surrounded by a 10-foot wall that made the field play even smaller. Such close proximity to the field also meant it didn't take many fans to create much noise or an intimidating atmosphere.

"The way those games go up there, half chances turn into full chances," said then-L.A. midfielder Pete Vagenas. "If you turn the ball over, with one pass, teams are either getting a cross off or shooting."

For that reason, the Quakes projected a confident vibe, and the mood around practice that week was calm. (Note: The 2003 season was this reporter's first on the MLS beat, covering San Jose for the now-defunct QuakeMagic.com.) But there was near unanimity from both clubs about the upcoming game: Whoever scored the next goal would win the series.

The First Half

There are dream starts, and then there was what transpired in the first 13 minutes of the second leg. Ruiz nodded home a Hong-Myung Bo free kick with the game not seven minutes old. Vagenas then finished off a warp-speed counterattack six minutes later, collecting Moreno's centering feed, dancing around a defender, and slotting past goalkeeper Pat Onstad.

The visitors were understandably beside themselves with joy. Yet, Vagenas recalled that it was the ultimate poisoned gift.

"It almost came too easy, 13 minutes in, being up 4-0 on aggregate," he said. "I always said, if I don't score that fourth goal, I think we win the game no problem. That fourth goal did us in if that makes sense. It slowly started to unravel."

In an odd way, the pressure was now off San Jose. They could go down fighting with no repercussions. The team's veteran leadership came to the fore, as well.

"A lot of teams would just tank and do damage control and not be able to even remotely get back in the game," Donovan said.

"We were led by Agoos, Manny Lagos, Ronnie Ekelund, Richard Mulrooney; guys who didn't seem too flustered by it. Obviously it was a daunting task, but it was sort of like, 'Let's just keep playing and see what happens.'"

So when Agoos scored on a free kick in the 21st minute, it was the kind of moment that allowed a bit of fantasy to creep in; maybe, just maybe.

"I didn't know if that was just a goal to make it look respectable or something more to come," the San Jose defender said.

(One person who didn't know either was Agoos' girlfriend Natalie. When the first two L.A. goals went in, she turned off the television. Agoos said his future wife didn't find out what transpired until the next morning.)

Following Agoos' tally there was more energy filtering through Spartan Stadium, and then in the 35th minute came what many regarded as the turning point in the match. The Galaxy had a free kick at midfield, but a mix-up between Vagenas and Bo saw the ball turnover leading to a San Jose counterattack.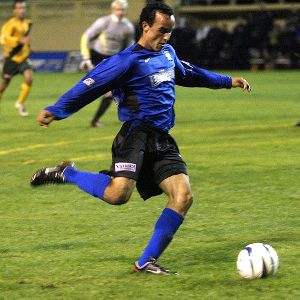 Stephen Dunn/Getty ImagesThen 20, Donovan played a key role in defeating a club for which he would later star.
Mulrooney sprang Jamil Walker on a clear breakaway, only for Galaxy keeper Kevin Hartman to foul the San Jose forward with a late challenge. Walker still prodded the ball to Donovan, who scored from a tight angle to bring the Quakes within two.

"I really think that mistake opened up the door," Schmid added. "If we hadn't given away that counter, I think things would have turned out differently."

There was another "what-if" aspect to the play, as well. Hartman, by all rights, could have been red carded. Had he been, some conservatism might have crept into L.A.'s game. He was only booked instead, and what started out as a Sunday cruise for the Galaxy turned into a street fight.

"It was no longer about skill or how well you were passing the ball," Moreno said. "It was a matter of will, and they were willing themselves into the game and we didn't withstand the pressure the way we should have."

By this point, the belief in the stadium had gone viral, and when halftime arrived, there was little doubt that a comeback was achievable. That's why Yallop said very little in his halftime speech.

"When we got to 2-2, I just told our guys, 'They're going to be under so much pressure because they're going to try and just hang onto this lead. We've got to get at them,'" he said.

It was then left to players such as Dayak to maintain the rabid ferocity that had allowed San Jose to climb back into the match.

"I just remember getting up and I said, 'Look at the sign at the end of the stadium,'" Dayak said. "'It says "We Believe," I believe that we can do this. It's time to show who we are.'"

Second Half

In the first half, it was the familiar faces of Agoos and Donovan who had brought San Jose back. But in the second, the goal scorers for San Jose couldn't have been more unlikely.

It was Walker who brought the Quakes within one on aggregate, when he nodded home Mulrooney's quickly taken free kick in the 50th minute. Walker had developed a reputation during the season as a super-sub, but was only playing because of an injury to Dwayne De Rosario and a poor performance from Rodrigo Faria in the first leg.

"For Jamil, it was completely out of the ordinary at the time to do something like that in that kind of situation and that good of a finish," said then-San Jose defender Eddie Robinson, now a television analyst for the Houston Dynamo.

At which point the game seemed to lose steam. L.A. began to find more of a rhythm and should have grabbed a goal in the 58th minute, only for Onstad to produce an incredible double-save from Ruiz and Danny Califf.

Even as the Quakes were bombarding the L.A. penalty area with crosses from all angles, the back-line trio of Bo, Califf and Tyrone Marshall seemed to be holding up.

So as the clock struck 88 minutes, Yallop threw on utility man Chris Roner in place of right back Craig Waibel, although his instructions were by no means defensive.

"I remember I was lingering in the middle of the field," Roner said. "And Frank and Dominic [Kinnear] yelled at me, 'Get up top!'"

Mulrooney, who was magnificent on the night alongside Ekelund, wriggled free on the right flank and floated a back post cross that Roner nodded home. He had been on the field all of 65 seconds.

"It's a cliche to say 'Time stood still,'" Roner said. "But it was one of those moments for me where things were very slow. The ball came in very slow. I don't remember any of the players around me or even the keeper."

Bedlam ensued, and so did the second-guessing from the L.A. side. Schmid now admits that with Lalas on the bench, he should have brought the defender on with five minutes to go. Eating up crosses was how Lalas made a name for himself over the years and "maybe he would have won a header or two for us that would have changed the game."

Agoos doesn't buy it.

"Hindsight is always 20/20 and you can look back and say you could have done a lot of different things," he countered. "But I don't think anybody could have changed what was going to happen."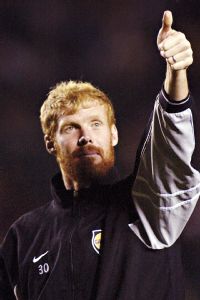 Victor Decolongon/Getty ImagesLalas was an unused sub in the second leg.
As it turned out, the match proved to be Lalas' last in an MLS uniform.

"It was painful to be sitting on the sideline and not mixing it up in the 18-yard box" Lalas said.

"Those balls that were coming in, they were always my bread and butter. But even in the moment that it was happening, I don't think anyone from a Galaxy standpoint even considered that what happened, would happen. Everyone was kind of waiting for it to stop, and it was one of those days when it never stopped."

In the meantime, L.A. looked a beaten team, even though the game was still tied.

"I looked over at their bench, and every single one of those guys was looking down at the ground," Robinson said. "They were completely destroyed."

Extra Time

Extra time was notable for two things. First, Agoos had injured his back, and with San Jose out of subs, he spent most of extra time in the center circle, doubled over. Essentially playing with 10 men, San Jose could have been forgiven for holding out for penalties. Instead, the Quakes went for the kill, leading to the last unlikely scorer of the night.

Earlier in the season, Faria's father had passed away. He spent the better part of three months tending to family matters and away from the Chicago Fire, where he had been playing. Frustrated that he hadn't returned, the Fire shipped him to the Quakes, who needed another forward after Brian Ching tore his Achilles'.

Faria had struggled since arriving, but with Walker tiring, Yallop sent Faria on in the 75th minute. Six minutes into extra time, Faria etched himself into San Jose lore, taking a feed from Donovan and firing it past Hartman to end the match.

Faria raced into the corner, slid on his knees, and leaned back onto the ground, where he was promptly piled onto.

"I thought, 'Man, this guy is bent over like a Gumby. Don't break him,'" Dayak said.

As the enormity of what had been accomplished sunk in, Faria burst into tears, pointed at the sky and could be seen speaking to the heavens. Faria did not respond to requests for an interview, but in a broadcast interview after the match, said, "It was a great run by Landon, and I just made my run. He sent me a great pass. I knew something special was coming to me. Thank God, I had a great finish for this wonderful team over here."

It was the only goal Faria ever scored for San Jose. As the following season beckoned, Faria decided to remain in Brazil to better provide for his family.

The Aftermath

The game was over, but the torment was only beginning for the Galaxy. The locker rooms at Spartan were adjacent to each other in a single building under the north grandstand. Not only did L.A. have to stew over the loss, they had to listen to San Jose's celebrations next door.

"Obviously they were ecstatic for what they had done," Vagenas said. "It was a bit much with the banging on the walls and the doors, but again it was a fantastic comeback on their part. I'm sure emotions were high."

The ensuing years have done little to dull the pain. Vagenas remarked that, "I'm still not over it. If we get past San Jose, being defending champions with the quality we had, I think it's another trophy that would be sitting here at StubHub."

Moreno called it "one of the biggest failures -- if not the biggest failure -- individually and as a team that I've ever been a part of."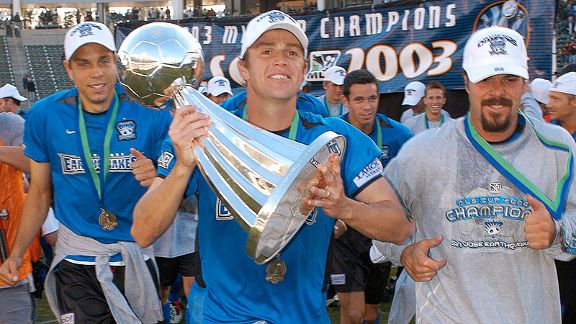 Steve Grayson/MLSThe San Jose Earthquakes carried the momentum from their stunning comeback to win MLS Cup.
For San Jose, the drama continued. The Quakes needed another Golden Goal, this time from Donovan, to get past the Kansas City Wizards 3-2 in the Western Conference final. Then, in an enthralling MLS Cup final, two Donovan goals and a saved penalty from Onstad keyed the Quakes to a 4-2 win over Chicago.

But whenever that championship season is brought up to those involved, invariably the subject turns back to "that game" and what it was like to go through it. And there seems to be little argument that it remains the best game in the league's history.

"Stuff like that, it sounds like an old tale," Yallop said. "It was huge to be involved with it, but I don't think I've seen a better game in our league other than that game. What it meant at the time, two terrific teams going at it, it was just an amazing game."

Ten years on, the memories haven't faded.

Lineups

L.A.: Kevin Hartman; Tyrone Marshall, Hong Myung-Bo, Danny Califf; Sasha Victorine (Chris Albright,81), Simon Elliott, Pete Vagenas, Arturo Torres (Mauricio Cienfuegos, 90), Cobi Jones; Alejandro Moreno, Carlos Ruiz

Unused subs: Alexi Lalas, Ricky Lewis

Goals: Ruiz (Hong) 7'; Vagenas (Moreno) 13'

San Jose: Pat Onstad; Jeff Agoos, Troy Dayak, Eddie Robinson, Craig Waibel (Chris Roner, 89); Manny Lagos (Ian Russell, 77), Ronnie Ekelund, Richard Mulrooney, Brian Mullan; Jamil Walker (Rodrigo Faria, 75), Landon Donovan

Unused subs: Arturo Alvarez, Dwayne De Rosario, Todd Dunivant, Roger Levesque

Goals: Agoos (Ekelund) 21'; Donovan (Walker, Mulrooney) 35'; Walker (Mulrooney) 50'; Roner (Mulrooney, Dayak) 90'; Faria (Donovan, Russell) 96'