Matt Reis' comeback has sparked the New England Revolution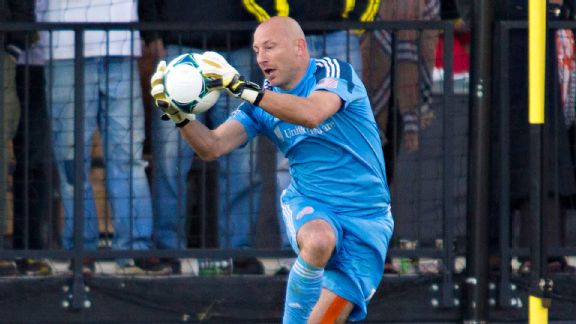 Trevor Ruszkowksi/USA TODAY SportsMatt Reis is the first MLS goalkeeper to go 10 games undefeated and has sparked the New England Revolution's impressive end of the season run.
Dom Dwyer came so close...

In the 93rd minute of Saturday's Major League Soccer Eastern Conference semifinal game between Sporting Kansas City and the New England Revolution, it looked as though the rookie SKC forward was going to score a game-tying goal. He drove his foot through the ball with exquisite technique and his shot looked destined to splash the back of the Revolution net. But Matt Reis, New England's goalkeeper, had other ideas.

Reis palmed the shot over the net, somehow, sealing the Revolution's 2-1 defeat of Kansas City in the first leg of their playoff matchup.

"It's a huge save," Revolution coach Jay Heaps said after Saturday's game. "It's a long ball, bounces around and we have enough guys around it, but it seems to bounce to their guy, who makes a great move -- Dwyer does -- great hit and Reis, his reflexes are pretty amazing. I don't think there's been a better goalie in the league that has reflexes like that."

The save on the potential game-drawing shot was the kind Reis has made throughout his career since becoming the Revolution's starting goalkeeper in 2004. But this season, there seems to be something following Reis, some sort of aura on the field. He's unbeatable. Literally. Reis has not lost a single game this season -- including the Revolution's win over Kansas City on Saturday, he's 8-0-4 in MLS play -- despite the struggles he's had to endure off the field.

Reis came into the season as New England's No. 1 goalkeeper and started the season well, but things just weren't right. Reis was hampered by an injury, and with Bobby Shuttleworth's steady play in preseason and the previous season, Reis ceded his starting spot to Shuttleworth after the third game of the season. Then disaster struck for Reis and his family.

On April 15, Reis was at the Boston Marathon with members of his family to cheer on his wife, who was running the race. Moments before the bombs went off, Reis and his 7-year-old son moved from their spot near the finish line. After moving, Reis heard the blast and rushed back to find his father-in-law in pain with blood coming out of his leg. Reis then quickly took off his belt, wrapped it around his father-in-law's leg as tightly as he could, and took off his jacket to use to try and stop the bleeding.

"He [John Odom, Reis' father-in-law] had received a wound that went from the outside of his left leg, through his left leg and embedded in his right leg," Reis told reporters before the Revolution's game April 27. "It was one wound, but with the force that it took for that to travel all the way through his body, it created quite [some] damage in there."

Odom recovered from the injuries suffered in the blast, and Reis made his way back to the team, but he was no longer the No. 1 in New England, something he had been for nine years. He had to not only refocus on his career after the traumatic events of the Boston Marathon bombing, but also fight for his spot again. Reis never wavered. He stayed strong and focused.

"[Matt's] had a very emotional season, but his play has never faltered in that," Heaps said. "And I think what was so amazing is that he's kept a real mental strength for our group."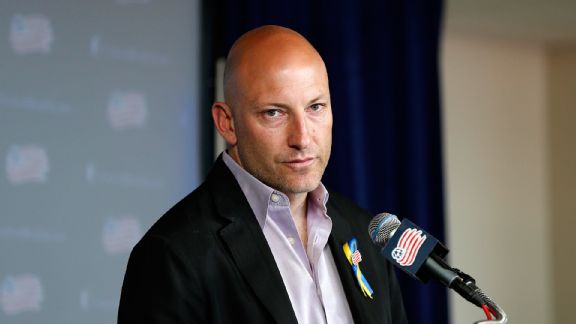 Greg M. Cooper/USA TODAY SportsMatt Reis was affected by his father-in-law's injury from the Boston Marathon tragedy but remained resolute throughout.
The Revs were shook by the Boston Marathon bombing. According to Heaps, Reis wasn't the only player affected by the events that transpired on April 15.

"It was an emotional hurdle to get over, but Matt [Reis] helped us get over that because he's the one that was affected so closely," Heaps said. "He was able to move the team past that, and I think that was huge [for the team]."

New England's defense didn't miss a step after Shuttleworth took over for Reis. The defense became one of the stingiest in MLS. But Reis never wavered, and with the help of his teammates, he got back to work and overcame the trials and tribulations of the marathon.

"I know there are lots of parallels in everything we do and after a tragedy like that, getting back into your routine and what you're good at and what you do, for me that was very helpful," Reis said last week.

Reis added, "Obviously, being around the guys, being in that situation and the love and support they all gave me while going through it, during it and just to be back out there with them is really special and something as a young kid that you kind of take for granted.

"I am just grateful for the time [with the Revs] and through all that tragedy it makes you realize that more and I'm still fortunate to still be playing this game," Reis continued.

With the Revs in need of a boost in the middle of August, Heaps decided it was time to go back to Reis to give the team a much-needed kick.

"As we moved past that [the Marathon bombing], he started to train really well in the middle of the summer and push and push," Heaps said of Reis' play during practice. "And I didn't make the change from Bobby [Shuttleworth] to Matt [Reis] because Bobby was dipping as much as Reis was stepping up in practice and showing he was at a higher level. That is why we made the switch."

The moved paid off instantly. In Reis' first game back on Aug. 17, the Revolution beat the Chicago Fire 2-0, and then beat the Philadelphia Union 5-1 before drawing with Toronto. The playoff push was on.

"They just asked if I was ready to play and said they were going to make a change I think to shake things up," Reis recalled. "We played a big game against Chicago and got three points, which was huge for us."

Despite one hiccup, a red card against the Montreal Impact on Sept. 8, Reis and the Revolution took destiny into their own hands. In the last weeks of the season, New England was fighting with five other teams for the final three playoff spots in the Eastern Conference. In their final six games, New England went unbeaten and finished third in the East, making the playoffs for the first time since 2009.

The Revolution have gone through a major overhaul since they were last in the playoffs. But one thing that's been sturdy for New England has been the hands of Reis. He's been there between the goalposts giving his team a boost, leading the defense even during the dark days of the past few seasons where the Revs finished near the bottom of the league.

"It's always rough, whenever you have a team and you have to make a major overhaul and haven't made the playoffs for a couple of years," Reis explained Tuesday. "It's going to take some time and there are going to be some growing pains. We've had to shuffle our roster and make changes. It's a testament to this organization and the guys that have brought good players in.

"We have a very good team spirit going on right now and we're all excited to play for each other," he continued.

The team spirit has carried New England through the season with Reis leading the way. He hasn't lost a game, becoming the first goalkeeper in MLS history to not lose a game in 10 or more appearances in a season.

"I'm just excited about the opportunity to play again with everything that's gone on. I've put in the mindset since I was put in (as the starter) that we need to win games," Reis said. "Trying to pick up points in the playoffs, I know in this few games, if I can keep the goals out then we have a good chance to win."

So far Reis has kept the goals out. New England has the upper hand over Kansas City heading into Wednesday's game, the second leg of their playoff matchup. Reis is hoping he can keep that streak alive and push them to what seemed so far away just a few weeks ago, when they were in seventh place looking up the standings and dreaming of just making the playoffs, never mind a chance to play in the quarterfinals.

Kevin Koczwara is a freelance journalist in Worcester, Mass.