MLS coaching changes coming thick and fast
The MLS coaching carousel has turned into a tilt-a-whirl.

Since Sept. 1, four MLS coaches have been fired. A fifth, Montreal Impact manager Marco Schallibaum, is reported to be walking the plank, soon to be replaced by legendary defender Alessandro Nesta. And this figure doesn't include the San Jose Earthquakes, who opted to make Mark Watson the full-time manager after he led the club to an 11-5-3 record. Then there are the questions surrounding Real Salt Lake's Jason Kreis and Colorado Rapids manager Oscar Pareja, both of whom excelled during 2013 but are being wooed by other organizations.

It's getting to the point that you can't keep the coaches and their respective employers straight without a scorecard -- and a heavy dose of Dramamine.

Whitecaps left stranded
Everything appeared to be lining up perfectly for the Vancouver Whitecaps. Martin Rennie -- despite actually increasing his point total from a year ago -- didn't have his contract renewed. Having been idle for the last four months after parting ways with San Jose, former Canadian international and Vancouver product Frank Yallop was available. But then the Chicago Fire swept in and nabbed Yallop from right under their noses. The fact that Yallop was named head coach and technical director -- something he was unlikely to get in Vancouver -- proved too enticing to pass up. Now Vancouver is left scrambling to a degree.

"Yes, we were a little surprised," admitted Whitecaps president Bob Lenarduzzi in regard to Yallop's decision. But Lenarduzzi stated that when the club hired Rennie back in 2011, the club acted quickly because at least one other team was interested in hiring the Scot. This time around the club wants to take a more deliberate approach.

"In spite of [Yallop's] situation, what we didn't want to do was make a quick decision," he said. "We're going to take whatever time it needs. At the same time what we don't want to do is prolong the process. We're going to do it right and interview as many candidates as we think are appropriate."

One person expected to apply is Carl Robinson, one of Rennie's assistants. Robinson is respected by many of the players and although his lack of head coaching experience is at odds with the club's stated desire to hire an experienced hand, Lenarduzzi sounded open to at least giving the Welshman a look.

"We'll put [Robinson] into the decision-making process, and determine if he will in fact be applying for the job," said Lenarduzzi.

Lenarduzzi also admitted that names such as Kreis and former Montreal manager Jesse Marsch had come up, but the club hadn't established if they would be contacted yet.

Interviews are expected to begin this week, with Lenarduzzi stating that he hopes a final decision will be made by the end of the month.

FC Dallas at a crossroads
From the moment Schellas Hyndman resigned last month, the one name that has continued to pop up is Pareja's. The Colombian had a long affiliation with the club as both a player and assistant coach before taking up his current position in Colorado. And given the impressive work he has done with the Rapids -- he led an injury-hit side to the playoffs -- it seemed only logical that Dallas would move to pry Pareja out of Colorado.

But multiple sources have told ESPNFC.com that Pareja's intention is to remain with the Rapids. "Pareja wants to finish what he's started," said one source with knowledge of the situation.

Of course, that won't preclude FCD from continuing to press its case and convince Pareja that he should return to Dallas, especially given FCD executive Dan Hunt's tight relationship with the Colombian. But in the meantime, the club has begun to interview other candidates, and one name that has come up is another former Dallas player, Tom Soehn. A source confirmed to ESPNFC.com that Soehn, who won the Supporters Shield and a U.S. Open Cup title as manager of D.C. United before serving as an executive in Vancouver, has interviewed with the club.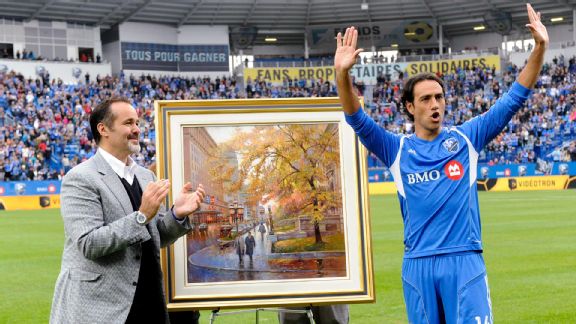 Eric Bolte/USA TODAY SportsWhether retiring Alessandro Nesta, right, is soon to be Montreal's manager or not, it's clear that owner Joey Saputo, left, needs to answer for his actions.
More mess ahead in Montreal?
Last year it was Marsch's fault for not leading Montreal into the playoffs. This year, a late-season malaise that saw the Impact finish 2-8-1 in all competitions was placed at the feet of Schallibaum. Now SI.com is reporting that Nesta will be appointed manager. A news conference that was to serve as an end-of-season debrief had already been scheduled for Tuesday, and it now appears that will be the time for Nesta's appointment to be announced.

Nesta's pedigree as a player, one that saw him win almost every trophy imaginable, certainly cannot be questioned. And he has long expressed a desire to coach, although he told ESPNFC.com in September that he planned to return to Italy to complete his coaching education.

Perhaps that background will be enough to prevent owner Joey Saputo and general manager Nick De Santis from the persistent meddling they have long been accused of. Following the Impact's playoff ousting at the hands of the Houston Dynamo, there were rumblings that it was De Santis who picked the lineup, one that saw defender Nelson Rivas play his first game in 13 months. It's an accusation that an Impact spokesman denied.

"This is not true," said the spokesman via email. "It was Marco's lineup Thursday night."

Either way, it looks like an immense battle of egos will ensue if Nesta is indeed given the job.

Crew close on a new manager?
Information with regard to the Columbus Crew's coaching search has come in dribs and drabs, but it appears the club is close to making a decision. Gregg Berhalter's name is being talked up, while a report in the Columbus Dispatch stated that both Tab Ramos and club icon Guillermo Barros Schelotto were no longer in the running.

The list of candidates still includes interim manager Brian Bliss. The club's technical director did an admirable job pointing the team back in the right direction, and word is he remains a finalist for the job.

That leaves new owner Anthony Precourt with an interesting decision. The Crew has long been an organization that tended to promote from within -- Sigi Schmid being the lone exception. Hiring Bliss would certainly continue that trend. But Precourt also has a chance to put his own stamp on the club, and that would point to the hiring of Berhalter.

RSL faces fight for Kreis
While it's true that Jason Kreis is still the club's manager, his contract expires at the end of the campaign and his decision as to what step to take next once Real Salt Lake's season ends will probably be the most anticipated move of the offseason.

ESPN television analyst Alexi Lalas laid out the timeline during Sunday's broadcast of the Los Angeles Galaxy/Real Salt Lake playoff game, with RSL's current offer set to make Kreis one of the higher-paid managers in the league. But in the interim New York City FC has entered the picture, offering Kreis an opportunity to not only have considerably more resources at his disposal, but also increase his profile for what is sure to be one of the marquee teams in the league. Multiple sources have told ESPNFC.com that discussions won't recommence until the season is over, at which point the bidding war over Kreis' services is likely to continue.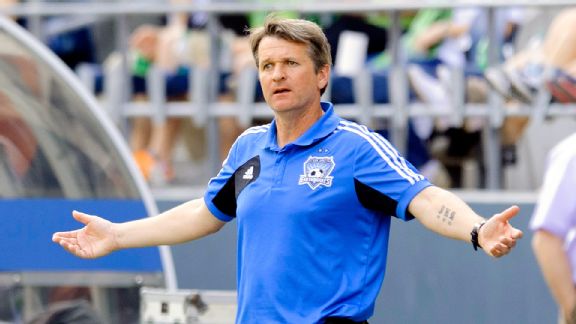 Steven Bisig/USA TODAY SportsFrank Yallop's need for control made Chicago his obvious move. Now it's up to him to restore the Fire's glory.
Chicago bets big on Yallop
It was during Frank Yallop's time in charge of the L.A. Galaxy that he realized what he most needed in a working environment. One was having the final say on personnel moves, and the second was a feeling of appreciation from those above him.

"I'm a coach that just needs to be left alone," he said in an interview with ESPNFC.com late last year. "I can figure it out. Let me work with the squad. I realized [in L.A.], I need to be in charge of things. From that point, I was like, 'I need to make sure that when I move forward, all the decisions for the team are what I want.' Because if they're not, then it's a problem."

Yallop certainly had that to a greater degree in San Jose, but there came a point with the Earthquakes when the atmosphere wasn't quite to his liking. A request for a new contract wasn't answered to his satisfaction so Yallop and the Quakes went their separate ways.

Now that Yallop has signed on with Chicago as both technical director and head coach, he appears to not only have the control he craves but also the appreciation of owner Andrew Hauptman, who has bet plenty that the Canadian will vault the Fire back into the league's upper echelons.

Yallop's coaching credentials are unquestioned, so the biggest key to his success will be the support staff with which he surrounds himself. In L.A., G.M./manager Bruce Arena has the benefit of an assistant in Dave Sarachan who has considerable head-coaching experience -- Yallop will need someone who can take on that kind of responsibility. On the player acquisition side Yallop will need to find a like-minded assistant GM, if you will. If that takes place, the Fire may yet see a return to the glory days.

Calm in San Jose
In comparison to the other clubs going through coaching changes, the Earthquakes look like a bedrock of stability. While there was some back-channel communication with Houston manager Dominic Kinnear, the Quakes were quickly sold on the job that Mark Watson did on an interim basis. Not only can there can be little quibbling over his record after taking over for Yallop this past June, but it also offers a more seamless transition without the ransom that Houston would have no doubt demanded for Kinnear.

Of course, it's one thing to inherit a team and be fully focused on results. It's another to now craft a roster that can get back to the playoff places, and Watson knows full well that changes need to be made. In an end-of-season session with local media, Watson admitted that his side needs more variety in attack, and that the direct approach that the available roster practically demanded will only get the team so far. GM John Doyle is of a similar mindset, and will be targeting a central midfielder and a striker with pace this offseason.