MLS Playoffs: Staff predictions and picks
With the MLS playoffs upon us, we asked our staff of writers and analysts to give their expert opinions on the postseason field.

MLS Cup Winner
Jason Davis, ESPN FC writer: Portland Timbers
Doug McIntyre, ESPN FC columnist: New York Red Bulls
Alejandro Moreno, FC on TV: Portland
Jeff Carlisle, ESPN FC columnist: Los Angeles Galaxy
Steve Nicol, FC on TV: Los Angeles
Paul Mariner, FC on TV: Sporting Kansas City
Alex Labidou, ESPN FC editor: New York
Kristan Heneage, ESPN FC writer: New York

Eastern Conference Winner
Davis: Kansas City
McIntyre: New York
Moreno: Kansas City
Carlisle: Kansas City
Nicol: New York
Mariner: Kansas City
Labidou: New York
Heneage: New York

Western Conference Winner
Davis: Portland
McIntyre: L.A.
Moreno: Portland
Carlisle: L.A.
Nicol: L.A.
Mariner: Real Salt Lake
Labidou: L.A.
Heneage: Portland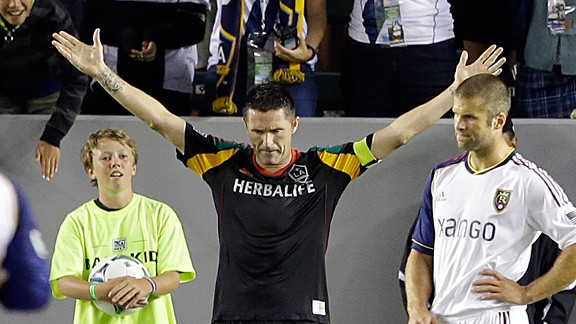 APCould Robbie Keane be the man to claim the MVP award?
MVP Award
Davis: Robbie Keane, L.A.
McIntyre: Tim Cahill, N.Y. (regular season: Marco Di Vaio, Montreal)
Moreno: Diego Valeri, Portland
Carlisle: Robbie Keane, L.A.
Nicol: Robbie Keane, L.A.
Mariner: Mike Magee, Chicago
Labidou: Tim Cahill, N.Y.
Heneage: Thierry Henry, N.Y. (but let it be known I want Diego Valeri to win)

Biggest Postseason Shock
Davis: Dominic Kinnear falls flat in the playoffs when New York handles Houston
McIntyre: Colorado beats the Sounders in Seattle
Moreno: N.Y. falls in the semifinals
Carlisle: Alexi Lalas suits up for L.A. -- just kidding. Houston gets revenge for 2008 and takes out the Red Bulls.
Nicol: did not submit
Mariner: Seattle losing to Portland
Labidou: First, Los Angeles will have a dominant stretch in the postseason (I feel the switch will turn on at that stage) and New England will steal one game (not sure they'll beat SKC though)
Heneage: L.A. doesn't beat Portland in the home leg -- the Timbers have only failed to get at least 1 point away and 3 at home on five occasions this season.