Can the L.A. Galaxy make it three in a row?
The Los Angeles Galaxy's approach to this year's postseason is simple: Ignore the past, and then let history three-peat itself.

Normally, such an attitude reveals an inability to learn from previous lessons. But in the case of the Galaxy, it makes perfect sense. The two-time defending MLS Cup champions are on the cusp of history. No MLS club has ever won three titles in a row. Only two others have ever claimed so much as two consecutive MLS Cups, with D.C. United winning in 1996-97, and the Houston Dynamo prevailing in 2006-07.

So how many times has L.A. manager Bruce Arena brought up this history-making prospect?

"I haven't spoken to the team about [a three-peat] at all," he said via telephone. As for the players, the topic has been broached a bit more often, but not much. "I'd be lying if I said there wasn't the occasional comment between guys about the opportunity we have," said L.A. defender Todd Dunivant. "But it's not something we talk about. It's not something we think about on a daily basis."

Perhaps mindful of last year's slow start, the focus instead has been more on the short-term goals of starting the season well, getting into playoff position, making the playoffs and then getting the highest seed possible.

"Now that the playoffs are here, it's a case of doing what we do," Dunivant added.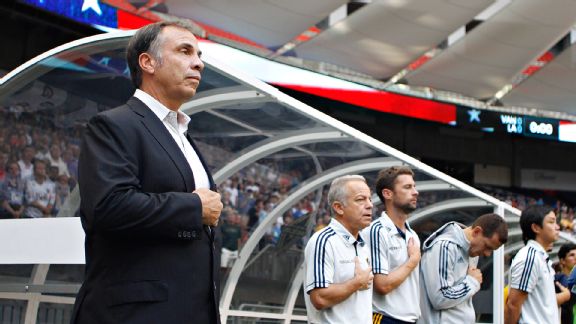 Joe Nicholson/USA TODAY SportsBruce Arena and L.A. are well-placed to potentially three-peat. Yet Arena knows as well as anyone how fickle the postseason can be.

Which for the last two seasons has meant winning. In 2011, the Galaxy completed an MLS Cup and Supporters Shield double with a 1-0 win over the Houston Dynamo at the Home Depot Center (now the StubHub Center). The 2012 season was more of an odyssey, with the aforementioned start forcing the Galaxy to navigate its way past a play-in game on the way to another home final against Houston, prevailing on that occasion by a 3-1 score.

This season has also seen L.A. face its share of challenges. Midfielder David Beckham is now firmly ensconced in his retirement. The Galaxy's Mr. Clutch over the last two postseasons, Mike Magee, was shipped to Chicago in May, robbing L.A. of a precious third scoring option beyond Landon Donovan and Robbie Keane.

But the greatest difficulty for Arena has simply been getting his full team together. There have been injuries, international call-ups and Donovan's high-profile sabbatical, not to mention the obligations of the CONCACAF Champions League. Donovan and Keane, as potent a forward tandem as there is in MLS, have been on the field together for less than half of the Galaxy's regular-season games.

MLS playoff coverage:
- Carlisle: Burning Questions
- McIntyre: Donovan or Dempsey?
- Labidou: Is this New York's year?
- Davis: Portland's wild, uncomfortable winning ride
- Team Previews: Eastern Conference
- Team Previews: Western Conference
- List: Under-the-radar players to watch
- Lalas, Twellman: Can the Red Bulls win?

"All of that interrupts the rhythm of the season," said Arena. "But I don't think it's been any different coaching this team as opposed to any other team. You take things game-to-game, week-to-week, and then you motivate the players as necessary. That's what coaching is, it's just part of the job description, keeping the team motivated."

Viewed from the outside, Arena has succeeded in that regard. While the Galaxy hasn't necessarily been dominant, it finished in third place in the Western Conference, just four points behind first-place Portland. And despite an odd weakness in defending set pieces, when L.A. has its full complement of players available, it's difficult to bet against them.

"I think when you look at the Galaxy, that's a hungry team," said Houston manager Dominic Kinnear. "On their day they can definitely pull you apart, shut you down, score goals, be dangerous and play possession. When I watch them, you can see the hunger there."

That desire has been sparked in part by giving expanded roles to several players. Marcelo Sarvas has filled in capably for the departed Beckham in the center of midfield. Gyasi Zardes has shown flashes of becoming a dominant force on the left side of midfield, and more recently rookie defender Kofi Opare has stepped into the center of defense and looked nothing like a first-year player.

"Zardes has held up well. With Opare, I've been pleasantly surprised," said Arena. "His defending has been solid and he communicates well. He doesn't get rattled by anything."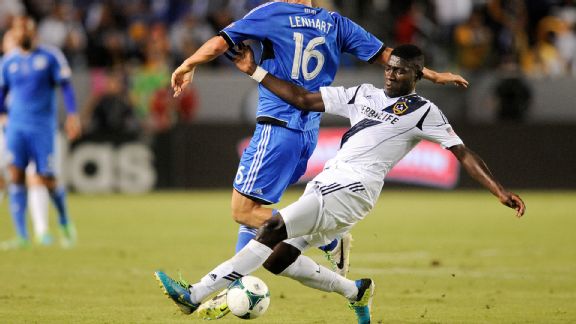 Kelvin Kuo/USA TODAY SportsL.A.'s backline has been strengthened by the rise of rookie defender Kofi Opare.

Consistency is always an issue with young players, however, something that is often exposed in the high-intensity games the postseason brings. That's where the veteran leadership comes in, and it requires balancing advice while also letting the young players find their own way in tough situations.

"It's little comments, you don't have to overkill it," said Dunivant. "But the young players feed off of what we do. I've seen so many teams just panic when it comes to the playoffs. They get in that situation and start doing things differently; they start making different decisions. We're going to keep playing the same way we did all year. It's not like we have to start cramming for a test. We've been building towards this all season, so those little hints can go a long way."

So can L.A. achieve a unique treble? Without question, the obstacles are numerous, even with the Galaxy's considerable talent. Arena knows better than anyone that all it takes is the wrong call on the wrong day to scuttle a team's championship hopes. In the 1998 MLS Cup final, an Arena-coached D.C United thought Marco Etcheverry had earned a penalty with the match just five minutes in only for play to be waved on -- the Black-and-Red ended up falling to the Chicago Fire 2-0.

Kinnear recalled how he thought the 2008 edition of the Dynamo was better than the two championship teams, only for Houston to be ambushed by a New York Red Bulls team 4-1 on aggregate.

Yet the spine of this Galaxy team, especially now with goalkeeper Jaime Penedo on board, remains formidable. For that reason, it won't be a surprise if the Galaxy ends up hoisting the MLS Cup trophy on Dec. 7. If that proves to be the case, you can bet that this bit of history is one that Arena and his players will be more than happy to recall.