How good is the U.S. team right now?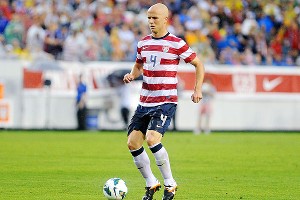 Al Messerschmidt/Getty ImagesMichael Bradley will continue to be instrumental in midfield for the U.S.
You could sense the relief of the USA players as they filed back in to their Kansas City hotel having advanced into the final hexagonal World Cup qualifying round, but how good is Jurgen Klinsmann's team? A school report might say: "Impressive in cameos, satisfactory progress, but a little erratic and yet full of potential."

That question hangs in the air because the U.S. made a soft-looking qualifying group look like treading through treacle at times. In particular, Klinsmann needs to think about the travel sickness which produced three indifferent performances on the road with a first-ever loss in Jamaica, a draw in Guatemala and a win by the skin of its teeth in Antigua.

Perhaps the pleasing, slick football which the Americans often displayed at home on better surfaces might need to make way for a meaner, more pragmatic approach in the hostile environments of Central America. Of course, it will not get any easier in the decisive final qualifying round. Any repeat of those poor away displays in Mexico, Costa Rica, Honduras, Panama and Jamaica (again) could spell trouble.

The other worry is a defense which managed only one shutout in six games in the semifinal group. Even bottom team Antigua & Barbuda scored in both games against the States.

For the first 20 minutes of the final decisive game at home to Guatemala, that defense was at a loss to cope with the movement of Carlos Ruiz. Klinsmann knows that Carlos Bocanegra and Steve Cherundolo, both fantastic servants of the American cause for so long, will be 35 by the time Brazil 2014 arrives. On current form, both deserve to stay on the team but obviously the situation needs to be monitored and don't be surprised to see Maurice Edu given another chance on defense soon.

Stoke City's Geoff Cameron has made himself an automatic pick, but one complication is that he is playing right back every week for his club and being expected to move back to his more natural center back role for the U.S.

Ironically, the one-time problem position at left back has been filled excellently with the outstanding Fabian Johnson -- the find of the Klinsmann era so far. I would be surprised if a decent EPL club did not try to sign him.

His Hoffenheim club mate Danny Williams is really starting to look good now that he is filling the "No. 6" defensive midfield role. Michael Bradley has flourished in Italy with Chievo and now Roma, and is the type who can really boss a game. He is entering his peak years and his presence is vital in the big games ahead.

Other players have arrived to widen the coach's options, notably the reborn strikers Hercules Gomez and Eddie Johnson as well as Sporting Kansas City playmaker Graham Zusi. There still might be room for the currently axed Jozy Altidore, but despite his good club form, he has yet to convince Klinsmann in a U.S. shirt.

There is no question the Americans have the quality to not only qualify, but make a fair impression in the World Cup finals with a team built around keeper Tim Howard, Bradley, Clint Dempsey and the young German-Americans Johnson and Williams. But what of Landon Donovan? America's inspiration for so long, he has featured in only eight of Klinsmann's 20-match reign. He has only started three times alongside fellow danger man Dempsey. Injuries have certainly played their part in his absences, but one or two Landon interviews have talked of an imminent retirement.

It would be understandable if the nation's record scorer with 49 goals was just finding it a little harder to stay fired up for yet another round of qualifying. But it would be silly to jettison his enormous talent on that basis. This team still needs its erstwhile star player.

I think there is no doubt that Jurgen has become a little disillusioned with Donovan's failure to appear in camp and there are two ways he can handle the situation. One is to take the "my way or the highway" approach and tell Donovan to take it or leave it. The other is, I think, the way a manager like Harry Redknapp would go -- and that is to accept Donovan has perhaps earned the right after all his distinguished service to enjoy a little indulgence.

In other words, tell him that he is not needed for every camp and friendly on the understanding that he is available and ready to produce when it matters most.

Yes, other players might resent the special treatment, but surely they would understand. Whether that might work, I have frankly no idea. But it might be worth a try because American dreams of success will always be that much more attainable with Donovan on the team.

For what it is worth, I believe the United States will qualify for the World Cup with Mexico and Costa Rica, leaving Panama or Honduras to fight out a playoff with the Oceania champions -- likely to be New Zealand. But it will be a lot less nerve-wracking if that away form improves.