Donovan or Dempsey? Who do you pick?
It's been the fiercest barroom debate in American soccer the last few years, the domestic game's version of Pele versus Maradona, Messi versus Ronaldo, LeBron versus Michael Jordan.

Who is better -- Clint Dempsey or Landon Donovan?

Just like the others, it's a never-ending argument, in part because excellent cases can be made on both sides.

Dempsey and Donovan are easily the best two attacking players -- perhaps the best players, period -- whom the United States has produced. And while their styles and personalities differ significantly, in many ways they are also remarkably similar. Dempsey is 30 years old; Donovan, 31. Their production for the U.S. national team has been almost identical when you factor in Donovan has played 56 more games for the Yanks. When Donovan's new contract kicks in next year, their salaries (about $5 million) will be almost the same, too. Each player also has an obvious respect for the other's ability.

- Fulham mum on Dempsey speculation
- Klinsmann wants U.S. players to impact MLS playoffs
- MLS Western Conference playoff preview

"Everybody talks about who's better, Clint or Landon, all this [bull]," Donovan said last year. "I'm happier probably than anybody when he's succeeding."

The players themselves may not embrace the debate, but it's a fun one for just about everyone else.

The conversation only got louder when Dempsey left Tottenham Hotspur of the English Premier League in August to sign with the Seattle Sounders in MLS, especially after ESPN FC analyst Alexi Lalas sent out this simple, 106-charater tweet on the day the deal was announced:


If each @MLS coach was offered either Donovan or Dempsey on the same money, I bet most would pick Donovan.

— Alexi Lalas (@AlexiLalas) August 3, 2013


Lalas repeated this contention, on the air and elsewhere, several more times in the days that followed. Many disagreed, including some respected pundits, which gave us an idea: Instead of wondering, why not ask every coach in MLS, anonymously, which player they would add to their team if given the choice?

L.A.'s Bruce Arena and Seattle's Sigi Schmid were exempt, of course. That left 17 other bosses to weigh in. Over the last six weeks or so, we spoke to 14. (One coach declined to comment; the other two didn't respond before our deadline.) And believe it or not, the results were unanimous.

All 14 picked Donovan.

"It doesn't surprise me," Lalas said Monday from Seattle, where he watched Dempsey and the Sounders play Donovan's Galaxy to a 1-1 draw the previous night. "This is relative to MLS, and you're talking to coaches that are ultimately wired to win, so there's a pragmatism that you're seeing in this answer."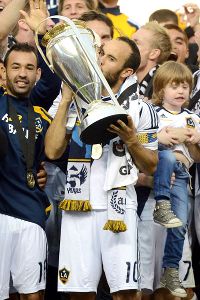 Harry How/Getty ImagesLandon Donovan's five MLS championships gave him a clear edge over Clint Dempsey in the ESPN FC poll of league coaches.
It's a fair point. Minus a few relatively short stints in Europe, Donovan has spent his entire professional career in MLS, winning five championships along the way. It makes sense that MLS coaches would pick him. Poll 14 managers from the Premier League -- where Dempsey, playing mostly in midfield, scored more goals than all but six players (Robin van Persie, Wayne Rooney, Dimitar Berbatov, Luis Suarez, Demba Ba and Gareth Bale) over his final three seasons -- and the results could be the other way around.

"Landon gets the benefit here because we all know Landon so much better, we've sat on the sidelines watching him for so long," said former New England Revolution boss-turned-ESPN FC analyst Steve Nicol. Nicol coached Dempsey during his first three seasons as a pro before Dempsey moved to England in 2007. The Scot said if he were still coaching in MLS, he would take Deuce over Donovan every time.

"Other coaches don't really know Clint. It's one thing to watch a guy from afar; it's another to actually work with him and see what he does every day. Besides, Clint hasn't been fit since he's been back. I think it's a real unfair comparison so early."

Indeed, the timing of our poll probably works against Dempsey, who has managed just one goal in nine appearances with Seattle, playing through shoulder and leg injuries. Two coaches we interviewed conceded that had the question been asked a year ago, when Dempsey was coming off a 17-goal season in the EPL and Donovan was openly contemplating retirement, their votes would have been different. But the overwhelming majority said current form had no bearing on their choice. Most also said that the decision wasn't all that difficult.

Picking Donovan "is a no-brainer," an Eastern Conference coach said. Question is, why? Here are some of the reasons our participants gave.

So far at least, only Donovan is a proven winner in MLS:
Eastern Conference coach: "They're both winners and phenomenal players, but we're talking about MLS. Donovan knows what it takes. That's not to take anything away from Clint, but Landon has proven that he's perhaps the best MLS player of all time."

Eastern Conference coach: "He's won championships, he's carried teams. For me, he's a safer bet in a locker room, in a team. With Dempsey, if everything lines up, he could probably give you more. But there's also more risk."

Others pointed to Donovan's versatility:
Eastern Conference coach: "As he's gotten older, it's not just his individual qualities anymore; he's become a guy who finds ways to help his team win."

Eastern Conference coach: "Clint has always been really good at individual moments. I think Landon is good at individual moments but also at combining with teammates to make them better."

Donovan's speed advantage was mentioned repeatedly:
Western Conference coach: "Landon, for me, is a better runner off the ball. He's the best link-up partner another forward could want. I won't say he's made other forwards' careers, but where is Edson Buddle since he left L.A.?"

Eastern Conference coach: "Landon has the ability to really change the game based on his speed. That's something that Clint doesn't have."

Eastern Conference coach: "Landon also has an incredible engine along with the speed. Most players have one or the other. Landon has both."

Western Conference coach: "For us, it comes down to system. In ours, Landon would make a better forward than Clint would because he has more speed."

Consistency was a big factor for some:
Western Conference coach: "Landon's produced every year, for a lot of years. He's continually shown he's the best American player."

Eastern Conference coach: "When Clint's at his best, no one's better. But in terms of consistency over the long run, you take Landon -- even if Landon could also retire tomorrow."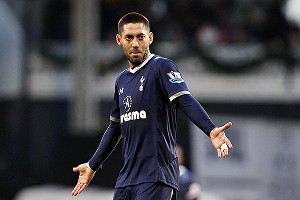 Jan Kruger/Getty ImagesOne MLS coach suggested Clint Dempsey might be regretting his decision to leave the Premier League for Seattle.
One Western coach wondered if Dempsey wasn't second-guessing his decision to leave England in the prime of his career: "I'm not convinced that Clint even really wants to be here," that coach said. "I think he's come here because of a financial reason. Maybe it's the wrong reason."

Still, many made a point to say how highly they think of Dempsey and that their pick is no slight against him:
Western Conference coach: "Clint maybe has a harder edge to him, puts a little more fear into his opponents. And he may be more of a true goal scorer."

Eastern Conference coach: "I have a great admiration for the way Clint plays. But the way I look at it, if I'm going to start a team, I'm starting with Landon."

As far as Nicol is concerned, some of his former colleagues' perceptions can change -- especially if Dempsey builds on the goal he scored against the Galaxy this past Sunday and helps lead sputtering Seattle to its first MLS Cup title this fall.

"When the playoffs come, you find out who the big players are," Nicol said. "As a coach, you know Clint is going to give you everything he's got to win every time." Then he paused.

"But it's not a bad choice to have, is it? You can't really pick the wrong one."