MLS Playoff Previews: Eastern Conference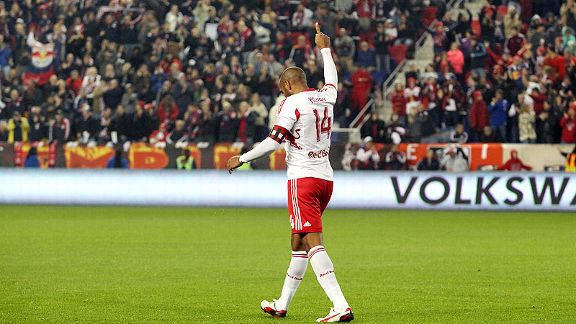 Brad Penner/USA TODAY SportsThierry Henry and the Red Bulls are as well-placed as ever to finally win MLS Cup.
New York Red Bulls: 17-9-8
(59 points, first overall, Supporters Shield winner)

Semifinal matchup: Two-leg tie vs. Houston-Montreal play-in winner; away Sunday 3:30 p.m. ET; home Nov. 6 or 7

Team strength: Offense. The Red Bulls feature an in-sync offensive tandem of Thierry Henry and Tim Cahill that is only matched by the Los Angeles Galaxy with Landon Donovan and Robbie Keane. In the playoffs, where teams tend to play more defensively, having one game changer is a bonus, having two is a luxury. Then factor in that head coach Mike Petke still has other weapons like Lloyd Sam, Fabian Espindola and Johnny Steele, and New York is going to be a very difficult team to completely shut down.

Team weakness: Complacency. The Red Bulls are arguably the most talented side in MLS, but if there's anything they are consistent in, it's letting teams into games. When L.A. won back-to-back titles, it was because it played the best defense in the league and its offense never allowed teams into games when in form. New York's defense has talented parts in Jamison Olave, Markus Holgersson and Ibrahim Sekagya but still allowed 41 goals, which is behind five other playoff teams in terms of goals conceded.

X factor: Thierry Henry. As good as Henry has been during the regular season during his three and a half years with New York -- scoring 40 goals and adding 27 assists -- he hasn't delivered in the postseason, having only one goal and one assist in six playoff matches. While Cahill has been more consistent this season offensively, New York is going to need the attacking magic that only Henry can provide if it's going to win the MLS Cup.

Forecast: No rookie coach has ever won the MLS Cup. Let that sink in. It all comes down to how bad Cahill and Henry want to be MLS champions. Two men can't alone win it, but if both are considered to be the leaders of the team and if they don't step it up, they can't expect their teammates to do so as well. If, say, the Red Bulls head to New England, will Henry finally be willing to play on turf? Even a one-game absence could be devastating. If all cylinders are clicking, the Red Bulls will win the MLS Cup; if not, it wouldn't surprise me if they lose early to the Houston/Montreal winner.

--Alex Labidou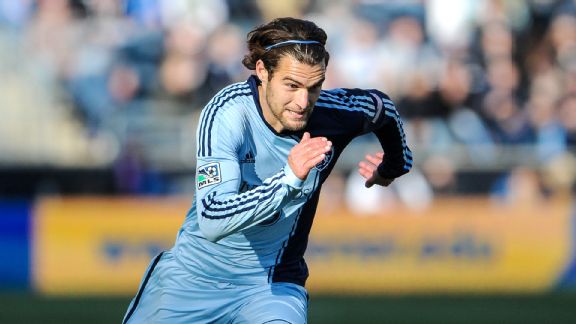 John Geliebter/USA TODAY SportsGraham Zusi is one of the best in MLS and will need to lead Kansas City from midfield.
Sporting Kansas City: 17-10-7
(58 points, second in conference)

Semifinal matchup: Two-leg tie vs. New England; away Saturday 8 p.m. ET; home Nov. 6 or 7

Team strength: Defense. No team in MLS allowed fewer goals than SKC did in 2013, with only 30 goals conceded. The team's dominant back line of U.S. international Matt Besler and Aurelien Collin is tough to beat, and that bodes well for SKC in the playoffs, as the teams that commit the fewest mistakes usually do well. The team also has the league's best road record and plays in arguably the best home soccer stadium in the league. A very tough team to beat.

Team weakness: Offense. Sporting Kansas City has become increasingly less imaginative in attack since the beginning of the season. As its defense has become more compact, Peter Vermes' side has gone for a straight "Route One" offense, similar to that of ex-Stoke manager Tony Pulis. Argentinean forward Claudio Bieler has been solid in his debut season, scoring 10 goals, and Graham Zusi is a top playmaker, but the team will have to be more creative if it's going to win anything this year.

MLS playoff coverage:
- Carlisle: Burning Questions
- McIntyre: Donovan or Dempsey?
- Davis: Portland's wild, uncomfortable winning ride
- Team Previews: Western Conference
- Carlisle: Under-the-radar players to watch
- Lalas, Twellman: Can L.A. three-peat?

X factor: Graham Zusi. Vermes has chopped and changed his offensive options during the final month of the MLS season in a bid to figure out his best options, but the one constant has been Zusi. If SKC is going to win the MLS Cup this year, the U.S. international will have to be at his best.

Forecast: At the beginning of the season, it appeared as if SKC were a lock to win the MLS Cup, but the recent struggles on offense are concerning. Strong defenses can carry a team in the playoffs, but sometimes you need to be able to kill off a team early. That being said, expect SKC to at least make it to the Eastern Conference finals.

--Alex Labidou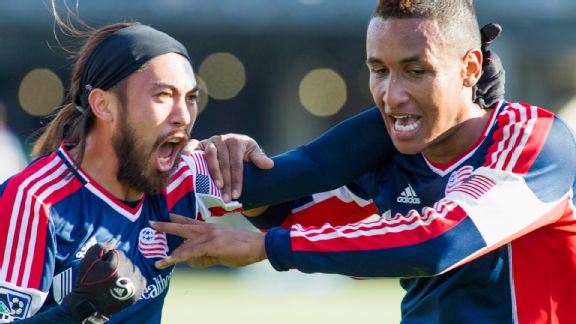 Trevor Ruszkowksi/USA TODAY SportsNew England has superb young players in Lee Nguyen and Juan Aguedo, but their inexperience could be costly in the postseason.
New England Revolution: 14-11-9
(51 points, third in conference)

Semifinal matchup: Two-leg tie vs. Sporting Kansas City; home Saturday 8 p.m. ET; away Nov. 6 or 7

Team strength: Youthful exuberance. Featuring two under-21 phenoms in Diego Fagundez and Juan Agudelo and another superb young midfielder in Kelyn Rowe, the Revs have an exciting and fearless dynamic attack. No one expected that all of those parts would click so quickly, but they have, and with no real expectations on its shoulders, New England can just go out there and throw caution to the wind. Look for the Revs to be a fun team to watch this postseason.

Team weakness: Youthful exuberance. Fagundez, Agudelo and Rowe have played beyond expectations this year, but Sporting Kansas City is probably the worst matchup they could have asked for. SKC features battle-tested veterans all over its starting XI and conceded the fewest goals in MLS this year. It's more likely that the young Revs will be prone to mistakes, and a team like Sporting can take full advantage.

X factor: Matt Reis. A veteran of New England's glory days, Reis is one of the few players on the Revs who have experienced a deep MLS postseason run. New England will need to rely on Reis' leadership in the back and likely a few crucial saves if it's going to advance.

Forecast: After making the postseason for the first time since 2009, it's probably too much to ask for the team to go far. However, it wouldn't surprise me if the Revs snuck in a win at a home vs. SKC, despite New England's subpar record against them (0-1-1, none scored, three conceded).

--Alex Labidou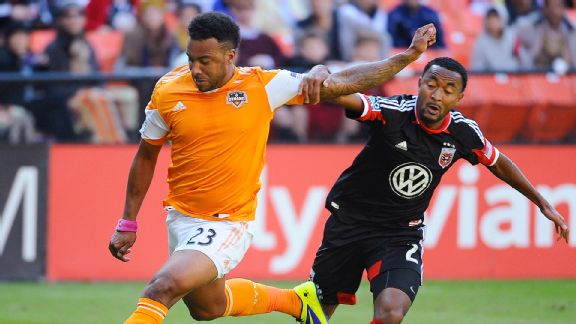 Brad Mills/USA TODAY SportsGiles Barnes has remained fit and effective for the Dynamo. But will that be enough?
Houston Dynamo: 14-11-9
(51 points, fourth in conference)

Play-in matchup: vs. Montreal, Thursday 8:30 p.m. ET

Team strength: Flank play. In Brad Davis and Oscar Boniek Garcia, Houston has a nice mix of styles out wide. Davis prefers to cross, while Garcia is all about beating his defender. Supported well by their fullbacks, particularly in the case of Kofi Sarkodie on the right, the flanks have to be where opponents watch the Dynamo. Having such contrasting styles also gives a degree of flexibility to Houston. It means the Dynamo can potentially target the opposition fullbacks based on their weaknesses by simply switching their wide man over.

Team weakness: Lack of goals. Recording a goal difference of zero this season, it is the 41 goals they scored that should have fans concerned. While defensively the club has at times been poor, the lack of a clinical goal scorer could prove fatal in the postseason. Giles Barnes is currently leading the charts, but his inability to break double figures compounds the problem. At home, the Dynamo average one in three for shots on target, while on the road that drops to one in four.

X factor: Giles Barnes. When the former Derby County man arrived in MLS, he came with the caveat that he had been notoriously injury prone for much of his career. Yet he's been healthy in Houston, and his mix of speed with intelligence on the ball makes him a dangerous attacking force. The fact that he also likes to come a little bit deeper can make him a potential nightmare for center-backs. Unsure whether to follow him out or leave for a midfielder to be picked up, he could cause havoc on his day.

Forecast: Houston has made a good habit of clicking at the right time in the season and making a rocket-like surge to the final throes of MLS Cup. Having made some changes this year and looked to bring in fresh faces to replace some of the older members of the squad, the Dynamo have done well to make it this far. However I can't see them going all the way this time around. Against more seasoned opposition, I can see them being undone by Marco Di Vaio & Co.

--Kris Heneage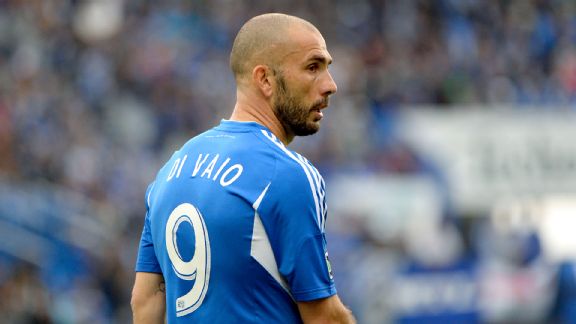 Eric Bolte/USA TODAY SportsMarco Di Vaio is a bright spot for the struggling Impact.
Montreal Impact: 14-13-7
(49 points, fifth in Conference)

Play-in matchup: at Houston, Thursday 8.30 p.m. ET

Team strength: Striker Marco Di Vaio. The Italian striker remains dangerous every time he touches the ball after a stretch run that otherwise exhibited all of the Impact's flaws. Marco Schallibaum's team limped to the finish line, and beyond a bit of magic from Felipe Martins, Di Vaio's threat is just about the only thing that will scare playoff opponents. The Impact just have to find a way to get their lethal goal scorer the ball. Keep in mind that the deeper Di Vaio drops, the less effective he is.

Team weakness: Is it fair to say "everything else"? Montreal's defense is suspect, even when the retiring Alessandro Nesta moves aside for younger legs in the inexperienced Wandrille Lefevre. Hassoun Camara is reckless, Matteo Ferrari underwhelming. Montreal's midfield doesn't hold the ball well enough to protect the back line, especially if Patrice Bernier is missing. Troy Perkins is a serviceable goalkeeper at best and can't keep the Impact in games all by himself.

X factor: Felipe Martins is capable of turning a game on its head at any moment with a sublime bit of skill or a chance made from nothing. Most teams know this, but it doesn't stop Martins from popping up on occasion and surprising. Whether it's by creating his own shot or setting up teammates, Felipe's form -- and like the rest of the team's, it's not very good right now -- is crucial to the Impact's chances. If Montreal is going to threaten in the East, Felipe will need to be on his game.

Forecast: Exit, play-in. The Impact don't scare anyone right now. They're a shadow of the team that jumped out to such a strong start in the first half of the season and back into the playoff after a disheartening loss to Toronto FC. For a team with age at crucial spots through the spine, the end of the season has been supremely unkind. Even if the Impact manage to get past Houston in the play-in round (and don't bet against Dom Kinnear), the compact schedule won't be kind to their already aching legs. Marco Di Vaio's brilliance or bust.

--Jason Davis