Is this going to be 'Year Of The Bull'?
HARRISON, N.J. -- As Mike Petke entered Red Bull Arena on Sunday afternoon, he was admittedly a nervous man.

"It was tough, very emotional last few weeks," Petke revealed later in a press conference. "I just kept having this reoccurring thought and I kept trying to explain to my wife I just didn't want to letdown the fanbase, I didn't want to letdown the organization after being so close after so many years of heartache."

The 37-year-old rookie head coach, who spent a decade with the New York Metrostars/Red Bulls as a player and then a coach, probably knew whatever transpired over 90 minutes against a Chicago Fire side desperate to make the playoffs would send a message of intent.

Had the Red Bulls lost or tied, it would have been more of the same from a team that has a history of being underwhelming in moments where it needed to deliver. Petke would therefore be no different from his predecessor in Hans Backe, the outspoken Danish coach who wore out his welcome after three promising but ultimately trophy-less seasons with New York.

Thankfully for the Red Bulls faithful, Petke's team delivered on Sunday and in ruthless fashion. Yes, a lapse in concentration allowed Chicago to have an early 1-0 lead but New York then responded by serving up four straight goals to finish with a 5-2 rout.

MLS playoff coverage:
- Carlisle: Burning Questions
- McIntyre: Donovan or Dempsey?
- Davis: Portland's wild, uncomfortable winning ride
- Team Previews: Eastern Conference
- Team Previews: Western Conference
- Carlisle: Under-the-radar players to watch
- Lalas, Twellman: Can L.A. three-peat?

The Red Bulls' message was very clear: They are serious contenders for the MLS Cup this year. And with good reason ... there is no team in MLS that possesses two offensive juggernauts that are in sync like Tim Cahill and Thierry Henry.

The Los Angeles Galaxy may have Landon Donovan and Robbie Keane, but neither has been as effective as when a certain celebrity Englishman was pulling the midfield strings. The Seattle Sounders have Clint Dempsey, Eddie Johnson, Obafemi Martins and Mauro Rosales along with other fine parts, but their late-season woes prove that the club probably needs a preseason together before delivering.

Yet, as dominant as the Red Bulls have looked toward the end of the season, it wasn't a straightforward campaign for Petke and his players.

Petke's Red Bulls started their season winless with a 0-2-2 record, prompting Henry, the captain, to say, "If we were in Europe, our season would be done already."

When did the team start clicking and buying into Petke's objectives? While most players sidestep the question, pointing out the new-found camaraderie in the locker room, winger Lloyd Sam has a direct answer.

It was the moment that Petke challenged MLS's biggest star and won.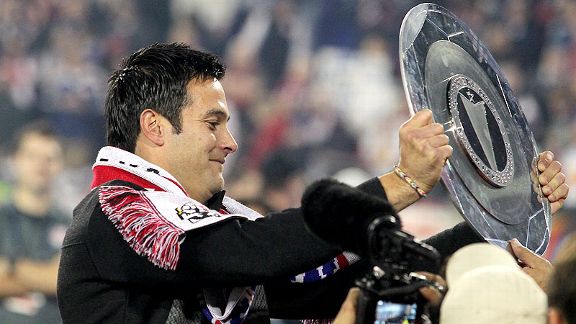 Brad Penner/USA TODAY SportsMike Petke's instance on accountability has turned the New York Red Bulls into legit contenders.
"We lost to Chivas USA and it was like crisis, it was like someone had died in training the day after," Sam recalled. "There were a few alterations that happened that week and we came out a better team for it."

What Sam is alluding to the heated argument that took place between Henry and Petke on Aug 29 during an 11-vs.-11 practice according to Big Apple Soccer. Both men had separated and Henry walked out of training with a Red Bulls coach.

While Sam wouldn't directly mention Henry when asked whether or not the display by the team's coach evened the playing field between Henry and the other players, the English player conceded:

"Maybe so, we haven't lost a game since. There's been a good team spirit around the team."

Under Backe, the Red Bulls didn't have the same accountability. The now departed Rafa Marquez was involved in several controversial incidents, including calling out a teammate to the press and viciously fouling opponents, yet that didn't impede his starting role on New York. When Henry deflected an opportunity to hit a game-tying free kick in a playoff game to defender Roy Miller, he was allowed to avoid taking responsibility for the play.

Not under Petke.

Shortly after the verbal spat, New York faced D.C. and Petke started Henry on the bench and watched his team deliver a 2-1 win, ending its three-game winless streak.

Soccer is a team game and the coaches who remind their stars that they aren't bigger than the clubs are usually the ones who turn out to be the most successful. Eight matches later, both Henry and Petke appear to be on the same page as they were seen celebrating together after receiving the Supporters Shield.

Sir Alex Ferguson had no problems benching stars during his time at Manchester United, nor did Bruce Arena during his success in D.C. and LA, and both can claim to be the best coaches of their respective leagues in Premier League and MLS.

It's too early to tell if Petke will become an elite coach, but his impact has been obvious in only his first year as coach.

After New York sealed its biggest success to date in franchise history, fans chanted "Mike Petke" over and over, getting louder with each repitition. In his post-match conference, Petke stressed the team still had "five games to go" before it reached its objective.

Still, exiting Red Bull Arena, it was hard to ignore hearing fans talk about a deep MLS Cup run or even being the first MLS team to win in the CONCACAF Champions League. Those fans are hoping Petke will have plenty of nervous nights ahead leading the team to new heights.